About

Faculty

Syllabus

FAQs
Course highlights
Video Lessons
Study Notes in PDF Format
Chapter Tests
Full-Length Practice Tests
One-Stop Solution
All Time Mentorship
NIACL Assistant Online Course
NIACL Assistant online course is a comprehensively structured course that will render the complete NIACL Assistant syllabus at one place. For starters, we give you a study plan that you can follow to successfully clear the online exams. In addition, you get direct access to the faculty who will clear all your doubts. Furthermore, you can evaluate your understanding of the topics through chapter and section tests. The online course for NIACL Assistant will also help you gauge the anticipated level of questions in the real exams through our exclusive practice papers.
NIACL ASSISTANT ONLINE COURSE CONSISTS OF
450+ Video Lessons

150+ Study Notes in PDF format

for easy learning and quick revision

150+ Chapter tests

to assess your grasp of the concepts

15+ Full-length practice tests

for NIACL Assistant Exam

8000+ Practice questions

in the form of Chapter tests, Section Tests, and Mock Tests

Live Online Classes

for doubt clarification with the subject experts.
Why Choose NIACL ASSISTANT Online Course?
One-Stop Solution: You will get all your exam-related resources in one place including video lessons, study plans, practice tests, doubt clarifying sessions, and many more. You don't need to search for anything else. The content provided is more than enough for your selection.
All-Time Mentorship: The course gives you an opportunity to avail the best mentorship in India. Your faculty is your mentor, 50% of your success will depend on how good your faculty is as they will be the one to guide you throughout your preparations. For any exam preparation, it is always recommended to have a faculty that has relevant work experience. Such faculties can share their own experiences and understand the problems you are facing thus giving you instant solutions. Along with mentoring you in your exam preparation, our mentors also guide you through the career aspects and you can discuss your thoughts anytime with them.
Live Classes: Daily Live classes with expert faculties to clarify all your queries related to any topic in the syllabus. The general discussions with students help you channelize your concepts in the right direction.
Support: When you are practicing questions or doing self-study at home you may get stuck at several points. It's not possible that faculty will be available 24/7. However, we strive to resolve all your queries on time and therefore have a 24/7 support facility. You can email us the questions you are stuck at or a topic you are confused about and we will reply.
Success Stories: We keep sharing the journey of students who made it to their dream jobs. The stories tell about all the hardships faced in the preparation and how people overcame them. These success stories will motivate you to work even harder to make it to the finish line.
External Faculties: We keep conducting sessions with personnel (ex-RBI, ex-SEBI, ex-Bank PO's, and many more) who share their experiences and also clear any confusions you have about working in such organizations.
How Do I Enroll for the NIACL Assistant Online Course on ixamBee?
Visit our website @ https://www.ixambee.com/.
From the menu bar, find the "Online Course" tab.
Click on it for the drop-down menu to appear.
From the left-hand column, go to the "Insurance" tab.
Now, select NIACL Assistant from the options available.
The NIACL Assistant Online Course page will appear.
On the right-hand side, there will be an option to "Buy Now". You can also take a demo course before you buy.
When you click on "Buy Now" you will be redirected to a log-in/sign-in page.
You will be presented with a variety of buying options once you have registered and logged in.
Click "Proceed to Payment" after selecting the package you wish to purchase.
The NIACL Assistant Online Course can be purchased after making your online payment.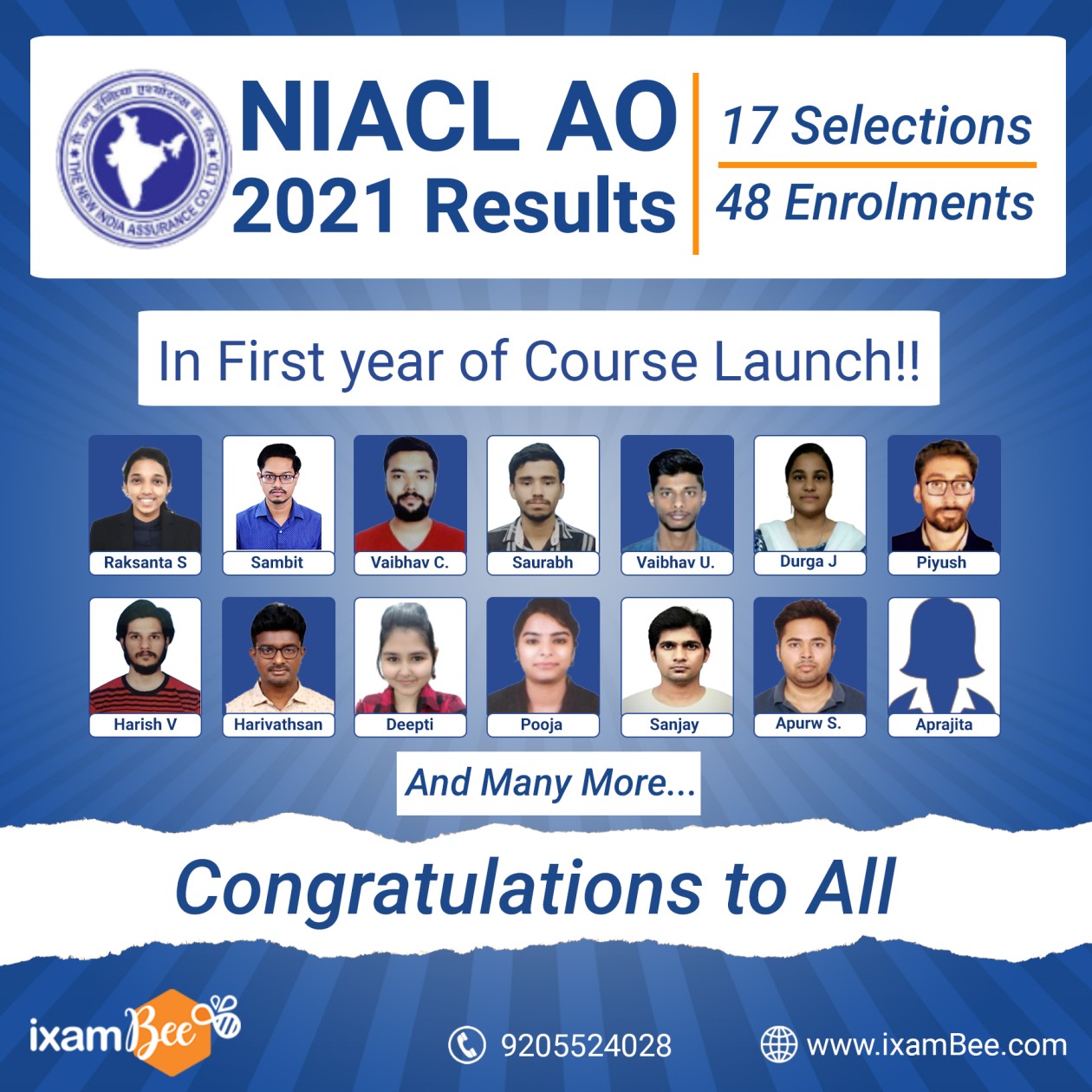 Faculty and Course Coordinator
---
---
---
---
---
Study Materials Information
Commonsense Reasoning
Coding Decoding
Coded Inequalities
Syllogism
Seating Arrangement
Puzzles
Coded Blood Relationship
Input Output
Direction and Distance
Data Sufficiency
Coded Directions
Ranking
Analytical Reasoning
Section Test Reasoning
No. System
Percentage
Profit and loss
Ratio and proportion
Partnership
Average
Alligation
Simple and compound interest
Time and distance
Trains
Boats and streams
Permutation and combination
Probability
Quadratic equation
Series
Mensuration
DI
Age
HCF and LCM
Simplification
Approximation
Time and work and Pipe and Cisterns
Short Cut Tricks
Section Test Quant
Caselet DI
Venn diagram
Tense
Parts of Speech
Direct Indirect Speech
Active passive voice
Articles and Determiners
Cloze Passage
Fillers
Reading Comprehension
Sentence Rearrangement / Parajumbles
Spotting Errors
Idioms and Phrases
Sentence Improvement
Coherent paragraph
Vocabulary
Section Test English Language
Match the column
Subject Verb Agreement
Phrasal Verbs
The Hindu Editorial Discussions
Economy and Banking and Finance Static Concepts
Static GA
Budget and Economic Survey
Important Reports and Indices
Government Schemes
Monthly Quiz General Awareness
Beepedia
Economy and Banking and Finance Current Affairs
PIB Current Affairs
Computer paper
Computer Architecture
Computer Memory
Computer Language
Software System
Database Management System
Objective Oriented Programming Language
Computer Book
Important Computer Questions
MS Office
Network
Email
Browser
Introduction to Computers
Coding Decoding Mains
Seating Arrangement Mains
Direction
Computer based
Coded Inequalities Mains
Syllogism Mains
High Level Puzzles Mains
Input output Mains
Statement and Assumptions Mains
Analytical Reasoning Mains
Coded Blood Relationship Mains
Section Tests Difficult Level
Simple and Compound Interest Mains
Time and Distance Mains
Trains Mains
Permutation and Combination Mains
Profit and Loss Mains
Data Interpretation Mains
Caselet DI Mains
Time work and Pipes and cisterns Mains
Series Mains
Mensuration Mains
Alligation Mains
HCF LCM Mains
Percentage Mains
Boat and Stream Mains
Probability Mains
Partnership Mains
Venn Diagram Mains
Average Mains
Ages Mains
Difficult level Section Tests
Ratio and Proportion Mains
Cloze Passage
Tense Mains
Cloze Passage Mains
Reading Comprehension Mains
Spotting Errors Mains
Coherent Paragraph Mains
Vocabulary Mains
Subject Verb Agreement Mains
Idioms and Phrases Mains
Rearrangement Mains
Match the Column Mains
Sentence Connectors Mains
Fillers Mains
Recommended Courses for you
FAQs
The Online Video Lessons of NIACL Assistant is available on the ixamBee Website or on the Dashboard of your ixamBee account. Login to www.ixamBee.com> Dashboard> Online Class Material > NIACL Assistant Online Course>Select the subject and click on the Video Lesson you want to watch from the list.
Yes, once you visit the ixamBee home page, you will see a section named -Free Videos. Here you watch some videos free of cost.
ixamBee always believes in providing quality content to students. The online course of NIACL Assistant Online Course is curated by faculties who have been a part of the banking sector. With their rich experience and sound knowledge, they have designed the online course of NIACL Assistant Online Course in such a way so that all the syllabus is covered with all the latest updates.
ixamBee offers the best NIACL Assistant online coaching available today. For our courses, we select instructors who are current leaders in their fields. Furthermore, we offer exam-oriented study resources that are accurate and clear.
Yes. There are few institutions in the country that can match our NIACL Assistant faculty. They will be your mentors in your classes.
Mobile devices or laptops with an internet connection are all you need to participate in the NIACL Assistant online coaching.
Yes. There are certainly demo courses available for NIACL Assistant as well. Make sure you thoroughly review a course's details before purchasing.
The course will be taught mainly in English. It is the primary language of instruction and the primary language of the course materials which is English. It is possible for instructors to converse in Hindi when and where necessary.
Validity periods vary depending on the package you purchase. You can select the duration of your course package when you purchase it.
With your online course package, you will receive a lot of study materials. In the top portion of the page, you can see what reading materials, videos, PDFs, and exams are offered in the course.
It is indeed true that you will receive the NIACL Assistant mock tests as a part of your package. To prepare for the NIACL Assistant exam, students can use the mock exams in our online course.
Watch Demo
Need Any assistance?