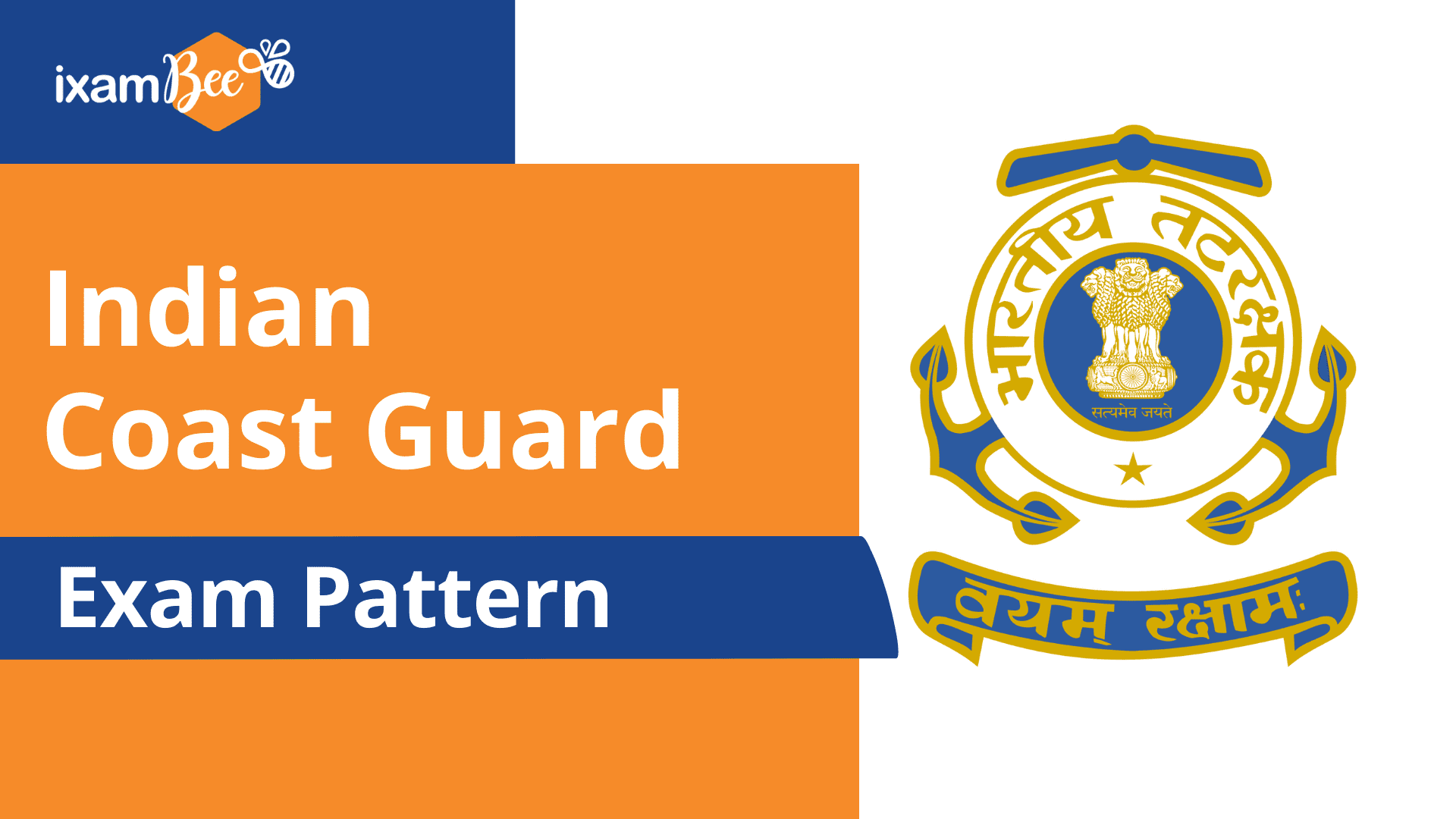 Collecting all information regarding the exam pattern should be your next step after filling up the online application form. The Indian Coast Guard recruitment for three posts of Navik (General Duty), Navik (Domestic Branch) and Yantrik was announced recently and all the candidates who wish to crack the exam should be well versed with the complete exam pattern. It gives you a better understanding of how & what you should be preparing for the exam. The Indian Coast Guard selection process consists of four stages: Stage 1, Stage 2, Stage 3 & Stage 4. Qualifying in all these stages and then going through the training process will be compulsory in order to get selected for any of the posts. Let us look into the complete details of the exam pattern.
Stage 1 - Written Examination
The written exam in Stage I will be a computer based test, having 5 sections with different subjects each which will consist of objective type questions with four options. For each of the posts, a different pair of sections will be asked. Each question carries 1 mark with no negative marking. Different subjects will be asked in different sections which will be allocated different marks.
All sections will comprise of 50 marks except Section I which will be of 60 marks. Similarly, for all the sections there will be a time limit of 30 minutes whereas for Section I there will be a time limit of 45 minutes available owing to more number of questions as compared to other sections. You can check the full details from the table below:
Section
Name of Tests
No. of Questions
Marks
Time Allotted
Section 1
Maths
20
20
45 Minutes
Science
10
10
English
15
15
Reasoning
10
10
GK
5
5

Total

60

60

Section 2
Maths
25
25
30 Minutes
Physics
25
25

Total

50

50

Section 3
Electrical Engineering
50
50
30 Minutes
Section 4
Electronics Engineering
50
50
30 Minutes
Section 5
Mechanical Engineering
50
50
30 Minutes
Stage 2
All those candidates who will perform well in the Stage 1 examination will be called for the next stage. The candidates will be required to upload some more documents for Stage 2. The admit cards for this stage will be issued only after these documents are uploaded. Stage II will be held for 1-2 days. There will be three phases in the Stage II of Indian Coast Guard recruitment as follows:
(i) Physical Fitness Test - This will be the first phase where the candidates' fitness will be assessed through various tasks. The test will be qualifying in nature. The physical tasks will be:
1.6 Km run to be completed in 7 minutes.
20 Squat ups (Uthak Baithak).
10 Push-ups.
No break will be allowed in between any of the tasks mentioned above. Any kind of pause or break will lead to disqualification.
(ii) Document Verification - Once the physical fitness test is done, it will be followed by a document verification stage where all the information provided by the selected candidates in their online application will be verified with the original documents. Any kind of mismatch in information will lead to cancellation of candidature.
(iii) Initial Medical Examination - The candidates will have to go through another medical examination which will also be qualifying in nature (pass/fail). A medical officer will test and declare the candidates permanently or temporarily unfit as will be the case. The candidates will have the facility to appeal in case of any doubt in the results of the initial medical examination. The validity of this initial medical will only be for 6 months. The candidates will have to undergo another medical exam in case of a delay in the recruitment process.
Stage 3
Once both the stages are completed, a merit list will be prepared based on the performance of candidates in Stage 1 & 2. The duration of Stage III will also be 1-2 days. The various stages will be -
(i) Document Verification - All the documents will be verified once again and the information provided in the application will be matched with the original documents. If any discrepancies are found, the candidate will be disqualified. A candidate can be disqualified even if he passed the document verification in Stage 2.
(ii) Final Medicals at INS Chilka - A final medical examination will be done for all the passed candidates at INS Chilka. Those who pass this stage too will be eligible for the "training". For the candidates who will be declared medically unfit, a chance for an appeal will be provided where they can question the results within a period of 21 days or as decided by INS Chilka.
(iii) Submission of Original Documents, Police Verification and Other Associated
Forms - All the selected candidates will be required to submit their original documents along with a police verification report and other related forms along with the Stage III e-admit cards. The police verification report should be either from the candidate's place of domicile or present residence. The format for the police verification can be downloaded from this link: https://joinindiancoastguard.cdac.in/.
Stage 4
The candidates who are able to pass Stage 3 and find their place in the merit list will be required to go through the final phase of training at INS Chilka. The candidates will be expected to submit all the requisite documents and their verification documents at this stage.
Marking scheme
The Indian Coast Guard exam will consist of four stages, Stage 1,2,3 & 4. Only Stage I will have a written examination which will assess the candidates on various subjects in various sections. All the other stages will be qualifying in nature. The Stage 1 exam will be a computer based test which will contain objective type questions that will carry 1 mark each.
There will be no negative marking in Stage 1.
Free Mock Test
The aspiring candidates who wish to join Indian Coast Guard should start their preparation immediately. This is a golden opportunity and should not be missed at any cost. A good preparation plan is required to achieve success in an examination. Your plan should necessarily include enough practice and for that you need good quality mock tests which you can get for free at ixamBee. Practice these free mock tests for Indian Coast Guard exam and clear your way to victory.