IBPS RRB Scale 2 Study Plan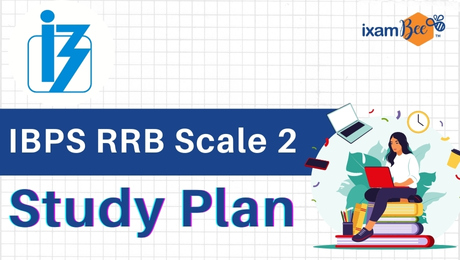 With the announcement of IBPS RRB recruitment 2022, candidates are ready to sharpen their arsenal. As IBPS RRB Scale 2 recruitment 2022 is one of the most awaited recruitments among aspirants, therefore the competition cannot be taken lightly.
All the students who are preparing for RRB Scale 2 exam and are concerned about how they should plan their study schedule, we are providing a 3 month study plan below for your ease. Whether you are working or a professional, a guidance in the form of a roadmap for all the sections and their topic wise study in a practical manner will ease out the unnecessary stress. So if you are searching for the IBPS RRB Scale 2 study plan, then you are in the right place. The RRB Scale 2 study schedule is divided into week wise format with each week having distribution of different topics section wise. This will help you to cover the syllabus in time and providing you much space for practice and analyse.
Why The RRB Scale 2 Study Plan Is Important?
A well structured study plan helps an individual to navigate through the exam syllabus in an organized way. Here some points why IBPS RRB Scale 2 study plan is must for every aspirant preparing for it.
The RRB Scale 2 study plan has been designed by experts having rich experience in various banking and financial institutes
Useful for working professionals as well
Systematic division of topics for each section
Will help you in maintaining consistency and having a well documented strategy.
| Week | Numerical Ability and Quantitative Aptitude | Reasoning | English Language | General Awareness | Computer Knowledge |
| --- | --- | --- | --- | --- | --- |
| Week-1 | Simplification & Approximation, LCM and HCF, Percentage | Coding Decoding, Inequalities | Cloze Test | Banking Awareness | History of Computers, Communication (Basic Intro) |
| Week-2 | Age, Average, Ratios & Proportion, Number Series | Blood Relations, Direction, Figure Series | Reading Comprehension | Indian Financial System | MS Windows and MS Office, Operating System |
| Week-3 | Factoring | Alphanumeric Series, Alphabet Test, | Fill in the blanks | History and Structure of Indian Banking | Concept of Internet, History and working of the Internet |
| Week-4 | Missing Numbers, Number System | Seating Arrangement, Tabulation Puzzles | Paragraph Completion, Mistakes | Indian Economy, Monetary and Credit Policies | Applications, Security Tools |
| Week-5 | Simple and Compound Interest | Logical Reasoning | Sentence Correction, Para Jumbles | RBI, SEBI, IRDA, PFRDA, FSDC, FMC, Concepts like BASEL | Viruses |
| Week-6 | Volume, Bar Graphs, Pie Charts | Syllogism, Assertion and reason | Paragraph Completion | Government Schemes | Number System, Hackers |
IBPS RRB Scale 2 Study Plan - Things To Keep In Mind
Before starting with the IBPS RRB Scale 2 Officer study plan, you are required to go through the exam pattern and other details so that you have clear idea of everything. Others points that you must keep in mind are as follows -
Avoid reading for longer sessions at a stretch make. Take small session break in between for practical and attainable goals
Follow the RRB Scale 2 study schedule rigorously but leave some unscheduled time for any kind of flexibility in the plan
Each aspirant has different behavioural attitude so make changes in the plan as per your need and approach
Dedicate a specific place for your studies as it will train your mind accordingly
Focus on deep work i.e concentration without distraction. It will help you in mastering complicated information with better results in less time
FAQs
A well structured study schedule will give you a right direction on how to approach the syllabus and cover it well in time for IBPS RRB Scale 2 exam.
Yes, off course depending upon your strengths and weakness, you can make changes in the above mentioned RRB Scale 2 study plan. But make sure that restructuring the IBPS RRB Scale 2 does not break the flow and purpose of the schedule.
To prepare for IBPS RRB Scale 2, keep in touch with people who bring positive vibes. Practice more and more mocks so that you gain confidence to handle any type of question complexity.