Salary 2022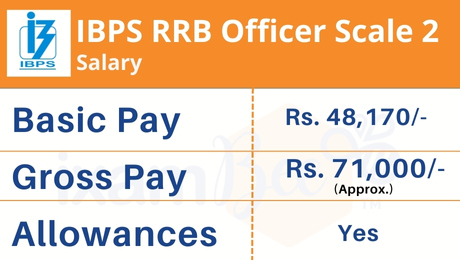 Getting aware of RRB Scale 2 salary can be a motivating factor for many aspirants. The RRB Scale 2 pay scale lies in the range of 48170-1740/1- 49910-1990/10- 69810. The total gross emoluments can be between Rs 75000 to 77000 / month. The net salary of a RRB Scale 2 Officer ranges between Rs 65000 to Rs 67000 / month. As you progress higher in the hierarchy ladder you will have lot of exposure and responsibilities to perform. Let's get into more details on the salary of RRB Scale 2 from the table below.
Post
Salary
IBPS RRB (Scale 2)
Pay Scale - 48170-1740/1- 49910-1990/10- 69810
DA - Rs. 14,634/- Per month
HRA - Rs. 3,371/- Per month
Special Allowance - Rs. 7,707/- Per month
DA on Special Allowance - Rs. 2,389/- Per month
Gross Income - Rs. 75,000-77,000/- Per month
Allowances and Perks
Besides a handsome salary, an RRB Scale 2 officer is also eligible for various allowances and perks as mentioned below.
House Rent
DA
Travelling Allowance
Medical Allowance
Special Allowance
Job Profile
If you get selected as an RRB Scale 2 Officer, you will be designated as 'Manager'. You will be posted in one of the 'Regional Rural Banks' in the respective state from where you applied. This is a Group "A" post. After few years of service, you will get promoted to a higher post. The job duties of an RRB Scale 2 Officer are quite similar to any other Bank PO. The job profile of an RRB Officer in Scale 2 includes the following duties -
Regular banking tasks like handling and managing cash books
Provide cash facilities to the rural areas
Interacting with the customers
Resolving customer queries
Preparing bank reports
Managing withdrawals
FAQs
Yes, IBPS RRB Officer Scale 2 is liable to be posted anywhere in the respective region.
No, there is no mention of any bond period and amount that you need to deposit as a security in the bank in the official RRB Scale 2 notification.
A newly recruited RRB Scale 2 Officer starting pay scale lies in the range of Rs 48170-1740/1- 49910-1990/10- 69810.