Central Bank Of India SO Syllabus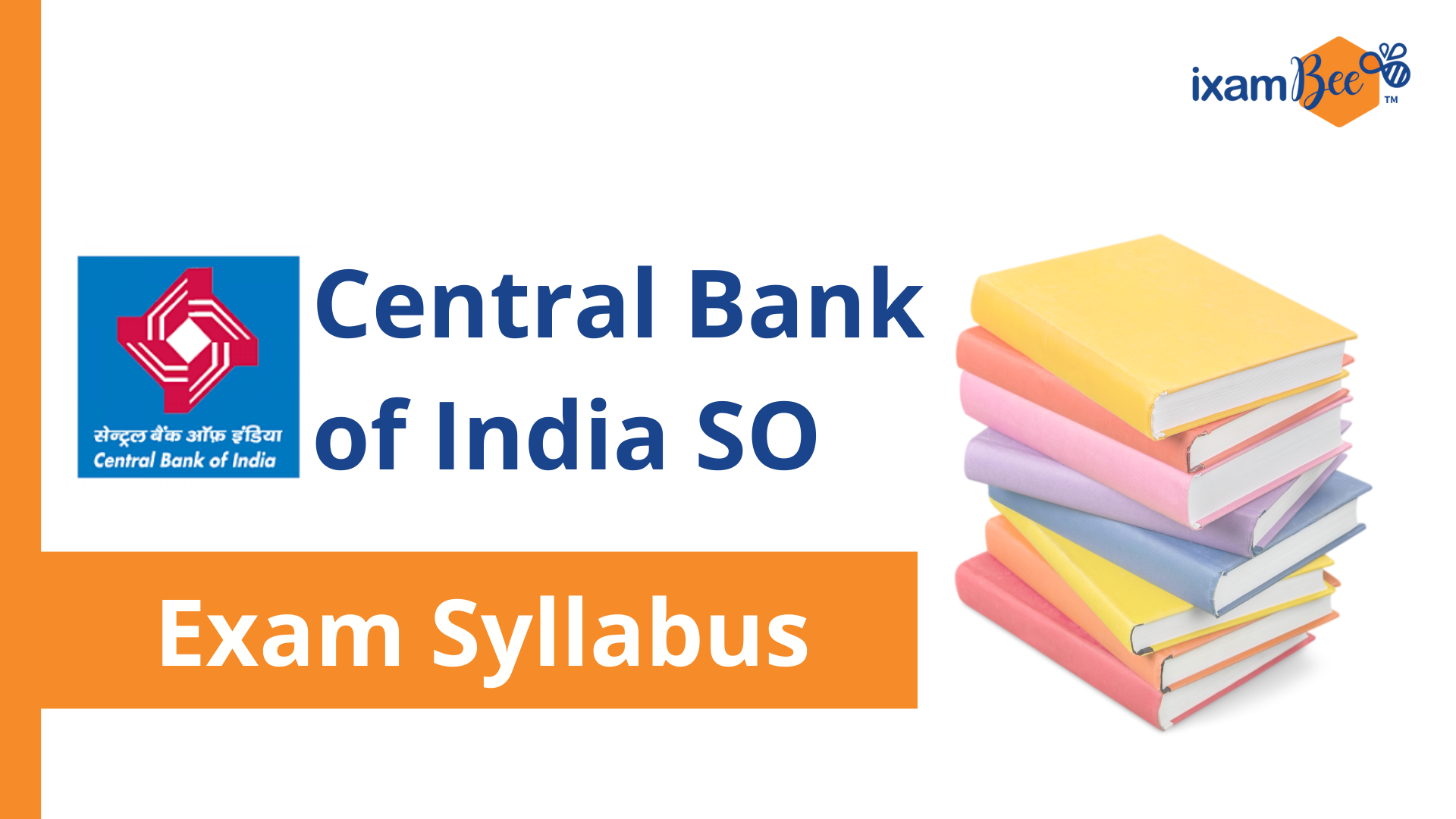 The currently released CBI Specialist Officer notification 2022 has no online exam. The selection will be done on the basis of Interview merit. The syllabus for Central Bank of India SO given below is as per last year notification.
You must be well versed with topics and the detailed syllabus for the Central Bank of India SO exam. If you are aware of the Central Bank of India SO syllabus then your preparation becomes easy. Since the Central Bank of India SO exam consist of different post so the syllabus for each post varies. The detailed Central Bank of India SO exam syllabus can be get from the table given below.
Sections
Topics
Banking, Economic Scenario and General Awareness
Role of the Banking Industry, RBI, All nationalized bank's history, Types of Banks, Money market in India, Fiscal-Monetary Policies, RBI Functions, Inflation-deflation, Capital market in India, National income and public finance
Stream Specific

Capital Market in India:

Primary Market, Secondary Market, Over the Counter Market, Derivatives Market

Indian Banking Industry:

Banking History, Types of Banks, Functions of Banks, Role of Banking

RBI and Monetary Policy:

Main Functions, Devaluation, Credit Rating Agencies, RTGS, MSF, Types of Money, Anti-Money Laundering, BASEL Committees, Instruments, International Financial Institutions

Information Technology:

Software Engineering, Basic programming languages, Data Structure, Data Communication & Networking, DBMS, Object-Oriented Programming, Operating System, Computer Organization & Microprocessor

Money Market in India:

Money Market Concepts, Types of Cheques, FDI and FII Bills, Types of Negotiable Instruments, FERA and FEMA

Public Finance:

Revenue of Central Govt., Concept of Budget, Schemes and policies implemented by the Govt., Revenue Deficit, Financial and Railway Budget, Finance Commissions, Taxes on Income and Expenditure

National Income:

Source of Income, Some Macro Economic Indicators

Computer Knowledge
History of Computer, Computer Basics Questions, Basic computer terminology, Security Tools, Network basics (LAN & WAN) Computer abbreviation, Virus, Hacking Software names and usages (Microsoft Office) Computer Shortcuts, Computer hardware parts, and controls, Basic internet knowledge and protocols
Books
It needs a proper plan and strategy accompanied by a good quality study material to crack any exam. Therefore, you should be able to get hold of some really good Central Bank Of India SO books which would not waste your time and you can go on with your preparation. To save your precious time, we have jotted down some useful books which may assist you well in your CBI SO preparation.
For the General Awareness section, you can refer to our Monthly and Weekly BeePedia available on our website under the General Awareness tab free of cost.
Recommended Courses for you
FAQs
You should read the newspaper daily and watch the news daily as well to stay up-to-date with your GA preparation. You can also follow ixamBee's GA capsules for the latest updates.
In the interview, you can be asked questions on any topic ranging from personal to stream-specific. However, some common topics that you can be questioned upon are Banking, Economic Scenario and General Awareness, Computer Knowledge, RBI and Monetary Policy, Indian Banking system and such.
Yes, please give your CBI SO Interview in the language you are most comfortable with.