Free Mock Test For SBI PO Mains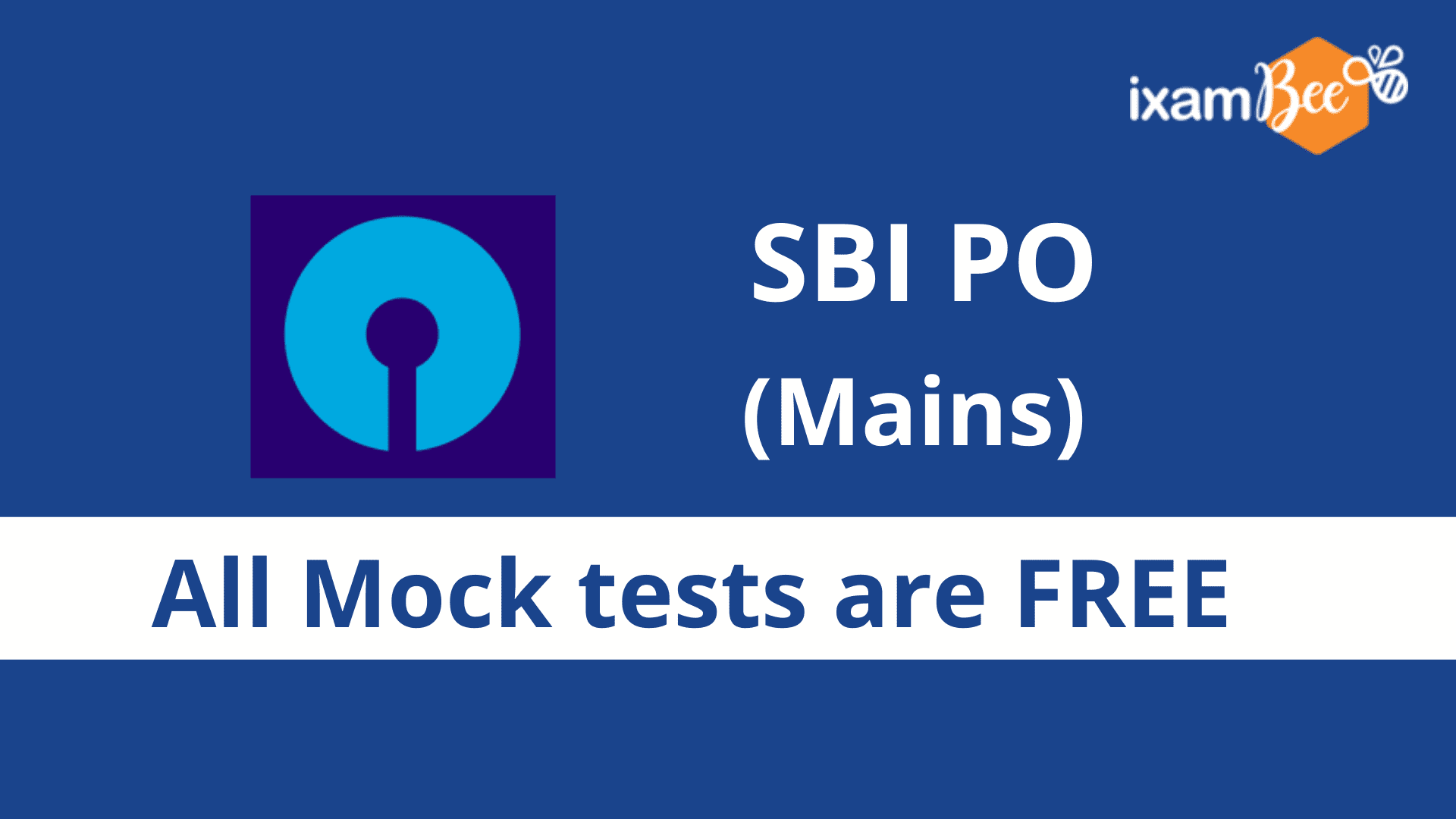 SBI PO Mains Free Mock Test
Attempt SBI PO free mock tests to crack the exam with ease. In order to clear the exam, the right choice of practice papers in the form of online tests and test series is very important. ixamBee provides free SBI PO Mains free mock tests which will help you to score high by getting hold of your weak areas. Some of the benefits that you have of attempting the SBI PO Mains free mock tests are as follows-
Practicing SBI PO Mains free mock tests will give you actual exam experience.
SBI PO Mains online test series covers questions from all topics important from the exam point of view.
Practicing these tests online will improve your speed and accuracy while boosting your confidence.
These tests are provided with proper solutions wherever required for a clear understanding.
The SBI PO online test series will help you put your best foot forward on the final day.
Detailed SBI PO Mock test analysis based on your perforamce will help in working on your weak areas. ixamBee provides just that.
You can practice SBI PO Mains mock tests in English as well as in the Hindi language.
SBI PO Mains Online Test Series | Practice Test 2021
Online test series are very helpful while preparing for any competitive exam. The SBI PO 2021 mock tests will help you elevate your performance to the next level. Analyze your performance by practicing ixamBee's free SBI PO Test Series for the Mains exam. Regular practice with the help of the SBI PO free online test series will definitely raise your preparation to the next level. Practice our well-made and expertly prepared online mock tests and analyze your preparation levels.
To ease your preparation, ixamBee also offers SBI PO Exclusive Online Course designed by our experts having vast experience in the banking and teaching sector.
SBI PO Exam Dates 2021
The complete information for SBI PO exam dates can be inferred from the table below.
SBI PO Dates 2021
SBI PO Events
SBI PO Exam Dates
On-line registration including Editing
/ Modification of Application by candidates
5th October 2021 to 25th October 2021
Payment of Application Fee
5th October 2021 to 25th October 2021
SBI PO Phase I (Preliminary)
Admit Card

November 08 to 27, 2021

(CLICK HERE)
SBI PO Phase I (Preliminary)
Online Examination

November 20, 21 & 27, 2021

Result of Online Preliminary Examination
December 2021
Download of Call letter for Online Main Examination
2nd /3rd week December 2021 onwards

Online Main Examination

December 2021
Result of Main Examination
January 2022
Download of Call Letter for Group Exercises & Interview
1st /2nd week of February 2022 onwards
Conduct of Group Exercises & Interview
2nd/ 3rd week of February 2022
Declaration of Final Result
February / March 2022
Download of call letters for Pre-Examination Training
(SC/ ST/ Religious Minority Community)
1st week of November 2021 onwards
Conduct of Pre- Examination Training
2nd week of November 2021 onwards
SBI PO Prelims Exam Pattern
SBI PO Prelims exam is an objective online test consisting of three sections. Detailed information is given in the table below.
SL. No.
Name of Test
No. of Questions
Marks
Duration
1.
English Language
30
100
20 Minutes
2.
Quantitative Aptitude
35
20 Minutes
3.
Reasoning Ability
35
20 Minutes

Total

100

100

1 hour
SBI PO Mains Exam Pattern
The Mains exam for SBI PO is a 3 hour online objective tests for 200 marks. Check the details from the table below.
S.No.
Name of Tests(Objective)
No. of Questions
Maximum Marks
Duration
1
Reasoning & Computer Aptitude
45
60
60 minutes
2
Data Analysis & Interpretation
35
60
45 minutes
3
General/ Economy/ Banking Awareness
40
40
35 minutes
4
English Language
35
40
40 minutes

Total

155

200

3 hours

Descriptive Test
02
50
30 minutes
SBI PO Descriptive Test
SBI PO Mains objective test is followed by the descriptive test to test your writing skills. The descriptive exam pattern for the SBI PO exam is given below.
| Descriptive Test | Marks | Time Duration |
| --- | --- | --- |
| Letter Writing & Essay | 50 | 30 Minutes |
Frequently Asked Questions
Q 1:Will there be a Group Discussion at the time of Interview in SBI PO selection process?
A:
Usually, there is always a 'Group Discussion' along with the SBI PO Interview. This year, due to the pandemic restrictions, it is uncertain. Looking at the current Covid scenario, the final decision will be taken. There are two possibilities of either only an Interview or a GD & Interview both.
Q 2:Will there be sectional cut-off in SBI PO Mains?
A:
No, there will not be any sectional cut-off in SBI PO Mains.
Q 3:How can I enhance my exam preparation and score for SBI PO Mains?
A:
To secure high rank in the final merit for SBI PO, you should opt for SBI PO Mains free mock tests available at ixamBee.
Q 4:How will SBI PO Mains free mock tests be useful in exam preparation?
A:
SBI PO Mains online test series is the best way to prepare for SBI PO Exam. Practicing online free mock tests for SBI PO Mains will not only improve your speed but will also give you the complete analysis of your performance.