RBI Grade A 'Rajbhasha' Free Mock Test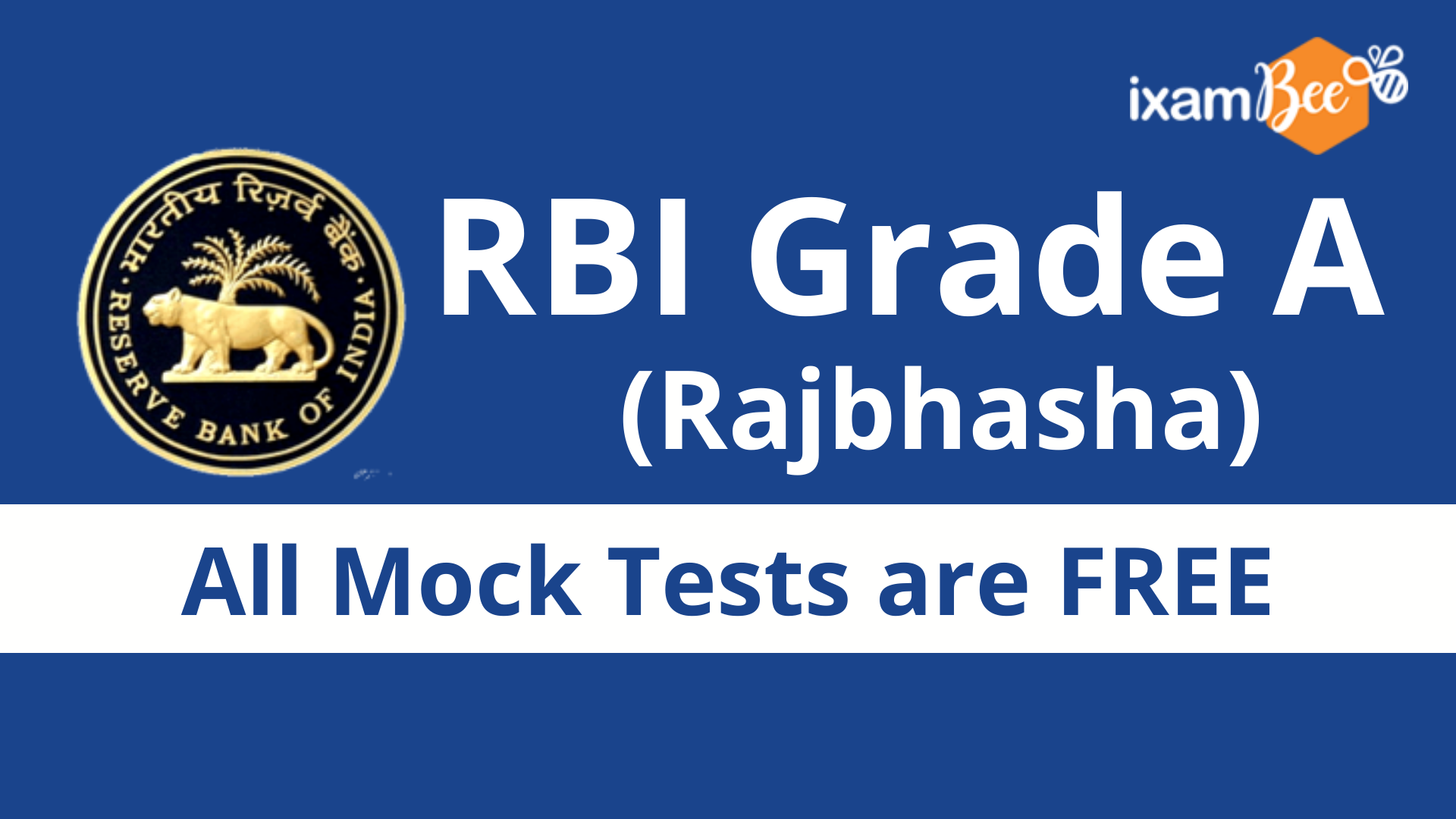 To make sure that you perform well in the RBI Assistant Manager (Rajbhasha) examination, ixamBee is providing RBI Grade A Rajbhasha free online mock tests. Attempting these tests can benefit you in several ways, some of which are as follows:
The RBI Grade A Rajbhasha mock tests are totally free which makes them a natural choice.
You can attempt these RBI Rajbhasha mock tests as and when you like
You can also reattempt these mock tests whenever you want to which will give you enough chances to rectify your errors.
Attempting the RBI Grade A Rajbhasha online tests will help in checking your level of preparedness.
If you are a newbie and will be appearing for the RBI Rajbhasha exam for the first time, you can easily get to know and get accustomed to the exam pattern and syllabus.
By attempting the RBI Assistant Manager Rajbhasha mock tests on a regular basis, you will also be able to figure out the topics that appear the most and the least which will eventually help you in planning your preparation.
By attempting the RBI Grade A Rajbhasha online test series, you can also improve your speed as well as accuracy
RBI Grade A Rajbhasha Online Test Series | Practice Tests 2022
To achieve your goal of becoming an RBI Rajbhasha Adhikari you should attempt ixamBee's RBI Grade A Rajbhasha online test series. These practice tests have been designed by our subject matter experts and thus will prove useful in your exam preparation. These tests will enable you to cover all the important aspects of the exam syllabus.
RBI Grade A Rajbhasha Exam Dates
RBI NON-CSG Exam Dates 2021
| Events | Tentative Dates |
| --- | --- |
| Online Registration Including Editing / Modification of Application by Candidates | January 15, 2022 to February 04, 2022 |
| RBI Non-CSG Admit Card | To be notified later |
| Date of Examination (except for Assistant Librarian in Grade 'A' and Curator on full time contract) | March 06, 2022 |
| RBI Non-CSG Result | To be notified later |
| RBI Non-CSG Interview Date | To be notified later |
| RBI Non-CSG Selected Candidates | To be notified later |
RBI Grade A Rajbhasha Phase 1 Exam Pattern
| Subjects | No. of Questions | Maximum Marks | Duration |
| --- | --- | --- | --- |
| Reasoning | 35 | 35 | 30 minutes |
| English language | 35 | 35 | 30 minutes |
| General Awareness with special reference to Banking, Economics, Commerce and allied subject | 35 | 35 | 20 minutes |
| Test of Professional Knowledge (including Official Language) | 45 | 45 | 40 minutes |
| Total | 150 | 150 | |
RBI Grade A Rajbhasha Phase 2 Exam Pattern
| Paper | Maximum Marks | Duration |
| --- | --- | --- |
| Descriptive Paper (Official Language) | 50 | 60 minutes |
58 Cr+
Questions Attempted
56 Lac+
Mock Test Attempted