Syllabus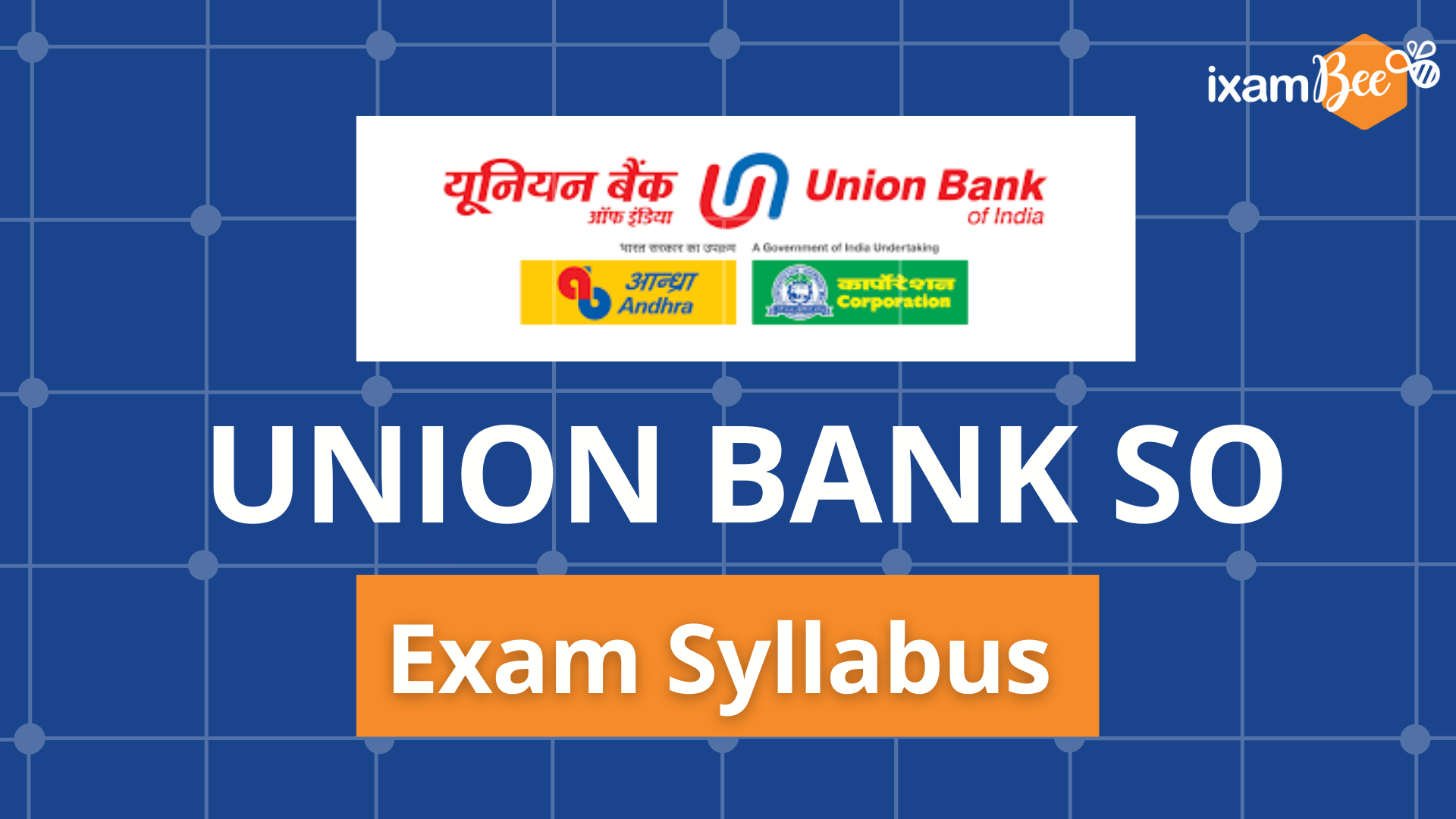 The UBI SO recruitment notification was recently released and the application window is going to close on Sept 03, 2021. Once you are done with the complete application process and have finally submitted your application, you should start planning your preparation and the first step into the exam preparation process is knowing the syllabus. The candidates should note down the UBI SO exam syllabus 2021 properly before moving on to the preparation part. There will be a common exam for all the posts/disciplines which will contain 3 common sections i.e. English Language, Quantitative Aptitude & Reasoning whereas there will be a test on Professional Knowledge which will be post-specific. Check out the complete UBI SO syllabus below:
| Section | Topics |
| --- | --- |
| Quantitative Aptitude | Time and Work, Mensuration, Average, Average, Mixture and Allegations, Permutation and Combination, Probability, Data Interpretation, Ratio & Proportion, Simplification, Percentages, Set Theory, Approximation, Surds & Indices, Percentage, Profit & Loss, Simple & Compound interest, Partnership, Ages, Quadratic Equations, Number Series |
| General Awareness | Current Affairs – National & International, Budget, Awards and Honours, Important Days, International & National Organizations, Sports, Books and Authors, Science – Inventions & Discoveries, Countries & Capitals |
| English Language | Grammar, Vocabulary, Reading Comprehension, Passage Making, Error Spotting, Jumble Words, Sentence Framing, Fill in the Blanks |
| Reasoning | Puzzles, Seating Arrangement - Circular, Square and Linear, Data Sufficiency, Directions and Distance, Coding Decoding, Blood Relations, Inequality, Syllogism, Machine Input Output, Verbal Reasoning, Ordering and Ranking, Arrangement and Pattern, Scheduling, Distance and Direction, Ranking |
Profesional Knowledge (Forex Syllabus)
Section
Topics

Profesional Knowledge (Forex Syllabus)

Regulatory requirements under FEMA related to forex facilities for Resident Indians -
Foreigns accounts in India, Travel and non travel related, LRS, etc.
Regulatory requirements under FEMA related to forex facilities for Resident Indians -
Foreigns accounts in India, Travel and non travel related, LRS, etc.
Imports and funding related serives like trade credit policy, ECB guidelines,
other outward remittances
Export finance, foreign currency accounts
Foreign investors - FDI and FPI, guidelines related to investments by foreign investors
and investments outside India
Documentary Credits and Standby Credits
Foreign Trade Policy of India
Forex Markets basics
Forex Reserves Basics
Books
Books are a man's best friend and when it is about preparing for a job, the value of books outshines everything else. Apart from taking help online, having good books by your side is equally important. Irrespective of the job that you are preparing for, books will play a major role. The UBI SO exam is going to be held soon and thus all the candidates should fasten their belts and open the UBI SO books to ensure that they are successful in their first attempt. Refer to the list of books for each section of the UBI SO exam that are provided in the table below:
| Name of book | Author |
| --- | --- |
| A Modern Approach To Verbal & Non-Verbal Reasoning Revised Edition | R. S. Aggarwal |
| A New Approach to Reasoning Verbal and Non-Verbal 1st Edition | BS Sijwali, Indu Sijwal |
| The Hand on Guide to Analytical Reasoning and Logical Reasoning | Peeyush Bhardwaj |
| Quantitative Aptitude For Competitive Examinations 17th Edition | R. S. Aggarwal |
| Magical Book On QuickerMaths 3 Edition | M Tyra |
| Quantitative Aptitude Test | N. K. Singh |
| Objective English for Competitive Examinations | Hari Mohan Prasad, Uma Rani Sinha |
| Objective General English 22nd Edition | R. S. Aggarwal, Vikas Aggarwal |
| Objective English 4 Edition | Edgar Thorpe |
Online Course
If you are among those who have applied for the UBI SO recruitment and have started their preparation, you are just in the right place. If you are feeling clueless as to where to begin, we have the complete solution for it. ixamBee is providing a complete package for your preparation in the form of the UBI SO Online Course for Forex 'Manager' & 'Assistant Manager' posts respectively. You can enroll yourself in the online course and be part of an excellent program that offers you complete guidance, and well-curated material including live classes & doubt sessions.
FAQs
There is a common exam for all the UBI SO posts and it will consist of 4 sections in all including a Professional Knowledge test.
Yes. You can refer to the list of good books available at ixamBee.
No, there is no such information available in the UBI SO official notification 2021.