SSC Junior Hindi Translator Salary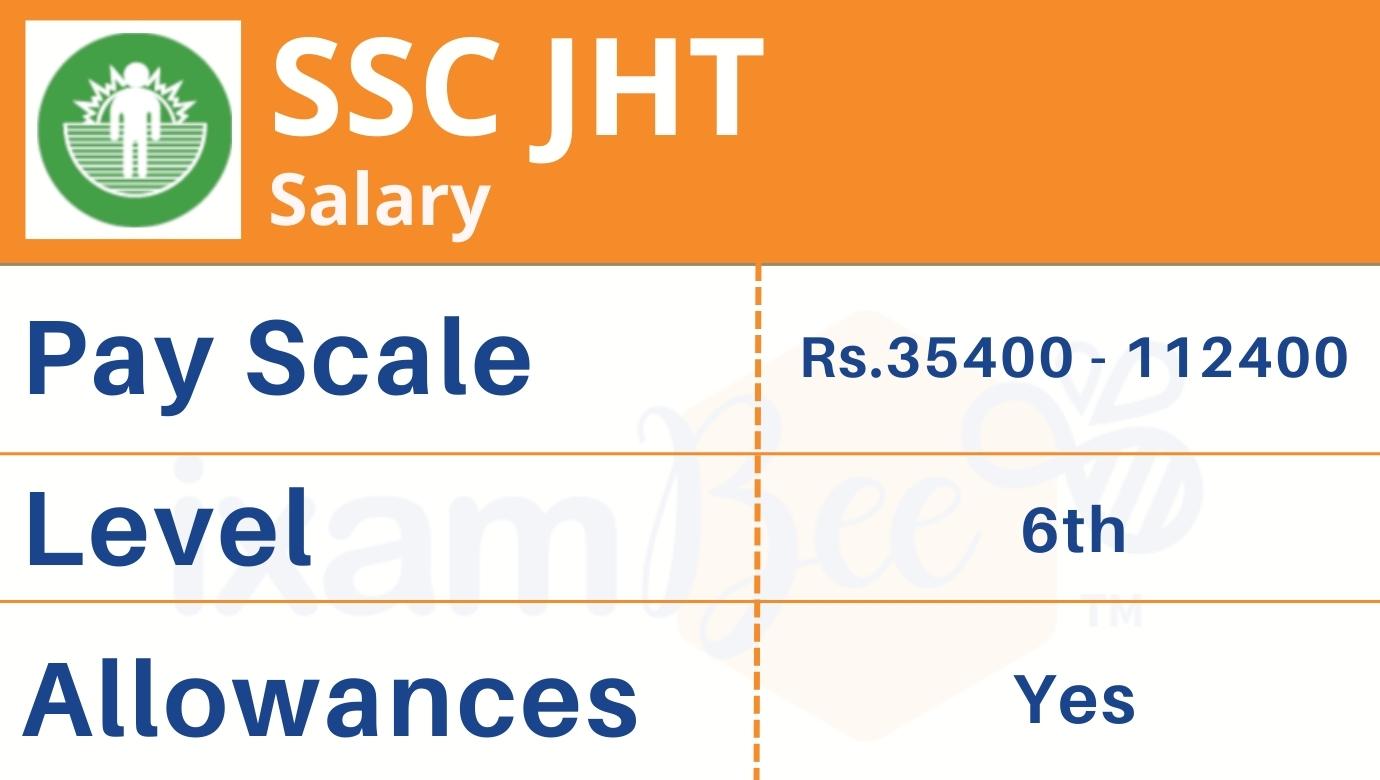 Candidates appearing for SSC JHT recruitment 2022 must be aware of the SSC JHT salary 2022. If you are looking for details on SSC JHT salary and Job Profile, you are on the right platform. Appointed as SSC Junior Hindi Translator , your salary structure will be handsome. The starting salary of SSC JHT 2022 is Rs.35,400 which can go up to Rs 112400 / month as per your experience and promotion. SSC JHT salary structure comes under level 6. Read below to get more info on SSC JHT pay scale. If there is a change in the SSC JHT salary 2022, we will update the new salary.
| Code | Name of the Post | Pay Scale |
| --- | --- | --- |
| A | Junior Translator in Central Secretariat Official Language Service (CSOLS) | Level-6 (Rs.35400- 112400) |
| B | Junior Translator in M/o Railways (Railway Board) Level-6 | (Rs.35400- 112400) |
| C | Junior Translator in Armed Forces Headquarters (AFHQ) | Level-6 (Rs.35400- 112400) |
| D | Junior Translator (JT)/ Junior Hindi Translator (JHT) in subordinate offices who have adopted Model RRs of DoP&T for JT/JHT | Level-6 (Rs.35400- 112400) |
| E | Senior Hindi Translator in various Central Government Ministries/Departments/Offices | Level-7 (Rs.44900- 142400) |
SSC JHT in-hand Salary
In hand salary is the salary than once receives after formulating all the reductions and extensive of all the allowances. According to the official 7th pay commission, a Junior Hindi Translater receives Rs. 35,000/- as in-hand salary every month.
SSC JHT Perks and Allowances
Besides the SSC JHT salary, you will be eligible for various perks and allowances Please note that that the house rent allowance shall remain based on the choice of the city preferred by you. Therefore, it can vary city to city. Perks and alliances that a JHT receives has been mentioned below.
Dearness Allowance- 12% of Basic Pay under the 7th Pay Commission
Special Occasion Allowance
House Rent
Transport Allowance - Rs. 3600 + and for all other places, the TA will be not less than Rs. 1800+
Children Education Allowance - Rs. 27000/- per annum, Hostel subsidy of Rs.81000/- per annum
Allowances for special occasions.
SSC JHT Salary 2022: House Rent Allowance
Please look below for the Percentage of the house rent allowance you are going to receive in different category of cities.
SSC JHT Job Profile
Appointed as a Junior Hindi Translator in SSC you will have certain roles and responsibilities to perform.
Hindi translation or writing of documents, journals, reports
Conducting Hindi workshops and meetings
Working as a Hindi teacher for teaching Hindi schemes
Organizing documents and files and keeping records of it in the department
Ensuring the use and promotion of Hindi
The organisation of meetings in the Hindi language.
SSC JHT 2022 Career Growth
As you progress in your career, you will enjoy promotion a vast growth in the career. You will experaince the promotion hierarchy in the following manner.
Junior Translator
Senior Translator
Assistant Director
Deputy Director
Joint Director
Director
FAQs
No, SSC Junior Hindi Translator is a Group B Non-Gazetted post.
As per the last year notification SSC JHT has a Level 6 payscale. The per month salary of SSC JHT is Rs 35400 which can go upto Rs 112400 as you reach higher level.
Yes, appointed as a JHT in SSC you will be on a probation for a period of two years and need to undergo various training or pass examinations as prescribed by the Controlling Authority.