SSC JHT Syllabus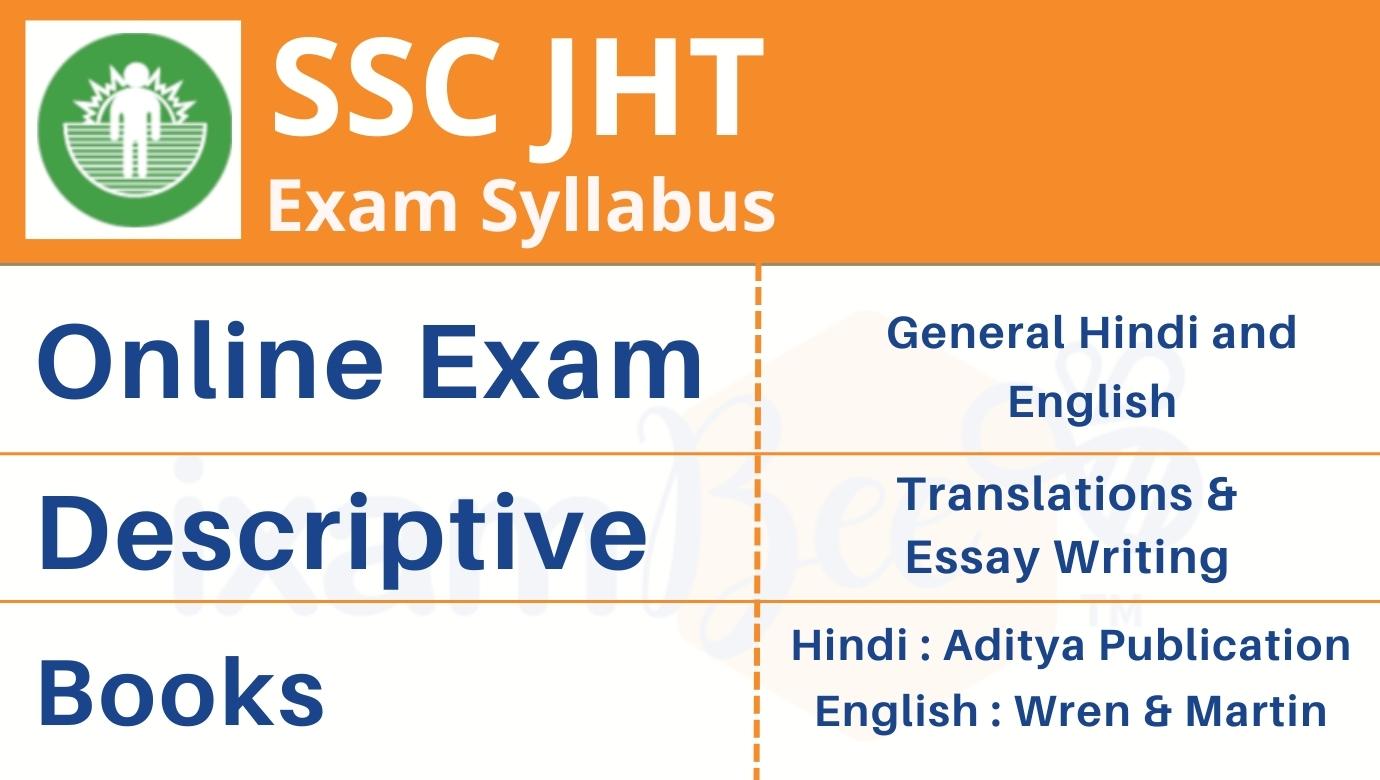 Candidates appearing for the SSC JHT recruitment 2022 should be well versed with the comprehensive SSC JHT exam syllabus. To clear all the stages it becomes essential to know the comprehensive SSC JHT 2022 syllabus in detail. Questions asked will be covered from subjects - General English and General Hindi. Given below is the detailed subject-wise SSC JHT syllabus.
| Section | Topics |
| --- | --- |
| English Translation | Spot the Error, Fill in the Blanks, Synonyms/Homonyms, Antonyms, Spellings/Detecting Mis-spelt words, Idioms & Phrases, One Word Substitution, Improvement of Sentences, Active/Passive Voice of Verbs, Conversion into Direct/Indirect narration, Shuffling of Sentence parts, Shuffling of Sentences in a passage, Cloze Passage, Comprehension Passage |
| Hindi Anuwad | वर्तनी की सामान्य अशुद्धियाँ तथा शब्दों के शब्द रूप, शब्दों के स्त्रीलिंग, बहुवचन, किसी वाक्य कोअन्य लिंग में परिवर्तन, मुहावरा व उनका अर्थ, अशुद्ध वाक्यों के शुद्धरूप, विलोमार्थी शब्द, समानार्थी व पर्यायवाची शब्द, अनेक शब्दों के लिए एक शब्द, कहावतें व लोकोक्तियां के अर्थ, संधि विच्छेद, क्रिया से भाववाचक संज्ञा बनाना, रचना एवं रचयिता |
SSC JHT Books
To prepare for the SSC JHT exam 2022, you need to have the right SSC JHT books in your storage. Below are some suggested SSC JHT books to help you in your preparation journey. These books for SSC JHT 2022 exam cover basic to complex concepts with various examples and questions.
Paper
Books
Author/Publisher

General Hindi

Samanya Hindi
X-EEED Publication
Vastunisth Samanya Hind
Aditya Publication
UP Police SI Samanya Hindi
Yukti Publication
Lucent's Samanya Hindi
Sanjiv Kumar / Lucent Publication

General English

English Grammar
Wren & Martin
Word power made easy
Norman Lewis
Descriptive General English
SP Bakshi