SSC JHT Exam Dates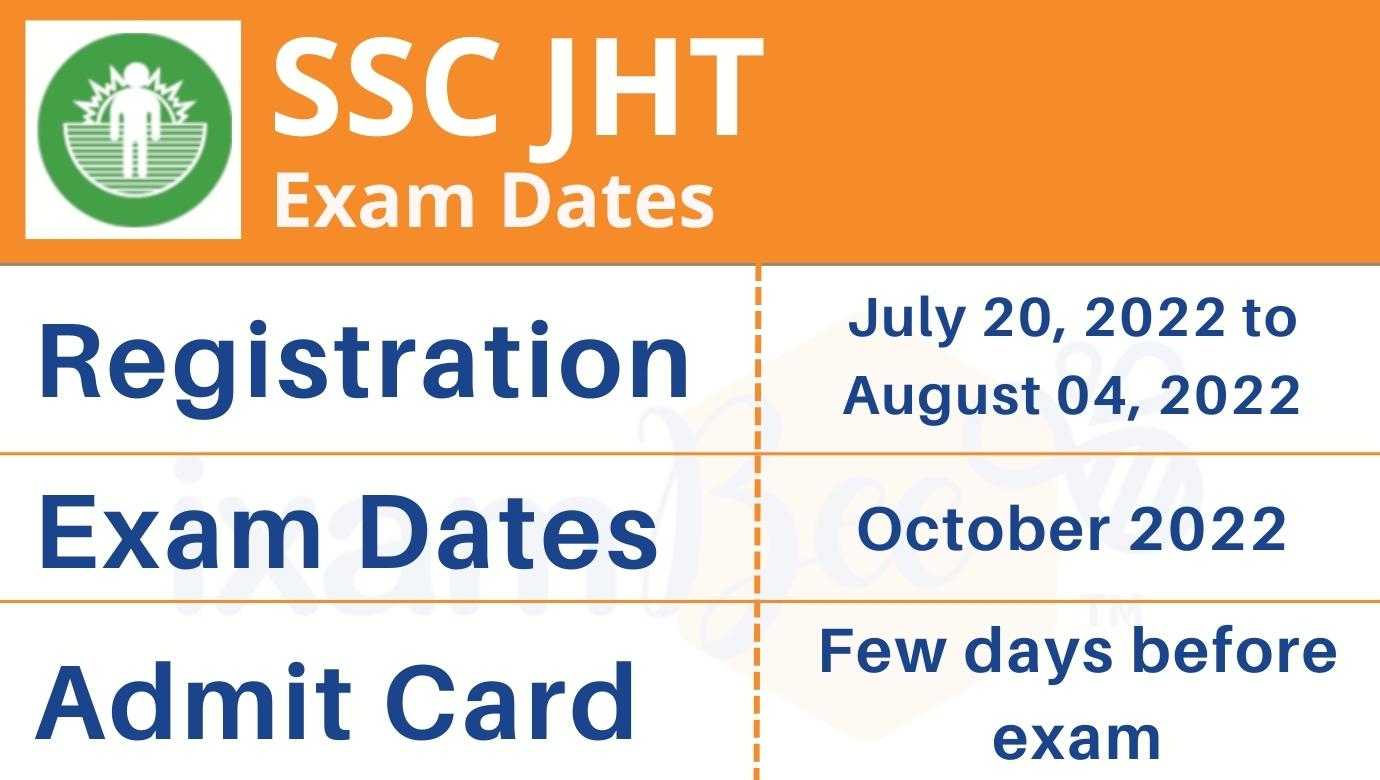 SSC JHT is a national-level exam conducted by the SSC to recruit candidates for Junior Hindi Translators posts in various departments. SSC JHT official notification is out!. The official notification has all details regarding the SSC JHT application starting and closing dates, exam dates and other info. You can apply for the same from July 20, 2022, to August 04, 2022. The exam is going to be held in October 1, 2022.
The SSC JHT 2022 final result pdf is out. ixamBee extends its heartiest congratulations to all the selected candidates.
SSC will allot various exam centres to conduct the SSC JHT 2022 exam smoothly all over India. You should carefully opt for the SSC JHT exam centre. No change for the exam centre will be entertained after the final submission.
SSC JHT Important Dates 2022
| Events | Important Dates |
| --- | --- |
| SSC JHT Online Registration Including Edit/Modification of Application by Candidates 2022 | August 22, 2023 to September 12, 2022 |
| SSC JHT Schedule of Computer Based Exam | October/ November, 2023 |
| SSC JHT Schedule of Computer Based Exam Result | To be notified Later |
| SSC JHT Paper 2 Exam Date | To be notified later |
| SSC JHT Paper 2 Exam Result | To be notified later |
| Download SSC JHT Result 2022 (List of Candidates Qualified in Paper 1) | [Click Here] |
| Download SSC JHT Final Result 2022 | [Click Here] |
SSC JHT Exam Centre
The preference for the SSC JHT exam centre must be indicated in the online application form. You need to opt for three centres within the same region. Though the SSC will allot the exam centres opted by you in the SSC JHT exam 2022, however, it reserves the right to cancel any centre and allot any new. No request for a change of SSC JHT exam centre 2022 will be entertained later. Details about the Regional Offices and SSC JHT exam venue where the exam will be conducted is given below.
SSC JHT Regions/State
Exam Centers
Central Region: Bihar, UP

Bhagalpur (3201)
Patna (3206)
Purnea (3209)
Agra (3001)
Bareilly (3005)
Kanpur (3009)
Lucknow (3010)
Meerut (3011)
Prayagraj (3003)
Varanasi (3013).

Eastern Region: Andaman & Nicobar Islands, Jharkhand, Odisha, Sikkim, West Bengal

Kolkata(4410)
Port Blair (4802)
Gangtok (4001)
Bhubaneshwar (4604)
Ranchi(4205)

Karnataka, Kerala Region: Lakshadweep, Karnataka, Kerala

Bengaluru (9001)
Kochi (9204)
Thiruvananthpuram (9211).

Madhya Pradesh Sub-Region: Chhattisgarh, MP

Bilaspur(6202)
Durg-Bhillai (6205)
Raipur (6204)
Bhopal (6001)
Gwalior (6005)
Indore (6006)
Jabalpur (6007)

North Eastern Region: Arunachal Pradesh, Assam, Manipur, Meghalaya, Mizoram, Nagaland, Tripura

Guwahati(Dispur)(5105)
Shillong (5401)
Agartala (5601)

Northern Region: Delhi, Rajasthan, Uttarakhand

Delhi(2201)
Ajmer(2401)
Bikaner(2404)
Jaipur(2405)
Jodhpur(2406)
Sikar(2411)
Udaipur(2409)
Dehradun(2002)
Haldwani(2003)
Roorkee(2006)

North Western Sub- Region: Chandigarh, Haryana, Himachal Pradesh, Jammu and Kashmir, Ladakh, Punjab

Chandigarh/Mohali(1601)
Hamirpur (1202)
Shimla (1203)
Jammu (1004)
Jalandhar (1402)
Patiala (1403)

Southern Region: Andhra Pradesh, Puducherry, Tamil Nadu, Telangana

Hyderabad(8002)
Chennai (8201)
Vijayawada (8008)

Western Region: Dadra and Nagar Haveli and Daman and Diu, Goa, Gujarat, Maharashtra

Panaji(7801)
Ahmedabad(7001)
Rajkot (7006)
Amravati (7201)
Mumbai(7204)
Nagpur(7205)
Nashik(7207)
Pune (7208)
FAQs
Yes, the Commission reserves the right to cancel or allot any other centre than the preferred in the SSC JHT exam.
The official notification is yet to be out so the SSC JHT exam dates can not be confirmed as of now.
Yes, you can raise objection on the answer key announced along with sending correct answer through on-line mode on payment of Rs 100 / question.