SSC GD Constable Exam Notification 2021
SSC GD Constable Exam Notification 2021
SSC will release SSC GD Constable Exam Notification 2021 soon. The official SSC GD notification will have complete details related to the exam like Eligibility criteria, Exam Pattern, exam dates, and other details. The online registration will start once the notification of SSC GD is out. You are advised to fill the application form before the last date to avoid any last minute rush.
SSC GD Constable Application fee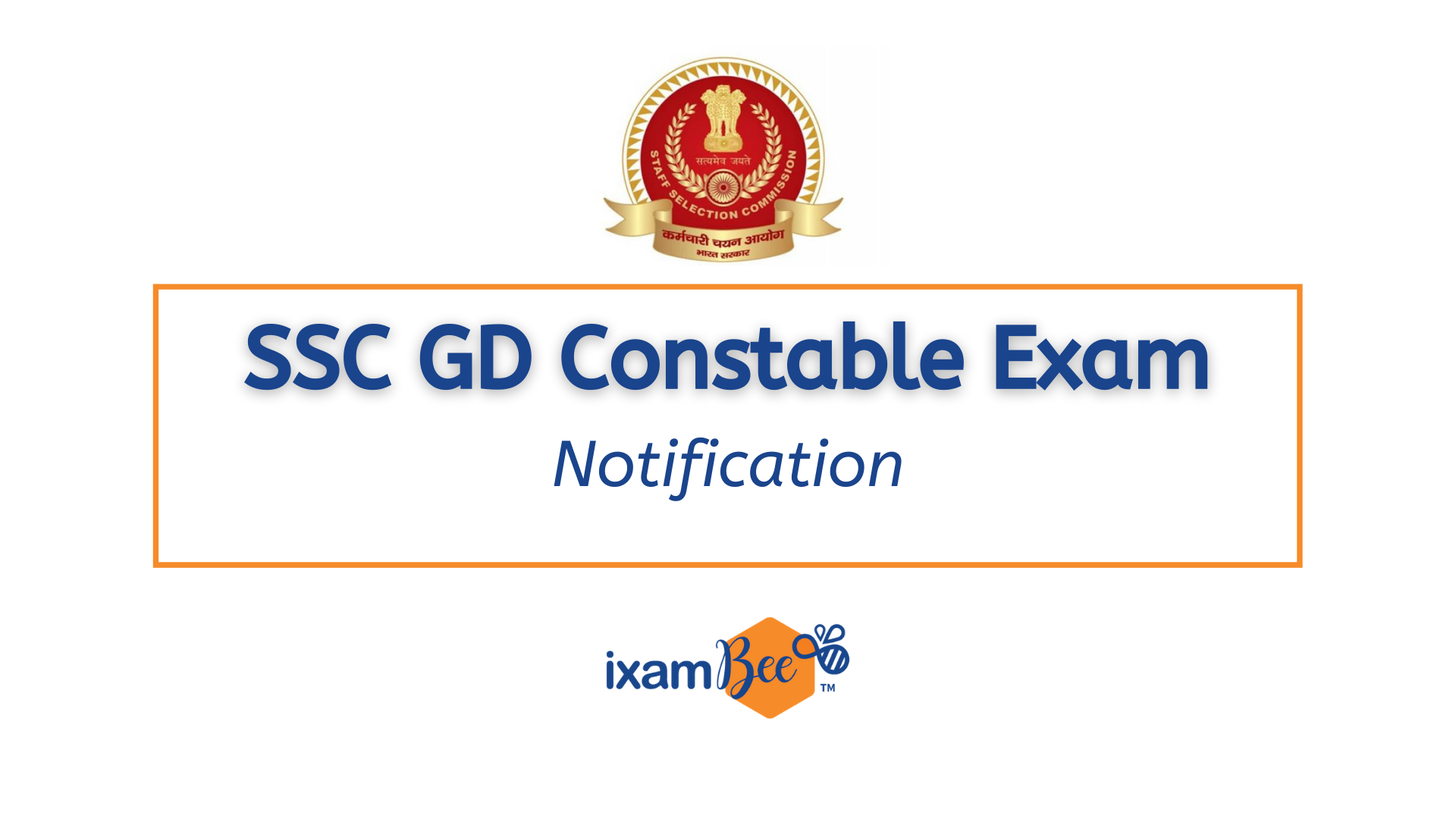 The SSC GD application fee can be paid through SBI Challan/SBI Net Banking or by using any Visa, Mastercard or Maestro Credit or Debit card. If you are a woman or belong to any reserved categories like Schedule Caste, Scheduled Tribe or Ex-Servicemen you are exempted from paying the SSC GD Constable application fee. Fee once paid shall not be refunded under any circumstances nor will it be adjusted against any other exam or selection. Further details for the SSC GD exam application fee are given below.
| Category | Application Fee |
| --- | --- |
| Women/SC/ST/Ex-serviceman | No Fee |
| Others | Rs. 100 |
SSC GD Constable 2021: How To Apply Online
Before applying to the SSC GD Constable exam 2021, you should check the eligibility criteria for the post. Failing in any of the criteria will lead to the cancellation of your candidature. You should take utmost care while filling out the SSC GD application form. We have provided a step by step guide on how to apply for the exam:
Step 1:

You need to visit the official website https://ssc.nic.in/ to fill in the application form for SSC GD Exam 2021

Step 2:

Click on the APPLY ONLINE link given on the official page. A new window will open after that

Step 3:

Click on the New Registration link for SSC GD notification

Step 4:

Fill in all the required details like name, DOB, email id, Mobile number and other details

Step 5:

A Registration ID and password will be generated for the SSC GD Constable Exam. You are advised to save that number for future use
Step 6: Log in again with the login id (registration ID) and password to complete further registration process

Step 7:

Now, upload a photograph and signature as prescribed by SSC.

Upload photograph:

A photograph must be between 4KB -12KB in size. The resolution of photograph must be 100*120 pixels in width and height. The background must be white in color or light color.

Upload Signature:

Signature size must be between 1 KB - 12KB. The resolution should be between 40*60 pixels in width and height. The ink used must be either blue or black.

Step 8:

Preview the application form before the final submit

Step 9:

Pay the application fee if you are eligible for paying that.
Step 10: Take the print of the SSC GD application form for future use
SSC GD Constable Exam Centre
SSC GD exam is going to held all over India. You can opt for any examination centre of your choice. You must indicate the SSC GD Constable exam centre in the online application form where you desire to take the examination. Details about the SSC GD examination centres and regional offices under whose jurisdiction these exam centres lie is given below.
| Examination Centres & Centre Code | SSC Region and States/ UTs under the jurisdiction of the Region | Address of the Regional Offices/ Website |
| --- | --- | --- |
| Agra(3001), Allahabad(3003), Bareilly(3005), Gorakhpur(3007), Kanpur(3009), Lucknow(3010), Meerut(3011), Varanasi(3013), Bhagalpur(3201), Muzaffarpur(3205), Patna(3206) | Central Region (CR) / Bihar and Uttar Pradesh | Regional Director (CR), Staff Selection Commission, 21-23, Lowther Road, Allahabad, Uttar Pradesh-211002. (http://www.ssc-cr.org) |
| Gangtok(4001), Ranchi(4205), Barasat(4402), Berhampore (WB)(4403), Chinsurah (4405), Jalpaiguri(4408), Kolkata(4410), Malda(4412), Midnapur(4413), Siliguri(4415), Berhampore(Odisha) (4602), Bhubaneshwar(4604), Cuttack(4605), Keonjhargarh(4606), Sambalpur(4609), Port Blair (4802) | Eastern Region (ER)/Andaman & Nicobar Islands, Jharkhand, Odisha, Sikkim and West Bengal | Regional Director (ER), Staff Selection 8 Commission, 1st MSO Building,(8th Floor), 234/4, Acharya Jagadish Chandra Bose Road, Kolkata, West Bengal-700020 (www.sscer.org) |
| Bangalore(9001), Dharwar(9004), Gulbarga(9005), Mangalore(9008), Mysore(9009), Kochi(9204), Kozhikode(Calicut)(9206), Thiruvananthapuram(9211), Thrissur(9212) | Karnataka, Kerala Region (KKR)/Lakshadweep, Karnataka and Kerala | Regional Director (KKR), Staff Selection Commission, 1st Floor, "E" Wing, Kendriya Sadan, Koramangala, Bengaluru, Karnataka-560034 (www.ssckkr.kar.nic.in) |
| Bhopal(6001), Chindwara(6003), Guna(6004), Gwalior(6005), Indore(6006), Jabalpur(6007), Khandwa(6009), Ratlam(6011), Satna(6014), Sagar(6015), Ambikapur(6201), Bilaspur(6202), agdalpur(6203), Raipur(6204), Durg(6205) | Madhya Pradesh Sub-Region (MPR)/Chhattisgarh and Madhya Pradesh | Dy. Director (MPR), Staff Selection Commission, J-5, Anupam Nagar, Raipur, Chhattisgarh-492007 (www.sscmpr.org) |
| Itanagar(5001), Dibrugarh(5102), Guwahati(Dispur)(5105), Jorhat(5107), Silchar(5111), Kohima(5302), Shillong(5401), Imphal(5501), Churachandpur(5502), Ukhrul(5503), Agartala(5601), Aizwal(5701) | North Eastern Region (NER)/ Arunachal Pradesh, Assam, Manipur, Meghalaya, Mizoram, Nagaland and Tripura | Regional Director (NER), Staff Selection Commission, Housefed Complex, Last Gate-Basistha Road, P. O. Assam Sachivalaya, Dispur, Guwahati, Assam-781006 (www.sscner.org.in) |
| Almora(2001), Dehradun(2002), Haldwani(2003), Srinagar (Uttarakhand)(2004), Haridwar(2005), Delhi(2201), Ajmer(2401), Alwar(2402), Bharatpur(2403), Bikaner(2404), Jaipur(2405), Jodhpur(2406), Kota(2407), Sriganganagar(2408), Udaipur(2409) | Northern Region (NR)/NCT of Delhi, Rajasthan and Uttarakhand | Regional Director (NR), Staff Selection Commission, Block No. 12, CGO Complex, Lodhi Road, New Delhi-110003 (www.sscnr.net.in) |
| Anantnag(1001), Baramula(1002), Jammu(1004), Leh(1005), Rajouri(1006), Srinagar(J&K)(1007), Kargil(1008), Dodda (1009), Hamirpur(1202), Shimla(1203), Bhathinda (1401), Jalandhar(1402), Patiala(1403), Amritsar(1404), Chandigarh(1601) | North Western Sub- Region (NWR)/Chandigarh, Haryana, Himachal Pradesh, Jammu and Kashmir and Punjab | Dy. Director (NWR), Staff Selection Commission, Block No. 3, Ground Floor, Kendriya Sadan, Sector-9, Chandigarh- 160009 (www.sscnwr.org) |
| Guntur(8001), Kurnool(8003), Rajahmundry(8004), Tirupati(8006), Vishakhapatnam(8007), Vijaywada(8008), Chennai(8201), Coimbatore(8202), Madurai(8204), Tiruchirapalli(8206), Tirunelveli(8207), Puducherry(8401), Hyderabad(8601), Nizamabad(8602), Warangal(8603) | Southern Region (SR)/Andhra Pradesh, Puducherry, Tamil Nadu and Telangana | Regional Director (SR), Staff Selection Commission, 2nd Floor, EVK Sampath Building, DPI Campus, College Road, Chennai, Tamil Nadu-600006 (www.sscsr.gov.in) |
| Ahmedabad(7001), Vadodara(7002), Rajkot(7006), Surat(7007), Bhavnagar(7009), Kutch(7010), Amravati(7201), Aurangabad(7202), Kolhapur(7203), Mumbai(7204), Nagpur(7205), Nanded (7206), Nashik(7207), Pune(7208), Thane(7210), Bhandara(7211), Chandrapur(7212), Akola(7213), Jalgaon(7214), Ahmednagar(7215), Alibaug(7216), Panaji(7801) | Western Region (WR)/ Dadra and Nagar Haveli, Daman and Diu, Goa, Gujarat and Maharashtra | Regional Director (WR), Staff Selection Commission, 1st Floor, South Wing, Pratishtha Bhawan, 101, Maharshi Karve Road, Mumbai, Maharashtra-400020 (www.sscwr.net) |