SSC GD Constable Exam Dates 2021
Exam Dates 2021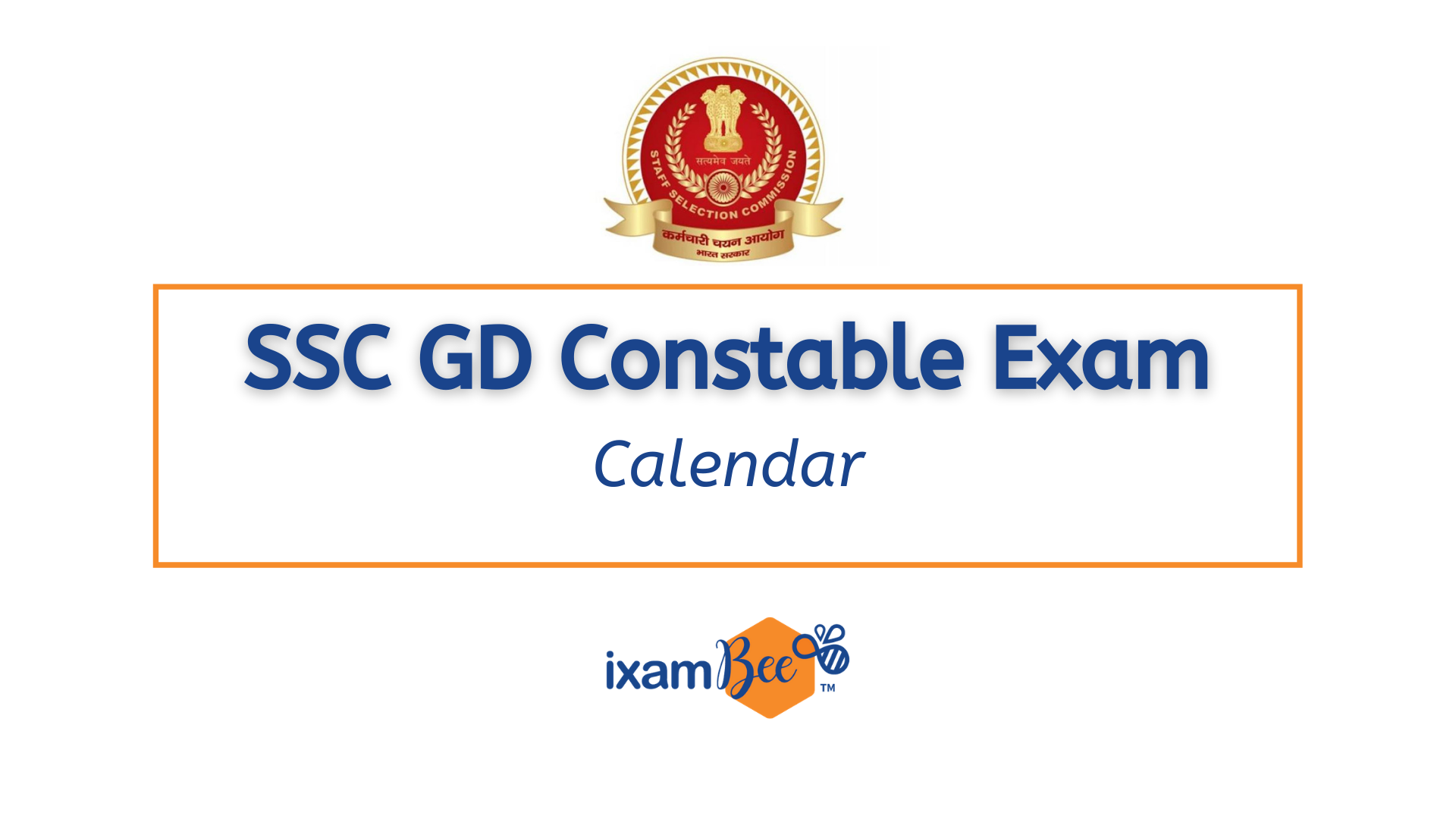 SSC releases notification for General Duty (GD) examination every year. The SSC GD Exam is a one-day examination followed by a PET / PST and a medical verification. SSC has not released the exam dates yet. Candidates can apply online from July 17, 2021, to Aug 31, 2021. The SSC GD Constable exam calendar contains all the details about application form starting and closure date, examination date, application fee payment date. All the relevant dates related to the exam are given below.
SSC GD Constable Exam Dates 2021
| Events | Tentative Dates |
| --- | --- |
| Dates for Submission of Online Applications | July 17, 2021 to August 31, 2021 |
| Last Date and Time for Receipt of Online Applications | August 31, 2021 (23:30) |
| Last Date and Time for Making Online Fee Payment | September 02, 2021 (23:30) |
| Last Date and Time for Generation of Offline Challan | September 04, 2021 (23:30) |
| Last Date for Payment through Challan | September 07, 2021 (During working hours of Bank) |
| SSC Constables (GD) Computer based Examination Date | November 16, 2021 to December 15, 2021 |
| Result Declaration | To be notified later |
Exam Centre2021
SSC will provide a choice of centre while applying for the GD Constable post. There will be three choices that will have to be indicated in the order of preference within the same region. No request for change in the exam centre will be entertained by SSC. The list of centres can be modified by SSC at its own discretion. Candidates are advised to fill in the exam centres carefully. Check the complete list of exam centres from the table provided below.
| Examination Centres & Centre Code | SSC Region and States/ UTs under the jurisdiction of the Region | Address of the Regional Offices/ Website |
| --- | --- | --- |
| Agra(3001), Allahabad(3003), Bareilly(3005), Gorakhpur(3007), Kanpur(3009), Lucknow(3010), Meerut(3011), Varanasi(3013), Bhagalpur(3201), Muzaffarpur(3205), Patna(3206) | Central Region (CR) / Bihar and Uttar Pradesh | Regional Director (CR), Staff Selection Commission, 21-23, Lowther Road, Allahabad, Uttar Pradesh-211002. (http://www.ssc-cr.org) |
| Gangtok(4001), Ranchi(4205), Barasat(4402), Berhampore (WB)(4403), Chinsurah (4405), Jalpaiguri(4408), Kolkata(4410), Malda(4412), Midnapur(4413), Siliguri(4415), Berhampore(Odisha) (4602), Bhubaneshwar(4604), Cuttack(4605), Keonjhargarh(4606), Sambalpur(4609), Port Blair (4802) | Eastern Region (ER)/Andaman & Nicobar Islands, Jharkhand, Odisha, Sikkim and West Bengal | Regional Director (ER), Staff Selection 8 Commission, 1st MSO Building,(8th Floor), 234/4, Acharya Jagadish Chandra Bose Road, Kolkata, West Bengal-700020 (www.sscer.org) |
| Bangalore(9001), Dharwar(9004), Gulbarga(9005), Mangalore(9008), Mysore(9009), Kochi(9204), Kozhikode(Calicut)(9206), Thiruvananthapuram(9211), Thrissur(9212) | Karnataka, Kerala Region (KKR)/Lakshadweep, Karnataka and Kerala | Regional Director (KKR), Staff Selection Commission, 1st Floor, "E" Wing, Kendriya Sadan, Koramangala, Bengaluru, Karnataka-560034 (www.ssckkr.kar.nic.in) |
| Bhopal(6001), Chindwara(6003), Guna(6004), Gwalior(6005), Indore(6006), Jabalpur(6007), Khandwa(6009), Ratlam(6011), Satna(6014), Sagar(6015), Ambikapur(6201), Bilaspur(6202), agdalpur(6203), Raipur(6204), Durg(6205) | Madhya Pradesh Sub-Region (MPR)/Chhattisgarh and Madhya Pradesh | Dy. Director (MPR), Staff Selection Commission, J-5, Anupam Nagar, Raipur, Chhattisgarh-492007 (www.sscmpr.org) |
| Itanagar(5001), Dibrugarh(5102), Guwahati(Dispur)(5105), Jorhat(5107), Silchar(5111), Kohima(5302), Shillong(5401), Imphal(5501), Churachandpur(5502), Ukhrul(5503), Agartala(5601), Aizwal(5701) | North Eastern Region (NER)/ Arunachal Pradesh, Assam, Manipur, Meghalaya, Mizoram, Nagaland and Tripura | Regional Director (NER), Staff Selection Commission, Housefed Complex, Last Gate-Basistha Road, P. O. Assam Sachivalaya, Dispur, Guwahati, Assam-781006 (www.sscner.org.in) |
| Almora(2001), Dehradun(2002), Haldwani(2003), Srinagar (Uttarakhand)(2004), Haridwar(2005), Delhi(2201), Ajmer(2401), Alwar(2402), Bharatpur(2403), Bikaner(2404), Jaipur(2405), Jodhpur(2406), Kota(2407), Sriganganagar(2408), Udaipur(2409) | Northern Region (NR)/NCT of Delhi, Rajasthan and Uttarakhand | Regional Director (NR), Staff Selection Commission, Block No. 12, CGO Complex, Lodhi Road, New Delhi-110003 (www.sscnr.net.in) |
| Anantnag(1001), Baramula(1002), Jammu(1004), Leh(1005), Rajouri(1006), Srinagar(J&K)(1007), Kargil(1008), Dodda (1009), Hamirpur(1202), Shimla(1203), Bhathinda (1401), Jalandhar(1402), Patiala(1403), Amritsar(1404), Chandigarh(1601) | North Western Sub- Region (NWR)/Chandigarh, Haryana, Himachal Pradesh, Jammu and Kashmir and Punjab | Dy. Director (NWR), Staff Selection Commission, Block No. 3, Ground Floor, Kendriya Sadan, Sector-9, Chandigarh- 160009 (www.sscnwr.org) |
| Guntur(8001), Kurnool(8003), Rajahmundry(8004), Tirupati(8006), Vishakhapatnam(8007), Vijaywada(8008), Chennai(8201), Coimbatore(8202), Madurai(8204), Tiruchirapalli(8206), Tirunelveli(8207), Puducherry(8401), Hyderabad(8601), Nizamabad(8602), Warangal(8603) | Southern Region (SR)/Andhra Pradesh, Puducherry, Tamil Nadu and Telangana | Regional Director (SR), Staff Selection Commission, 2nd Floor, EVK Sampath Building, DPI Campus, College Road, Chennai, Tamil Nadu-600006 (www.sscsr.gov.in) |
| Ahmedabad(7001), Vadodara(7002), Rajkot(7006), Surat(7007), Bhavnagar(7009), Kutch(7010), Amravati(7201), Aurangabad(7202), Kolhapur(7203), Mumbai(7204), Nagpur(7205), Nanded (7206), Nashik(7207), Pune(7208), Thane(7210), Bhandara(7211), Chandrapur(7212), Akola(7213), Jalgaon(7214), Ahmednagar(7215), Alibaug(7216), Panaji(7801) | Western Region (WR)/ Dadra and Nagar Haveli, Daman and Diu, Goa, Gujarat and Maharashtra | Regional Director (WR), Staff Selection Commission, 1st Floor, South Wing, Pratishtha Bhawan, 101, Maharshi Karve Road, Mumbai, Maharashtra-400020 (www.sscwr.net) |
SSC GD Constable Exam Dates 2021 Related Quick Links
---
Boost your preparation with Beepedia
---
High Quality Mock Test for you
---
Free Important Video Lectures
Would you like to rate us 5 star.
Search