SSC CGL Exam Notification
SSC CGL Notification 2020 - 2021
Staff Selection Commission (SSC) has released its official SSC CGL notification 2021. SSC CGL notification contains all the relevant information regarding the exam like eligibility criteria, age limit, nationality, and exam dates. You will be selected based on their choices of different categories of posts in various Ministries/ Departments/ Organizations. Subject to administrative/public exigencies, final selection through the SSC CGL Exam to specific categories of posts would be according to the confirmed number of vacancies from the concerned Indenting Ministries/ Department/Office/Cadres before declaration of results. This is a Graduate Level Exam and is thus one of the most sought-after exams among graduate students in our country.
SSC CGL Application Fee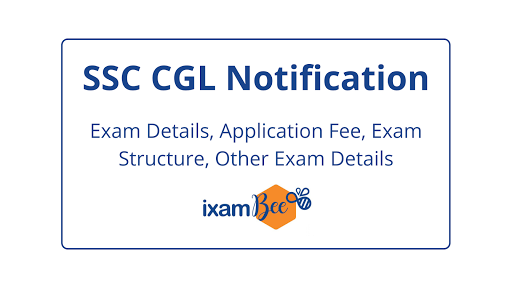 After the successful completion of the application form, you will need to fill in the application fees for the same. Candidates belonging to reserved categories and women candidates are exempted from filing the examination fee. An application fee of rupees 100 will be charged after which the application process will be considered complete. Application fee for SSC CGL exam can be done both online and offline (SBI Challan).
| Category | Application Fee |
| --- | --- |
| Unreserved/OBC | Rs. 100 |
| Women/SC/ST/Ex-serviceman/Pwd | No Fee |
SSC CGL 2020: How to Apply Online
While filling the online form for SSC CGL 2020 exam you need to be very careful because any mistake in the online application can lead to disqualification. Before applying for the SSC CGL 2020 exam you are advised to first go through the Eligibility criteria. SSC CGL 2020 has specified the eligibility criteria for different posts for both education and age limit. To help you with this we have provided step by step process for filling the application form.
Step 1: Visit the official website of SSC https://www.ssc.nic.in.
Step 2: After that, you need to register as a NEW USER. During the registration process, you need to enter your email ID, phone number, and password.
Step 3: A system generated registration number and password will be sent to an email ID and mobile number provided by you at the time of registration.
Step 4: Log in to the SSC website using your Registration details namely registration ID and password generated by the system.
Step 5: After login, fill in your personal details and educational details that are required in SSC CGL 2020 application form.
Step 6: After filling out the application form, upload a scanned photograph and signature as per the specifications in JPG/JPEG format.
Step 7: After completing the application process, click on the 'Submit' button and proceed to pay the application fee using net banking, debit card.
SSC CGL Exam Notification Related Quick Links
---
Boost your preparation with Beepedia
---
High Quality Mock Test for you
---
Free Important Video Lectures
Frequently Asked Questions
Q1:
What is SSC CGL?
A:
SSC CGL is a Combined Graduate Level Examination that recruits candidates for different posts in ministries/government offices.
Q2:
Can Any Candidate apply for more than one post in SSC CGL?
A:
Yes, you can set your preference and will get selection according to the marks.
Q3:
What is the number of vacancies for SSC CGL 2018-19?
A:
Vacancies for CGL 2018-19 are not yet published along with SSC CGL 2018 notification.
Q4:
Can those students who are appearing in final year of graduation apply for any post in SSC CGL?
A:
Yes, all those who are appearing or have just appeared in the final year of graduation can apply for any post in SSC CGL 2018-19.
Q5:
Can I upload the passport size photo and signature in any format?
A:
No, you must upload the photo and signature only in JPG/JPEG format. The passport size photo should be between 30 to 50 kb and signature should be between 1 to 12 kb.
Q6:
Is there any NEGATIVE MARKING in SSC CGL Exam?
A:
Yes. Negative marking for wrong answers in SSC CGL Exam is 1/4th of the marks allotted to that question.
Q7:
Do I need Aadhaar Card to register for SSC CGL?
A:
No, Aadhar Card is not mandatory to register for SSC CGL.
Q8:
SSC CGL 2018 -19 Exam is in ONLINE or OFFLINE mode?
A:
SSC CGL 2018-19 Exam will be in online mode.
Q9:
Is there SECTIONAL CUT-OFF in SSC CGL Exam?
A:
No, there is no sectional cut-off in SSC CGL Exam.
Q10:
What is the educational qualification for SSC CGL?
A:
Candidate should hold a 'graduation' degree in any discipline from a recognized University.