NIACL Administrative Officer Eligibility Criteria
NIACL AO Eligibility Criteria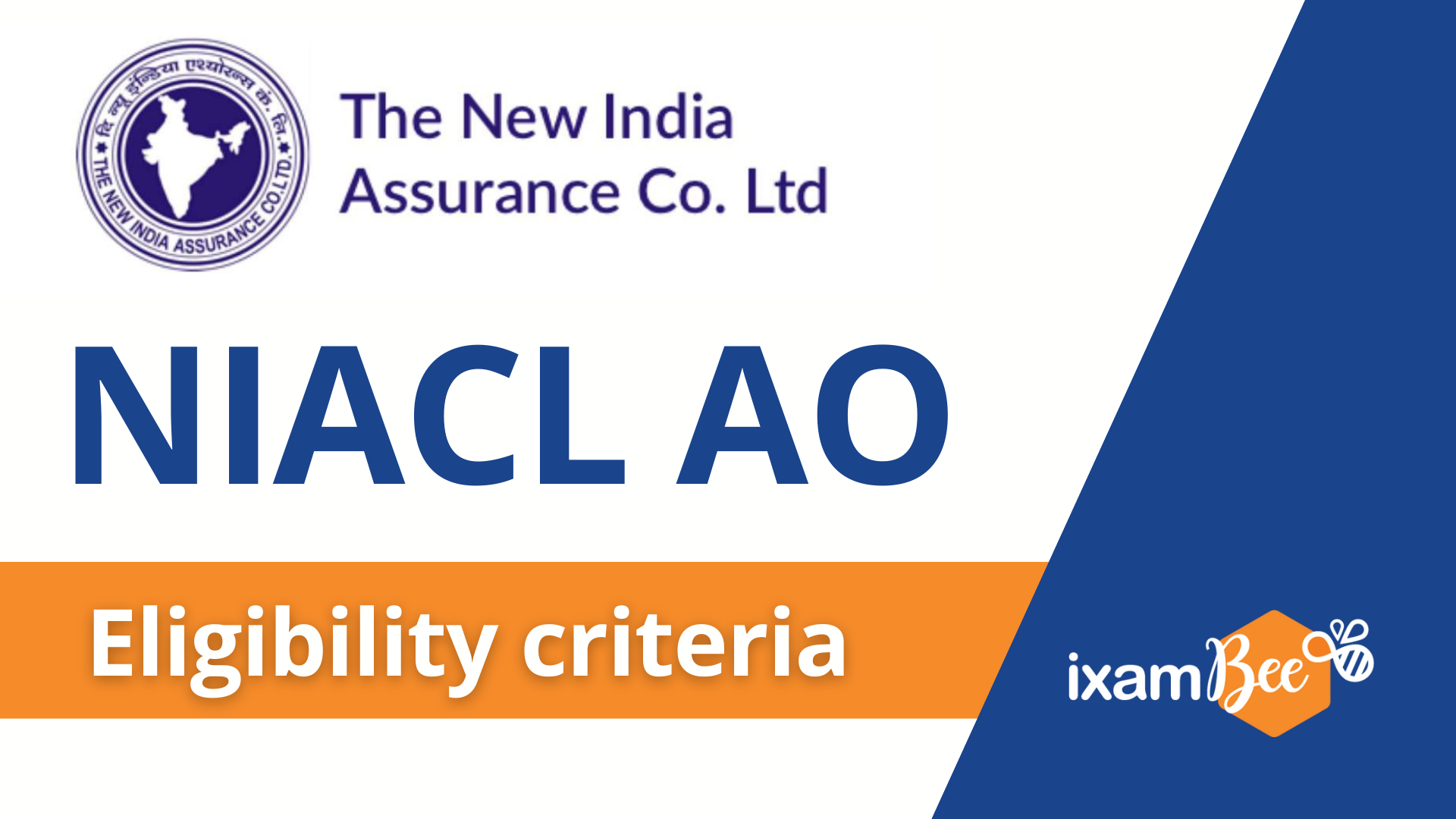 Every organization while releasing a notification puts forth some basic criteria which need to be followed by all the candidates. Likewise, NIACL also gives out some basic guidelines with respect to eligibility which include educational qualifications, age criteria & relaxation in age.
Let's look into the details of the expected NIACL AO eligibility criteria 2021.
Educational Qualification
A candidate willing to apply for the post of NIACL AO should possess certain educational qualifications that will determine his/her eligibility for the exam. All the aspirants planning to apply for the post of Generalists should have a minimum qualification of Graduation with at least 60% marks (as of Sept 30, 2021). The candidates should possess a valid Marksheet or Degree Certificate of the required essential qualification as on Sept 30, 2021. Read on to know complete details:
Post
Educational Qualification (As on September 30, 2021)
AO (Administrative officer)

Must be a Graduate/ Post Graduate from a recognized University in any discipline.
Must hold at least 60% marks in either of the degree exams for General candidates and at least 55%
marks for SC/ST/PWD candidates.
Age Criteria
The NIACL AO 2021 age limit has been clearly mentioned by NIACL in its official notification as 21-30 years. A candidate should not exceed the age limit of 30 years while filling up the application form. The age limit needs to be followed judiciously in order to be eligible for the exam.
Post
Age Criteria (As on April 01, 2021)
AO (Administrative officer)

Maximum Age

- 30 years

Minimum Age

- 21 years
Age Relaxation
NIACL always provides relaxation in age to certain categories of candidates. The relaxation is applicable to the upper age limit. Candidates belonging to SC/ST/Ex-serviceman/OBC/PWD categories along with others will be provided an age relaxation. All such candidates are required to present the original certificate at the time of the interview. The age relaxation may vary according to the category of candidates.
Note:
In case of the candidates who are eligible to claim relaxation under more than one category, shall be provided relaxation on a 'cumulative basis' based on the guidelines laid down by the Government or the Companies. The maximum age should not exceed 45 years.
All candidates seeking age relaxation will have to produce the original certificates at the time of the Interview.
| Sr. No. | Category | Age Relaxation |
| --- | --- | --- |
| 1. | SC/ST | 5 years |
| 2. | OBC | 3 years |
| 3. | Ex-servicemen including Commissioned Officers and ECOs/SSCOs | 5 years |
| 4. | Defence service personnel disabled in operation during the hostilities with any foreign country or in a disturbed area and released as consequence thereof | 3 years |
| 5. | Existing Confirmed Employees of Public Sector General Insurance Companies (including GIC & Agriculture Insurance Company of India Ltd.) | 8 years |
| 6. | Persons with Benchmark Disabilities as defined under "The Rights of Persons with Disabilities Act, 2016" | 10 years |
NIACL Administrative Officer Eligibility Criteria Related Quick Links
---
Boost your preparation with Beepedia
---
High Quality Mock Test for you
---
Free Important Video Lectures
Frequently Asked Questions
Q1:
What is the basic essential educational qualification to apply for NIACL AO exam?
A:
A candidate irrespective of the post, (Generalist/Specialist) needs to possess a degree in Graduation with at least 60% marks.
Q2:
What is the minimum age to apply for NIACL AO post?
A:
The minimum age to apply for NIACL AO is 21 years.
Q3:
Is there any cut-off date for the educational qualifications being possessed by a candidate?
A:
NIACL has clearly stated in its official notification that all the educational qualifications must be acquired by the candidates on or before September 30, 2021.
Q4:
I am in the final year of my Graduation. Am I eligible to apply?
A:
All those candidates who are in the final year/semester of their Graduation are eligible to apply, on the condition that if selected, they will have to show the requisite certificate of proof of having passed the examination on or before Sept 30, 2021.
Q5:
I am a candidate belonging to the OBC category, but I come under the 'Creamy layer'. Am I eligible for relaxation in this case?
A:
No. The candidates belonging to OBC category but come under the 'Creamy layer' are not eligible for any kind of reservation/ meant for OBC category. They will have to mark their category as 'General'.
Would you like to rate us 5 star.
Search