LIC HFL Syllabus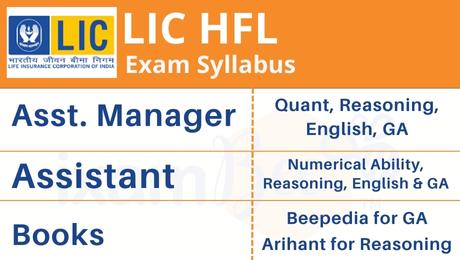 The LIC HFL 2022 syllabus is essential to look at before starting the preparation. A syllabus is like a road map in any exam preparation. The syllabus of LIC HFL includes 4 sections - General Awareness, English Language, Logical Reasoning and Numerical Ability. Questions will be asked from the topics covered under the above mentioned subjects. The detailed syllabus of the LIC Housing Finance Ltd. exam.2022 is given below.
| Section | Topics |
| --- | --- |
| Quantitative Aptitude /Numerical Ability | Approximation, Simplification, Series, Ratio & Proportion, Percentage, Average, Profit & Loss, Problems based on age, Mixtures & Alligations, Time & Work/ Pipe and Cistern, Time & Distance/ Trains, Permutation, Combination & Probability, Mensuration, Partnership, Simple Interest & Compound Interest, Caselet and Missing DI, Data Sufficiency, Data Interpretation |
| Logical Reasoning | Alphanumeric Series, Data Sufficiency, Syllogism, Seating Arrangement/Puzzle, Coding Decoding, Blood Relations, Coded Inequalities, Common-sense Reasoning, Input Output, Logical Reasoning, Directions and Distances, Ordering and Ranking, Course of Action, Critical Reasoning, Analytical and Decision Making |
| English Language | Reading Comprehension, Fill in the blanks, Vocabulary, Paragraph Completion, Sentence Completion, Idioms and Phrases, Cloze Test, Error Spotting, Para Jumbles/ Sentence rearrangements, Sentence Improvement, Double Fillers (Sentence Completion), Phrase Replacement |
| General Awareness | Current Affairs (BeePedia), General Knowledge, Static Awareness, Government Scheme, Banking Awareness, Banking Terminologies Knowledge |
LIC HFL Books
A planned preparation gets enhanced with the selection of the right list of books. Good books not only clear your concepts in a lucid way but saves your time that can be utilized for practicing free mock tests. We have listed down subject wise books list for the LIC HFL exam 2022. You can also refer BeePedia for covering the GK section.
Subject
Name of Book
Author/Publisher
Quantitative Aptitude / Numerical Ability
Practice Book on Quicker Maths, 2nd Edition
M.Tyra, K.Kundan / Magical Book Series
Quantitative Aptitude for Competitive Examinations 17th Edition
R.S Aggarwal / S.Chand Publisher
Fast Track Objective Arithmetic
Rajesh Varma / Arihant Publishers
Logical Reasoning
A New Approach to Reasoning Verbal and Non-Verbal
B.S. Sijwali and Indu Sijwali
Analytical Reasoning
MK Pandey (For the chapters required for analytical reasoning)
A Modern Approach to Verbal & Non-Verbal Reasoning
R.S. Aggarwal
General Awareness
Current Affairs (BeePedia)
-
Manorama Year Book 2022
-
Pratiyogita Darpan
-
Lucent's General Knowledge
-
English Language
Objective English 4th Edition
Edgar Thorpe / Pearson
Word Power Made Easy
Norman Lewis / Penguin
Objective General English 2nd Edition
S.P Bakshi / Arihant