LIC AAO Salary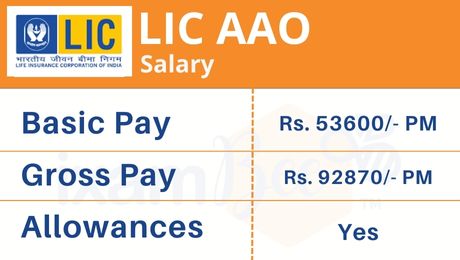 An LIC AAO is entitled to receive a basic pay of Rs. 53600/- per month. The LIC AAO pay scale is Rs. 53600- 2645(14) –90630– 2865(4) –102090. An AAO is eligible for certain emoluments also, inclusive of House Rent Allowance (HRA) & City Compensatory Allowance (CCA) wherever admissible depending upon the classification of the city, which will amount to approximately Rs 92,870/- per month in 'A' Class city. For the detailed LIC AAO salary, please look at the table below.
Post
Salary
Assistant Administrative Officer (AAO)

Basic pay - 53600/ per month
Scale of Rs. 53600- 2645(14) –90630– 2865(4) –102090 and other admissible allowances as per rules.
Pay - Rs. 92870/- per month(approximately)
Allowances
Apart from the LIC AAO salary, an AAO is also entitled to receive other benefits like-
Defined Contributory Pension,
Special Allowance for passing Actuarial Examination,
Gratuity,
LTC,
Cash Medical Benefit,
Group Mediclaim,
Group Personal Accident Insurance,
Group Insurance,
Vehicle Loan (2-wheeler/4 wheeler) as per rules, meal coupon,
Reimbursement towards the cost of Briefcase leather bags, mobile handset, the supply of dailies and magazines and tea/coffee, mobile expenses, etc. as per rules.
Guarantee Bond
Before you join LIC as an AAO, you will be required to give an undertaking to serve LIC for a minimum period of 4 years from the date of joining (including the probationary period). If any candidate resigns before completing 4 years of service, he/she or his/hers hiers, executors, administrators will be liable to pay liquidated damages of Rs. 5,00,000/- + GST or that sum of amount which the Executive Director (Personnel) may prescribe.
Probation
Upon selection as an LIC AAO, you will be required to serve a probation period of 1 year from the date of joining. This period may be extended upto 2 years. During this period, the selected candidates will have to undergo continuous assessment. If the candidates fail to achieve the minimum standard, their services will be terminated.
LIC AAO Job Profile
Once you qualify all the stages of the LIC AAO exam and get selected as an Assistant Administrative Officer (AAO), you would be given a department/branch according to your category of post. You will be heading/managing that particular department. LIC AAO is mainly an administrative job, as the title of the post suggests. We can put the job responsibilities of an AAO in few steps as follows-
Negotiations will have to be done with the Agents/ Development Officers.
Client interaction and inspection of the claims made by them.
Processing the policy applications.
Coordination with other departments.
Maintaining the databases.
Inspecting the policies that already exist.
Career Growth
Once you gain experience of 3-5 years, you will be eligible to get promoted to the post of 'Administrative Officer' (AO), which will be an enhanced version of the Assistant Administrative Officer job. Both being administrative jobs, a LIC AO (Administrative Officer) will be an advanced form of the LIC AAO.
Recommended Courses for you
LIC Assistant Administrative Officer (AAO) Prelims - Previous Year Paper
60 Minutes
100 Questions
Marks