ESIC SSO Salary 2022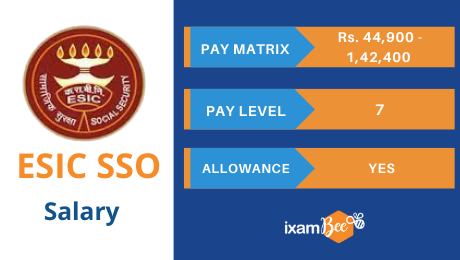 ESIC Social Security Officer has very good opportunities for promotion depending upon a candidate's performance. The successful candidates recruited for the post of ESIC SSO will draw a handsome salary of Rs 44900/ per month as revised in the 7th pay commission. Besides he/she will also be eligible for perks and benefits such as DA, HRA and other allowances as per decided by the corporation.
Make sure to read about the ESIC SSO job profile before applying for the exam to understand the working conditions.
ESIC SSO Salary Structure 2022
| Category | Amount |
| --- | --- |
| Central Pay Commission | 7th CPC |
| Basic Pay | Rs. 44,900 |
| Pay Level | 07 |
| Pay Scale | Rs. 44,900-1,42,400 |
| DA (Dearness Allowance) | Rs. 13919 |
| HRA (House Rent Allowance) | Rs. 12123 for x-category cities |
| Travel Allowance | Rs.3600 for 'x' category cities |
| DA on TA | Rs. 1116 |
| Net Pay | Rs. 76,774 |
ESIC SSO Job Profile
After clearing the ESIC SSO 2022 exam, you will be posted anywhere across the country in the regional offices of the Employees' State Insurance Corporation (ESIC). There will be certain duties/ functions that you have to perform as an ESIC SSO. Please check the list below for a detailed ESIC SSO job profile.
ESIC SSO- Grade 2 Manager Job Profile
Ensure timely preparation of Bank Reconciliation Statement
Ensure that there is a biometric enrolment in the Branch Office
Takes care of proper seating, drinking water, and toilet facilities
Is the head of the office and have direct contact with the beneficiaries
Performs as a drawing and disbursing officer
Manages proper allocation and coordination of work
Passes claims for payment of the benefit to Insured Persons
Does all incidental work relating to claims
Attends court and represents cases on behalf of the Corporation
Acts as a Secretary to the Local Committee
Arrange and execute periodical meetings with the employer
Imparts training to the newly posted staff and guides employers' representatives.
ESIC SSO Prelims - Previous Year Paper
60 Minutes
100 Questions
100 Marks