Eligibility Criteria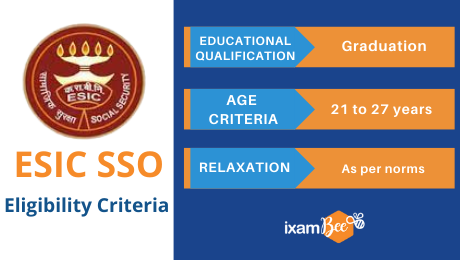 ESIC SSO 2022 eligibility criteria is one of the important aspects that every candidate who is applying for it should be aware of. Non-fulfilment of eligibility criteria for ESIC SSO will lead to the cancellation of your application. Let's check out more details on ESIC SSO eligibility criteria 2022 from below.
Note: Closing date of ESIC SSO 2022 online application ie April 12, 2022, will be the factor for determining eligibility with regard to age, essential qualification.
Educational Criteria
If you are applying for the ESIC SSO exam, you should have a Bachelor's degree from a recognized university and working knowledge of database and office suites. If you are a Commerce/Law/Management Graduate, you will be given preference over others if you clear the final merit of the ESIC SSO exam 2022. Further details on the ESIC SSO educational qualification is given below.
Post
Educational Qualification
Social Security Officer / Manager Grade - 2 / Superintendent (SSO)
A degree of a recognized University (Preference will be given to the graduates in Commerce/Law/Management)
Working knowledge of computer including use of office suites and database

Experience (Desirable):

Three years service in a Government Organization or Corporation or Government Undertaking or Local Body or Scheduled Bank etc
Age Criteria
You should conform to every requirement mentioned in the official ESIC SSO 2022 notification. Apart from the educational criteria, you should come under the ESIC SSO 2022 age limit criteria. You must lie between 21 to 27 years of age as on April 12, 2022. Further insight on the ESIC SSO age limit is given below.
| Post | Age Criteria |
| --- | --- |
| Social Security Officer / Manager Grade - 2 / Superintendent | Between 21 to 27 years as on the closing date April 12, 2022. |
Age Relaxation
ESIC SSO is an important exam and it makes sure that no one is exempted from this opportunity due to any unfavourable reasons. ESIC SSO offers relaxation in the upper age limit for reserved categories of candidates as per GOI norms. Further details on age relaxation in ESIC SSO recruitment 2022 is given in the table below.
Sr. No.
Category
Age Relaxation
1.
OBC
3 years
2.
SC/ST
5 years
3.
PH
UR- 10 years
OBC- 13 years
SC/ST- 15 years
As per instructions of DoPT, a PWD applicant is entitled to age concession in different combinations subject to the condition of maximum age of 56 years. Further in case of a PWD by virtue of being a ESIC/Govt. Employee, concession to him/her will be admissible either as a 'person with disability' or as a ESIC/Govt. Employee' whichever may be more beneficial to him/her.
4.
Ex-servicemen
UR- 3 years*
OBC- 6 years*
SC/ST- 8 years*
(*) after deduction of the military service rendered from the actual age
5.
ESIC Employee/ Government Servant who have rendered not less than 3 years regular and continuous service as on closing date for receipt of application
UR- upto 40 years
OBC- upto 43 years
SC/ST- upto 45 years
Note- Applicant should continue to have the status of ESIC/ Govt. servant till the time of appointment, in the event of their selection.
6.
Other categories of persons
In accordance with the instructions and orders issued from time to time
(*) after deduction of the military service rendered from the actual age
Note- You should have the valid documents to produce as and when required in the event of selection, if you are availing any relaxation.
ESIC SSO Prelims - Previous Year Paper
60 Minutes
100 Questions
100 Marks