MONTH END DHAMAKA SALE IS Here
Syllabus 2022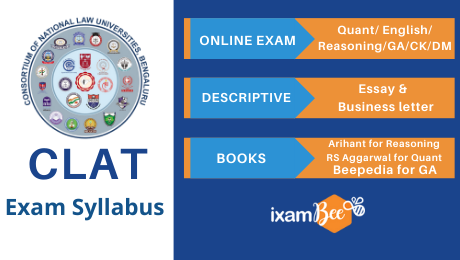 CLAT syllabus covers 5 sections namely - English Language, Current Affairs, Legal Reasoning, Logical Reasoning and Quantitative Techniques. Getting aware of the section-wise CLAT syllabus 2022 will help you get aware of the topics included in each subject. A thorough awareness of the CLAT exam 2022 syllabus will guide you to make a detailed and structured study plan before the exam preparation. So here is the detailed CLAT exam syllabus 2022
| Section | Topics |
| --- | --- |
| English (including Comprehension) | Antonyms, Synonyms, Analogies, Idioms and Phrases, One Word Substitution, Sentence Improvement, Rearrangement of Sentence in Paragraph, Rearrangement of Words in Sentence, Fill in the blanks, Cloze Tests, Common Errors, Spotting Errors, Inappropriate Usage of Words and Spelling Mistakes (English Usage), Reading Comprehension. |
| Quantitative Techniques | Number Systems, Surds and Indices, Square Roots, Fractions and Decimals, HCF and LCM, Simplification, Approximations, Ratio and Proportion, Average and Logarithms, Interest, Percentage, Profit and Loss, Partnership and Discounts, Areas and Volumes. |
| Current Affairs including General Knowledge | Events of National and International importance also covering current events in area of Economics, Science, Technology, Sports, Persons and Places, Static GK & Latest Happening, Books and Authors. |
| Logical Reasoning | Direction and Distance Test, Analogy Test, Classification (Odd Man Out) Test, Coding Decoding Test, Number Test, Series Test, Relationships Test, Alphabet Test, Ranking Tests and Time Sequence Test, Statements Assumptions, Statements Arguments, Statements Conclusions and Statements Action. |
| Legal Reasoning | International Law, Criminal Law, Indian Constitution, Legal Terms, Legal Maxims, Family Law, Contracts and Torts, legal propositions and set of facts satisfying the propositions. |
Books
To score good marks and success in any exam, a list of good books is a must. They provide you with apt solutions and knowledge in simple and easy language. There are ample books available in the market and it's easy to fall prey to such attractive annotations. So it's very important that you choose the right books for your CLAT 2022 UG exam preparation. Given below is the list of books that you can refer to for CLAT 2022. You can also refer BeePedia for updates on current issues.
CLAT Exam Subjects
CLAT Useful Books
CLAT Exam Book's Author/Publisher
English (including comprehension)
Word Power Made Easy
Norman Lewis
Guide to the CLAT (English)
The Pearson
Objective General English
RS Aggarwal
Verbal and Non Verbal Reasoning
RS Aggarwal
High School English Grammar & Composition
P C Wren, H Martin
Current Affairs including General Knowledge
Manorama Yearbook
General Knowledge
Arihant Publication
Lucents General Knowledge
Lucent Publication
Pratiyogita Darpan
Pearson's Concise GK Manual
Pearson
Competition Review Yearbook
Quantitative Techniques
Quantitative Aptitude and Logical Reasoning
R.S. Agarwal
Quantitative Aptitude for Competitive Examinations
Pearson
Fast Track Objective Arithmetic
Arihant Publication
Legal Reasoning
Legal Awareness and Legal Reasoning: For CLAT and LLB Entrance Examinations
Pearson
Legal Aptitude and Legal Reasoning
A P Bhardwaj
Objective Legal Aptitude
RS Aggarwal
LST's Legal Reasoning Module
Logical Reasoning
A Modern Approach to Logical Reasoning
RS Aggarwal
Analytical Reasoning
M K Pandey
Verbal Reasoning
RS Aggarwal
Quantitative Aptitude ebook (All Parts Solved)
R S Agarwal
Online Course
A high score in the CLAT UG exam can fetch you a good Law college. To understand your need ixamBee is here to help you out with its dedicated online course for CLAT 2022 UG exam. With the changed and competitive exam scenario, it is necessary that you master each section in the CLAT UG exam. The CLAT UG online course has been curated by experts after a detailed study of exam syllabus. Have a look into some key points of the course-
150+ Video Lessons covering the whole syllabus
50+ Study notes in PDF format
5 Full-Length practice tests for the CLAT UG exam
120+ Difficulty Based Chapter Tests and 50+ Section Tests
Know more about the CLAT Online course 2022
Preparation Strategy
You won't be able to come out with flying colours if you don't plan how to approach and prepare for different sections in CLAT 2022 exam. Here are some basic tips which will help you to prepare in a very lucid and easy way.
You do not have to read the entire book but keep a track of sources like newspapers and magazines. Read the opinion and editorial sections.
Practice grammar from any 10th standard grammar book. Make sure you stop every time you come across a new word you don't understand and find out its meaning.
You can go through all the practice papers provided by the CLAT consortium as these will be closest in style and level of difficulty to what you may see in the actual CLAT UG paper.
The Legal Reasoning, Logical Reasoning, and English Language sections of the CLAT 2022 exam are somewhat related, as they require you to read and comprehend a passage well. So make reading a habit for sure.
Practice is key to prepare for Quantitative Techniques. The best way to prepare is to go back to tenth standard mathematics textbooks, clear your concepts and practice them. Once your concepts are clear go for standardized CLAT exam preparation books or previous year papers.
CLAT 2022 Exam 60 Days Study Plan
CLAT UG online exam is all set to happen on June 19, 2022. Though you have enough time at hand to prepare but it is always wise to start planning your preparation beforehand. You need to have a practical and achievable plan ready with you so that you can kick-start your CLAT UG exam preparation well in time. To help you with this, we have curated a detailed 60 days study plan for CLAT 2022 preparation. The study plan has been devised by our expert faculty members who have taken care of each and every aspect of your exam preparation, covering the complete CLAT syllabus. The detailed CLAT 2022 study plan promises success in your upcoming exam, if you follow it diligently. For your convenience we have provided a small glimpse of the study plan below. Have a look and if you feel right, you can download the complete CLAT UG 2022 study plan pdf.
Days
Date
Subject
Name
Topic
Day 1
April 16
Introduction to CLAT
Introduction to CLAT Course
Day 2
April 17
Logical Reasoning
Logical Reasoning- Lecture 1
Day 3
April 18
English Language
How to attempt comprehension?
Day 4
April 19
Current Affairs + GK
August- September 2021
Day 5
April 20
Logical Reasoning
Coding Decoding
Day 6
April 21
Legal Reasoning
Law of Torts – Lecture 1
Day 7
April 22
Quantitative Techniques
Quantitative Techniques – Lecture 1
Day 8
April 23
Legal Reasoning
Law of Torts – Lecture 2
Day 9
April 24
Logical Reasoning
Logical Reasoning- Lecture 2
Day 10
April 25
English Language
English Language- Lecture 1
Day 11
April 26
Current Affairs + GK
October-November 2021
Day 12
April 27
Logical Reasoning
Blood Relationship
Day 13
April 28
Legal Reasoning
Law of Torts – Lecture 3
Day 14
April 29
Quantitative Techniques
Quantitative Techniques – Lecture 2
Day 15
April 30
Legal Reasoning
Civil Law- Lecture 1
Day 16
May 1
Logical Reasoning
Logical Reasoning- Lecture 3
Day 17
May 2
English Language
English Language- Lecture 2
Day 18
May 3
Current Affairs + GK
December 2021
Day 19
May 4
Legal Reasoning
Civil Law- Lecture 2
Day 20
May 5
Logical Reasoning
Direction and Distance