Course highlights
50+
Study Notes
150+ Short
Video Lessons
10 Full
Length Practice Tests
120+
Chapter Tests
50+
Section Tests
Weekly
Live Doubt Sessions
CLAT or Common Law Admission Test is an all-India test for entrance into Law colleges for Undergraduate courses. CLAT exam is an offline exam that is conducted across various cities. As the race to get into India's topmost Law college is a new hot sector among young school pass out aspirants thus the guidance to crack that code should be worthy enough to help you achieve that dream. ixamBee is here to help you crack the CLAT 2022 exam in your maiden attempt.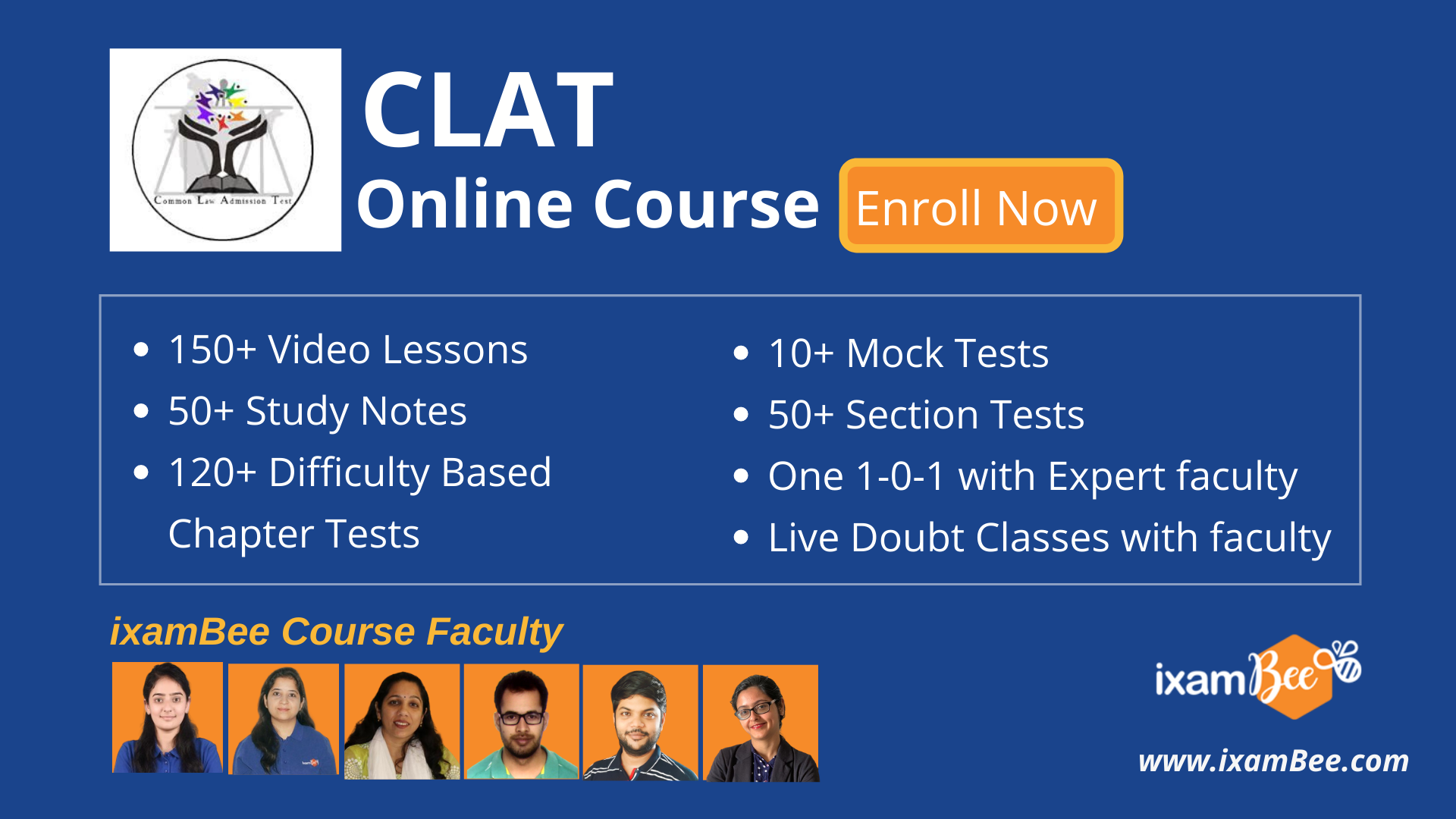 ONLINE COURSE FOR CLAT UG
To get admission into a good Law college you need to score high in the CLAT UG exam. With the changed exam pattern, it is imperative that mastering each section is important for the CLAT UG exam. Having said that, many of you might be worrying about how to master each section to score high in the exam. This is where ixamBee comes into the picture. ixamBee is offering CLAT UG online course which has been curated by our experts that will make your CLAT UG preparation strategy rational and practical.
CLAT UG ONLINE COURSE consists of:
150+ Video Lessons covering the whole syllabus as per the latest exam pattern.
50+ Study notes in PDF format wherever required for easy learning and quick revision.
10 Full-Length practice tests for the CLAT UG exam

120+ Difficulty Based Chapter Tests

and

50+ Section Tests

comprising of Questions divided into Easy, Moderate, and High Levels.
Live Classes for doubt clarification with the subject experts where you can get all your queries related to any subject clarified.
Why Choose CLAT UG Online Classes from ixamBee
Short-crisp and to-the-point video lessons for better understanding.
Concept clearing questions after every video lesson for reinforcement of learning and to check your progress.
Ample practice questions in the form of Full-Length Mock Tests Concept Clearing Questions after each Video Lesson, Chapter Tests, Assignments, and Section Tests.
Doubt clarification classes with Subject Experts /Program mentors.
Guidance, Tips, and Preparation strategies from experts at each stage of preparation.
Benefits of taking CLAT UG Online Course?
If at any point in your CLAT UG exam preparation you feel lost or stuck, you can trust ixamBee's expert mentors who go out of their way to help their students. By enrolling yourself in ixamBee's CLAT UG Online Course you will be able to reach out to your mentors as and when required with respect to any kind of query.
Most of the expert faculty members at ixamBee for CLAT UG Online Course have themselves been on the battleground and thus know what it is like to prepare for one of the most important law entrance exams in the country. They understand all the requirements and needs of the aspirants and thus can guide them through the right path.
High-quality study material
At ixamBee, the aspirants preparing for the CLAT UG entrance exam will not have to worry about the quality of the study material that will be made available to them. Everything that is forwarded to our students possesses 100% quality and detailed syllabus coverage.
Enrolling yourself in ixamBee's CLAT UG Online Course means regular live classes for doubt clarification with the subject experts where you can get all your queries related to any subject clarified.
Why Choose ixamBee's Exam Prep CLAT UG Online Coaching?
The CLAT UG online course has been designed by some of the best subject experts who are very well aware of all the students' needs. They realize the need to stay updated with the latest trends.
ixamBee's CLAT UG Online Course has been well-curated by our experts keeping in mind all the latest trends & changes in the exam pattern and syllabus. ixamBee's CLAT UG Online Coaching guarantees coverage of the complete syllabus and prepares the students for any kind of challenges ahead.
CLAT UG Online Course at ixamBee has been created keeping in mind the working professionals also. This makes the CLAT UG Online Coaching compatible and convenient for them to make use of this facility as and when required. If any doubt, you also have the facility to contact and talk to the experts by simply logging in to the website.
How to Enroll for CLAT UG 2022 - 2023 Online Classes on ixamBee?
If you are a registered user of ixamBee, you need to log in to the website & go to the 'online course tab' where you can select the CLAT UG Online Course under the 'Others' section from the drop-down menu.
Click on the course and you will find complete details of the CLAT UG Online Coaching with three options on the extreme right of the course page.
You can either watch a free demo or directly click on the 'Buy Now' tab and follow further steps to make the payment for CLAT UG Online Course.
In case of any clarification/assistance, feel free to request a callback or send an email to hello@ixamBee.com.
CLAT 2022 Exam 60 Days Study Plan
CLAT UG online exam is all set to happen on June 19, 2022. Though you have enough time at hand to prepare but it is always wise to start planning your preparation beforehand. You need to have a practical and achievable plan ready with you so that you can kick-start your CLAT UG exam preparation well in time. To help you with this, we have curated a detailed 60 days study plan for CLAT 2022 preparation. The study plan has been devised by our expert faculty members who have taken care of each and every aspect of your exam preparation, covering the complete CLAT syllabus. The detailed CLAT 2022 study plan promises success in your upcoming exam, if you follow it diligently. For your convenience we have provided a small glimpse of the study plan below. Have a look and if you feel right, you can download the complete CLAT UG 2022 study plan pdf.
| Days | Date | Subject Name | Topic |
| --- | --- | --- | --- |
| Day 1 | April 16 | Introduction to CLAT | Introduction to CLAT Course |
| Day 2 | April 17 | Logical Reasoning | Logical Reasoning- Lecture 1 |
| Day 3 | April 18 | English Language | How to attempt comprehension? |
| Day 4 | April 19 | Current Affairs + GK | August- September 2021 |
| Day 5 | April 20 | Logical Reasoning | Coding Decoding |
| Day 6 | April 21 | Legal Reasoning | Law of Torts – Lecture 1 |
| Day 7 | April 22 | Quantitative Techniques | Quantitative Techniques – Lecture 1 |
| Day 8 | April 23 | Legal Reasoning | Law of Torts – Lecture 2 |
| Day 9 | April 24 | Logical Reasoning | Logical Reasoning- Lecture 2 |
| Day 10 | April 25 | English Language | English Language- Lecture 1 |
| Day 11 | April 26 | Current Affairs + GK | October-November 2021 |
| Day 12 | April 27 | Logical Reasoning | Blood Relationship |
| Day 13 | April 28 | Legal Reasoning | Law of Torts – Lecture 3 |
| Day 14 | April 29 | Quantitative Techniques | Quantitative Techniques – Lecture 2 |
| Day 15 | April 30 | Legal Reasoning | Civil Law- Lecture 1 |
| Day 16 | May 1 | Logical Reasoning | Logical Reasoning- Lecture 3 |
| Day 17 | May 2 | English Language | English Language- Lecture 2 |
| Day 18 | May 3 | Current Affairs + GK | December 2021 |
| Day 19 | May 4 | Legal Reasoning | Civil Law- Lecture 2 |
| Day 20 | May 5 | Logical Reasoning | Direction and Distance |
Faculty and Course Coordinator
---
---
---
---
---
---
Study Materials Information