BOB SO Exam Calendar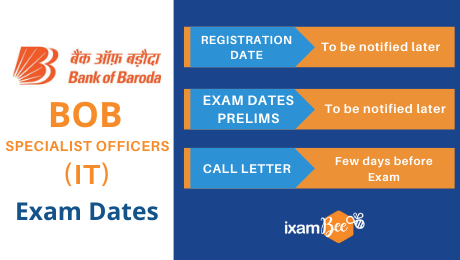 The BOB SO notification has been out. The BOB SO calendar 2021 have all the important dates of registration starting and closing, exam dates and other instructions that a candidate should be aware of. Bank of Baroda has released the result of the BOB SO online exam that was held on January 09, 2022.
Candidates can check their results from the BOB SO (IT) PDF released by BOB on February 23, 2022.
Bank of Baroda SO (IT) Exam Dates 2021
Events
Important Dates
Online registration including Editing
/ Modification of Application by candidates
November 16, to December 13, 2021
Bank of Baroda SO (IT) Online Examination Date
January 09, 2022
Bank of Baroda SO (IT) Online Examination Result
February 23, 2022 [Click Here]
Bank of Baroda SO (IT) Interview Date
To be notified later
Exam Centre
A candidate will be allotted the centre that he/she has filled in the BOB SO application form. Any request for a change in the centre will not be entertained. So a candidate must fill out the BOB SO application form correctly. The details of the BOB SO exam are to be held in various States/Union territories. A detailed list of BOB SO exam centre has been provided below.
Examination Centres
Ahmedabad
Dehradun
Mumbai
Bangalore
Panaji, Goa
Nagpur
Bareilly
Guwahati
Patna
Baroda
Hyderabad
Pune
Bhopal
Jaipur
Raipur
Bhubhaneshwar
Jalandhar
Vishakhapatnam
Chandigarh
Ernakulam
Shimla
Chennai
Kolkata
Jammu
Delhi
Lucknow
Mumbai
FAQs
The BOB SO (IT) official notification for the year 2022 have not been announced yet. The interview process of BOB SO (IT) 2021 is still left.
Yes, you have to undergo an interview round after you will qualify the online exam.
No such information is provided in the official Notification of BOB SO (IT).