Salary 2022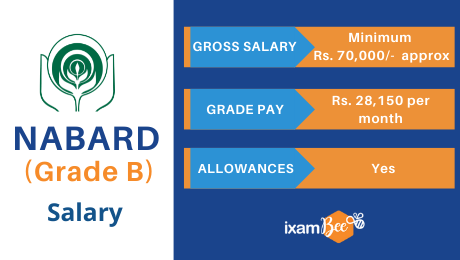 NABARD jobs are quite popular among the job aspirants who are preparing hard for long to get a secure job. NABARD provides excellent growth opportunities to all its employees and offers great pay, which is one of the reasons why people prefer a job in NABARD. NABARD Grade B being a Managerial post certainly offers attractive emoluments along with other benefits. A NABARD Grade B Manager 2022 starting basic salary will be Rs 35,150/- p.m in the pay scale of Rs 35150-1750(9)-50900-EB-1750(2)-54400-2000(4)-62400(16years). NABARD Manager Grade B salary structure also includes allowances like DA, LCA, HRA etc. The gross emoluments that NABARD Grade B 2022 Officer at present receives is around Rs 78,000/- p.m.
Name of post
Salary
NABARD Grade B

Basic pay - Rs. 35150/- p.m.
Pay scale - 35150 - 1750 (9) - 50900 - EB - 1750(2) - 54400 - 2000 (4) - 62400 (16 years)
Initial monthly Gross emoluments - Approximately Rs. 78,000/- p.m.
NABARD Grade B 2022 Allowances
NABARD Grade B 2022 salary in hand is sufficiently good. Along with this, a Grade B Officer is entitled to many allowances and benefits. The perks and benefits that you will get as a NABARD Grade B Officer is mentioned below.
Various allowances like DA, HRA, Local Allowance, Family Allowance, Grade Allowance.
Accommodation facilities all over India subjected to availability.
Telephone, Newspaper and Maid allowance.
Coverage under the New Pension Scheme in addition to the Gratuity and Optional Group Term Insurance Plan benefit.
Reimbursement of medical expenses, Furniture allowance, Dispensary facilities, Interest-free festival advance, Leave fare concessions, Loans at concessional rates of interest (for House, Car, Education, Personal), and more.
Job Profile
NABARD has been one of the best organizations to work for. It can be counted among the most preferred jobs in India owing to the comfortable working environment, working hours, facilities, benefits and a good pay package. It also gives a chance to the serious aspirants to work for the rural sector and contribute to its development. NABARD offers excellent growth opportunities to all its employees. Initially, on the selection of a candidate as a NABARD Grade B Manager, he/she will be on a probation period of 2 years which may be extended to 1 more year. After the successful completion of this period, you will be posted anywhere across India. The responsibilities that a NABARD Grade B Officer performs are as follows-
Responsible for approving the loans
Ensuring good coordination among the different departments
Maintaining the smooth functioning of the office
Maintaining a good rapport with the customer and handling their queries efficiently will further maintain good customer relationships
NABARD offers a five-day working week which can give you a better opportunity to utilize some time in your personal growth.
NABARD Grade B Career Growth
NABARD Grade B is a Managerial Post. A NABARD Grade B Manager can get promoted to higher designations easily by appearing in the internal departmental exams. The regular career progression path that NABARD Grade B 2022 Officer undergoes is mentioned below.
Director
Executive Director
Chief General Manager
General Manager
Deputy General Manager
Assistant General Manager
Manager
Recommended Courses for you