Question
Each of the questions given below has one question and two statements marked I and II. You have to decide whether the data provided in the statements are sufficient to answer the question. Read both the statements and give answer :
In which direction is Rita facing?
I. Rita took two consecutive right turns after walking 5 Kms
II. Rita walked towards East and took two consecutive left turns after walking 2 kms before each turn.
Solution
From I, initial position/direction not given. Thus, I alone is not sufficient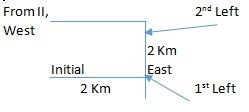 Thus, Rita is facing West