Big Bee Days: Get Flat 60% Off On This Course
RBI Assistant LPT Hindi Online Course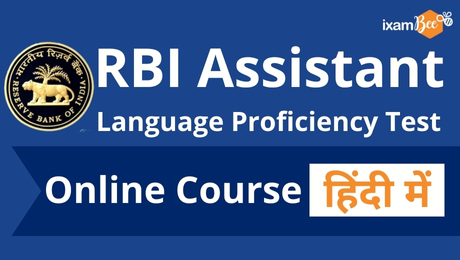 RBI Assistant is among the several opportunities offered by the Reserve Bank of India every year. Working in an organization like RBI is a dream of many and therefore it is utmost important to be well prepared in order to get through the selection process.
Although the two most important stages of the RBI Assistant selection process are Prelims and Mains, what will seal the deal for you is the third and final step of Language Proficiency Test (LPT).
As both the phases of RBI Assistant 2023 are over, the provisionally selected candidates in the Mains examination will be called for the Language Proficiency Test in which you have to read and write the official language of that particular state from where you have applied.
It is worth noting that if you fail to prove your proficiency in the official/local language, you will be declared disqualified from the selection process. Keeping this in mind ixamBee has come up with RBI Assistant LPT (Hindi) Online Course which will cater to all your preparation needs with respect to Hindi language. We will be providing live interactive classes where you can prepare yourself to the best of your ability and get all your queries answered by one of the best faculty members who possess the requisite knowledge and experience in Hindi language. Therefore, enroll yourself in RBI Assistant LPT (Hindi) Online Course and ensure your selection in the RBI Assistant recruitment process.
Recommended Courses for you
FAQs
RBI Assistant Language Proficiency Test is a crucial step that can make or break your dream of working with RBI. Therefore, you need a specially curated and well-designed online course that will cover all your requirements and clarify all your doubts. You can easily get all of this at ixamBee in the form of the newly launched RBI Assistant LPT Hindi Online Course.
You can not make any payment for the RBI Assistant LPT Hindi Online Course in cash. You can only pay through credit card/digital mode.
The RBI Assistant LPT Hindi Online Course will be valid till the examination is conducted.