SSC JHT Free Mock Test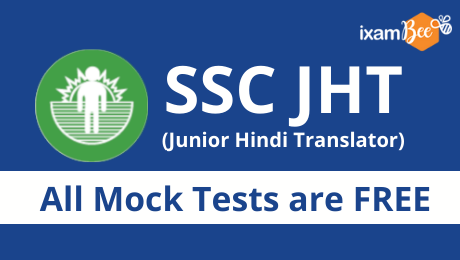 SSC jobs are all-time preferred jobs in the government sector so the competition to get that one seat is very high. To beat this competition it's very important that you practice the SSC JHT mock to improvise your skills.
SSC JHT free mock test will enhance your preparation and boost your confidence by providing you with an exam like environment.
Attempting practice mock of SSC JHT will help in evaluating your performance and increasing the accuracy rate.
The analysis and cut-off feature in the SSC JHT mock test series will give an in-depth analysis of your performance.
Saving important solutions will help in revising the trick and shortcuts as the exam date approaches.
These online SSC JHT mock tests will aware you of your score, percentile, rank with respect to other candidates
SSC JHT Online Test Series | Practice Test
SSC JHT online practice test series is one of the most convenient ways of enhancing your speed from the comfort of your home. SSC JHT exhaustive mock test is the best way to gain a thorough understanding of the SSC JHT exam pattern and syllabus. The SSC JHT free mock tests will help you optimize your exam preparation and understand the exam requirements. Regular attempting of these practice tests will improve your time management skills too. Free mock test for SSC JHT is the best way to revise and retain what you have learned.
SSC JHT Exam Pattern Paper 1
SSC JHT Paper
Section
Number of Questions
Duration
Paper 1
General Hindi
100
Cumulative duration of 2 hours
General English
100
Total
2 sections
200 Questions
2 hours
SSC JHT Exam Pattern Paper 2
SSC JHT Paper
Section
Number of Questions
Duration
Paper 2
Translation
2
Cumulative duration of 2 hours
Essay Writing
2
Total
2 sections
4 Questions
2 hours
SSC JHT Exam Dates
SSC JHT Exam Dates 2022
Events
Exam Dates
Online Form submission Start
To be notified later
Last Date to Apply Online for SSC JHT
To be notified later
Last date for the generation of offline Challan
To be notified later
Last date for payment through Challan
(during working hours of Bank)
To be notified later
Admit Card of Paper-I
To be notified later
SSC JHT 2021 Paper-I
To be notified later
Admit Card of Paper-II
To be notified later
SSC JHT 2022 Paper-II
To be notified later
58 Cr+
Questions Attempted
56 Lac+
Mock Test Attempted