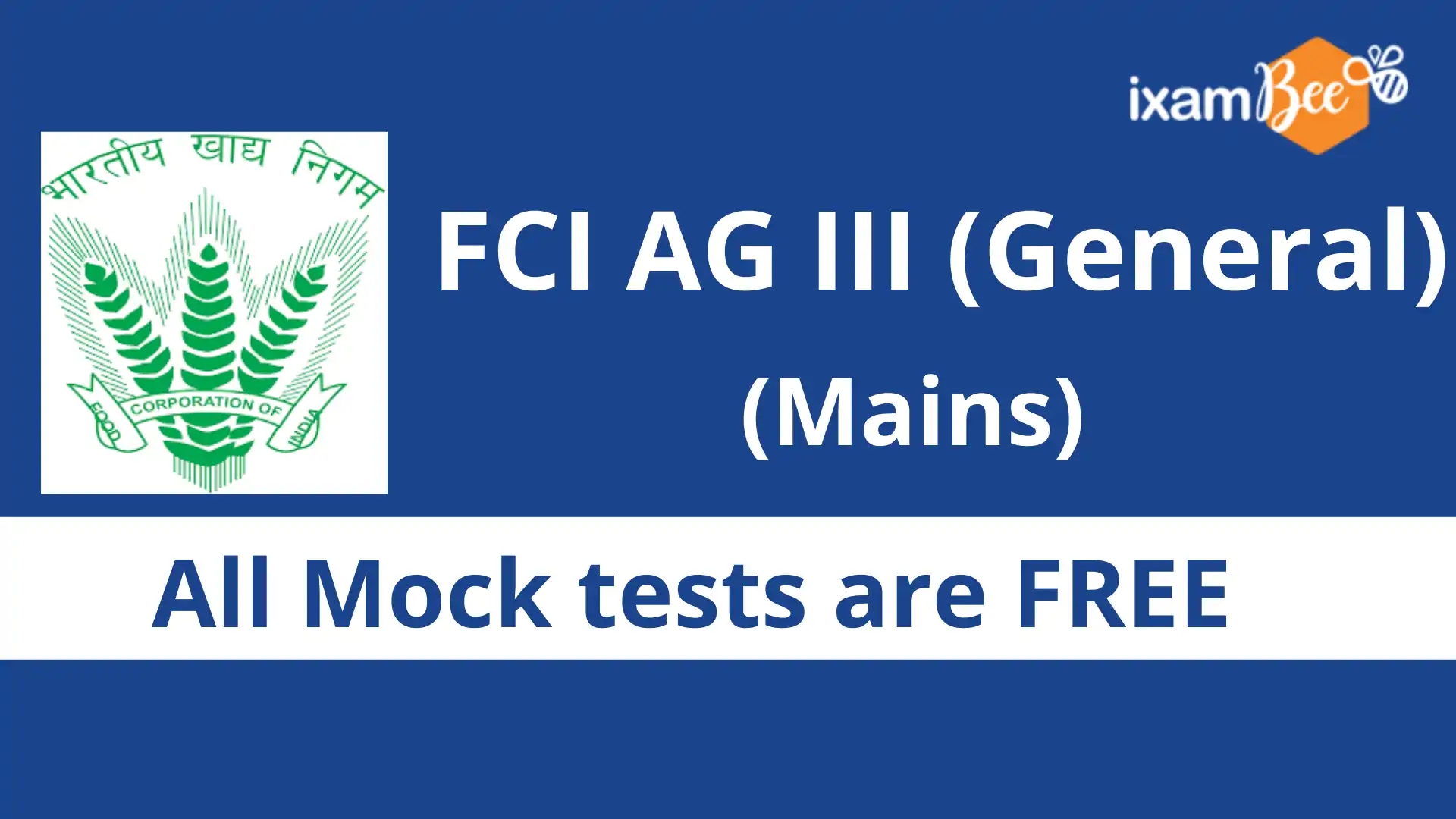 FCI Mains Free Mock Test 2020
When you think of FCI 2020 Main Exam preparation, it is very important to include practice in it. ixamBee in that direction has launched FCI Mains 2020 Free Online Test Series where our experts have designed the best possible tests and have put together the best questions to create high quality online tests for FCI 2020 Phase II Exam (Mains). These FCI 2020 Mains mock tests cover every topic in the syllabus and are based on the latest pattern. You can practice FCI 2020 Mains free mock tests and analyse your performance which will help you to a great extent in your FCI 2020 Exam preparation.
FCI Mains 2020 Online Test Series | Practice Test 2020
ixamBee's FCI 2020 Mains free practice tests will help you in analyzing your performance properly. You can test your knowledge and identify your stronger & weaker points. FCI 2020 Main Exam preparation will be complete with these high quality free mock tests for FCI Mains 2020. You will also be able to able to improve your accuracy by practicing FCI 2020 Mains online free mock tests.
FCI Manager Exam Dates
Food Corporation Of India (FCI) Exam Dates 2022
| Events | Important Dates |
| --- | --- |
| FCI Manager Recruitment Notification Release Date | To be notified later |
| Start Date To Apply Online for FCI Manager Exam | To be notified later |
| Last Date To Apply Online for FCI Exam | To be notified later |
| Availability of Admit Cards | To be notified later |
| FCI Manager Phase-1 Online Exam Dates | To be notified later |
| FCI Manager Phase-1 Result | To be notified later |
| FCI Manager Phase-2 Exam Date | To be notified later |
| FCI Manager Interview Dates | To be notified later |
FCI Manager Exam Pattern
FCI Manager Phase 1 Exam Pattern
| Name of the Test | No. of Questions | Maximum Marks | Duration (minutes) | Medium of exam |
| --- | --- | --- | --- | --- |
| English Language | 30 | 30 | 20 minutes | English |
| Reasoning Ability | 35 | 35 | 20 minutes | Bilingual (English and Hindi) |
| Numerical Aptitude | 35 | 35 | 20 minutes | Bilingual (English and Hindi) |
| Total | 100 | 100 | 60 minutes | |
FCI Manager Phase 2 Exam Pattern
Number of Papers
Post code
Post
One Paper Exam
Paper I only
A
Manager (General)
B
Manager (Depot)
C
Manager (Movement)
Two Paper Exam
Paper I and Paper II
D
Manager (Accounts)
E
Manager (Technical)
F
Manager (Civil Engineering)
G
Manager(Electrical Mechanical Engineering)
Paper III and Paper IV
H
Manager (Hindi)
FCI Manager Phase 2 Exam Pattern: Various Post
Paper Type
No. of Questions / Marks Time
Duration (minutes)
Paper 1
120 Questions/ 120 Marks
90 Minutes
Paper 2
60 Questions/ 120 Marks
60 Minutes
Paper 3
120 Questions/ 120 Marks
90 Minutes
Paper 4

01 Passage for translation from Hindi to English (30 Marks)
01 Passage for translation from English to Hindi (30 Marks)
01 essay in Hindi (30 Marks)
01 Precis Writing in English (30 Marks)

90 Minutes
To know more about FCI 2020 Exam Please click here
Yes I give my ratings 5. Star

Not in the fci pattern old model questions not satisfied with the test serious waste of time
58 Cr+
Questions Attempted
56 Lac+
Mock Test Attempted