Free Mock Test For FCI Mains
Food Corporation of India (FCI) had recently released the notification for various posts of Junior Engineer (JE) (Electrical/Mechanical/Civil Engineering), Assistant Grade II (AG II) (Hindi), Steno Grade-II, Typist (Hindi), Assistant Grade III (AG III ) (General/Accounts/Technical/Depot). It offers an excellent opportunity to all the eligible candidates as FCI is one of the largest government organizations in India. FCI had released zone wise vacancies and all the candidates who will get selected will be given posting in any one among the given zones. The first stage of FCI exam is already over and the next stage i.e Mains is scheduled on 2020. Thus, all candidates should gear up for the next round and prepare in the best way.
Free Mock Test For FCI Mains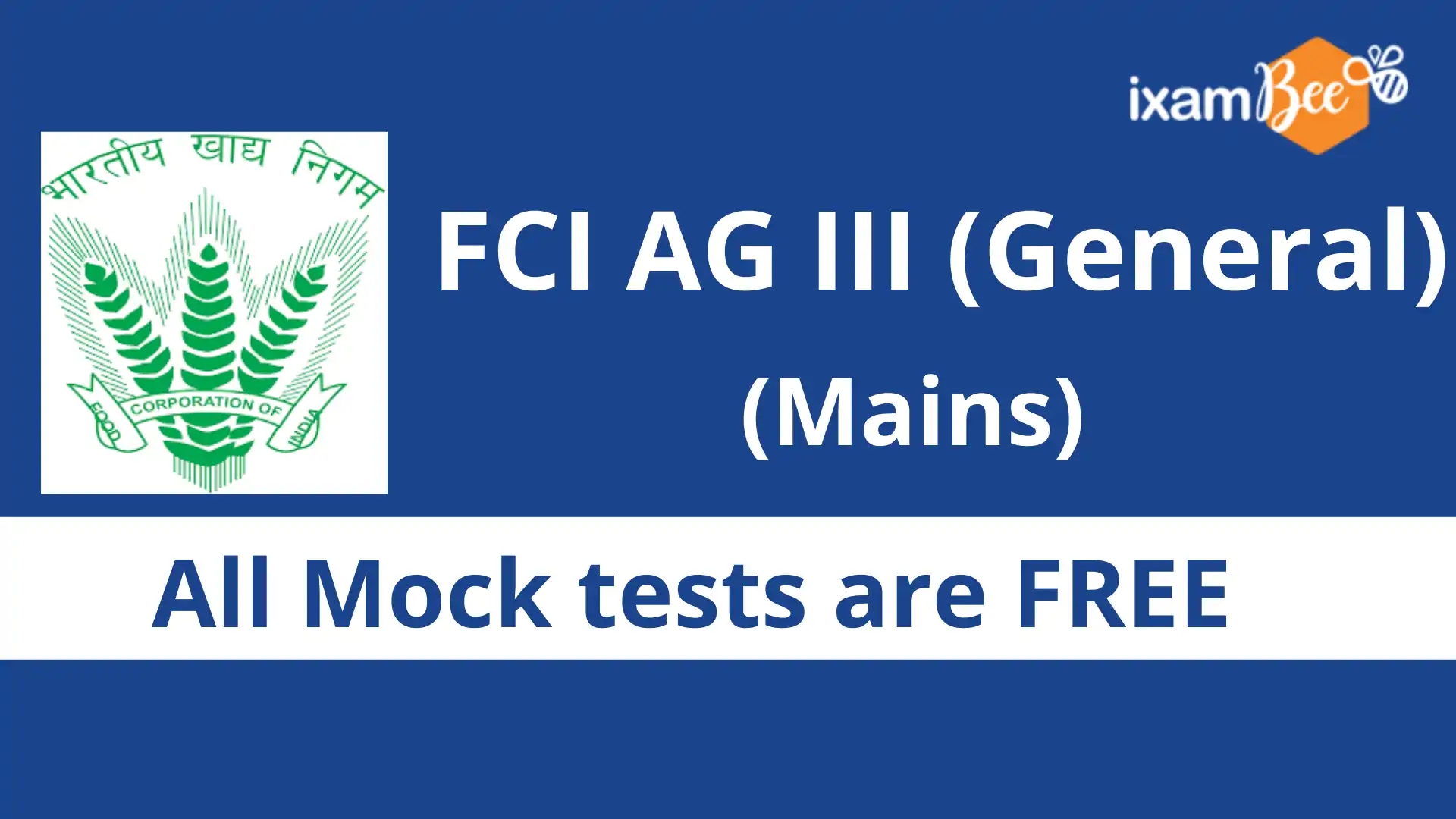 FCI Mains Free Mock Test 2020
When you think of FCI 2020 Main Exam preparation, it is very important to include practice in it. ixamBee in that direction has launched FCI Mains 2020 Free Online Test Series where our experts have designed the best possible tests and have put together the best questions to create high quality online tests for FCI 2020 Phase II Exam (Mains). These FCI 2020 Mains mock tests cover every topic in the syllabus and are based on the latest pattern. You can practice FCI 2020 Mains free mock tests and analyse your performance which will help you to a great extent in your FCI 2020 Exam preparation.
FCI Mains 2020 Online Test Series | Practice Test 2020
ixamBee's FCI 2020 Mains free practice tests will help you in analyzing your performance properly. You can test your knowledge and identify your stronger & weaker points. FCI 2020 Main Exam preparation will be complete with these high quality free mock tests for FCI Mains 2020. You will also be able to able to improve your accuracy by practicing FCI 2020 Mains online free mock tests.
Food Corporation Of India (FCI) Exam Dates
| Events | Important Dates |
| --- | --- |
| FCI Manager Recruitment 2019 - 2020 Notification Release Date | September 27th, 2019 |
| Start Date To Apply Online for FCI Manager Exam 2019 - 2020 | September 28th, 2019 |
| Last Date To Apply Online for FCI Exam 2019 - 2020 | October 27th, 2019 |
| Availability of Admit Cards | November 13th, 2019 |
| FCI Manager Phase-1 Online Exam Dates | November 28th, 2019 |
| FCI Manager Phase-1 Result | January 27th, 2020 |
| FCI Manager Phase-2 Exam Date | February 23rd, 2020 |
| FCI Manager Interview Dates | To be announced |
FCI 2020 Phase II Exam Paper
Number of Papers in Phase II
Post code
Post
Maximum Marks
Version and Penalty
Duration of Exam
One Paper Exam
Paper I only
F
AG-III (General)
I
AG-III (Depot)
Two Paper Exam
Paper I and Paper II
G
AG-III (Accounts)
H
AG-III (Technical)
Paper III and Paper IV
D
AG II (Hindi)

Note:
Candidates applying for any ONE of the post code G and H will appear in Paper-I to be followed by Paper-II.
Candidates applying for Post code D will appear in Paper-III to be followed by Paper-IV.
ONLINE TEST for Paper - I & Paper – II and Paper – III & Paper-IV shall be held in single sitting only respectively
FCI 2020 Phase II Exam Pattern
Paper Type/ Duration/ Post Code
Number of questions and Marks
Negative marking
Paper – I (60 Minutes) (Post F, I, G, H)
120 Multiple Choice Questions will carry equal 1 mark
1/4th Marks
Paper – III (90 Minutes) (Post D)
120 Multiple Choice Questions will carry equal 1 mark
Post specific Paper-II (in phase II 60 Minutes) (Post G, H)
60 Multiple Choice Questions each carrying 02 marks. Paper will carry maximum 120 marks
Paper – IV (Subjective) (90 Minutes) (Post D)
Two questions each carrying 60 marks. Paper will carry maximum 120 marks
No negative marking
FCI Phase 2 Exam Pattern for General & Depot
Name of the Test
No. of Questions
Maximum Marks
Duration of Exam
Reasoning/General Intelligence
30
30
90 Minutes
English language
20
20
Computer proficiency
20
20
General Awareness/Current events
30
30
Data analysis/Numerical Ability/Data Interpretation
20
20

Total

120

120
Exam Pattern for Paper I and Paper II for Accounts, Technical, JE Civil & JE Mechnical/Electrical
Name of the Test
No. of Questions
Maximum Marks
Duration
Reasoning/General Intelligence
30
30
90 Minutes
English language
20
20
Computer proficiency
20
20
General Awareness/Current events
30
30
Data analysis/Numerical Ability/Data Interpretation
20
20

Total

120

120

PAPER – II
Professional Knowledge **
60
120 (Each question
carries 02 marks)
60 Minutes