NPS Trust Officer (Grade B) Salary 2022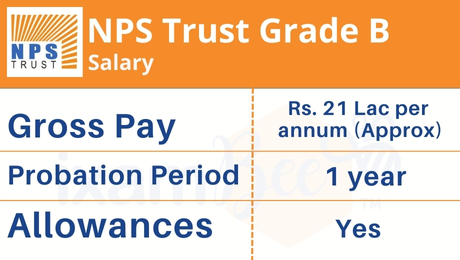 All the employees of the NPS Trust are paid a good salary. Therefore, knowing the NPS Trust Grade B Officer salary will motivate you to give your best in the online exam. As an NPST Grade B Officer, your starting salary will be Rs. 55200 excluding other benefits. In short, the total CTC of NPST Officer Grade B at the beginning of service will be approx. Rs. 27 Lacs per annum. Let's check out more details on the NPS Trust Grade B Officer salary 2022 from below.
NPS Trust Officer (Grade B) Salary Details 2022
Selected as a NPS Trust Grade B Officer you will be entitled to various perks and allowances besides the salary. Joining as a NPST Grade B Officer your pay scale will be Rs.55200-2850(9)-80850-EB-2850(2)-86550-3300(4)-99750 (16 years). Moreover, the gross emoluments also incude NPST's contribution towards National Pension Scheme (NPS), Grade Allowance, Special Allowance, Dearness Allowance, Local Compensatory Allowance, Housing Allowance, Learning Allowance and Special Grade Allowance. At present, the total CTC of a Grade B Officer in NPST is approx. Rs 27 Lakh / annum. For a detailed NPST Grade B salary structure, refer to the table below.
Post
Salary
NPS Trust Officer Grade B (Manager)

Pay Scale

- Rs.35150-1750(9)-50900-EB 1750(2)-54400-2000(4)-62400 (16 years)

CTC

- Approx. Rs. 21 Lac per annum
Perks and Additional Benefits For NPS Trust Officer (Grade B)
The various perks and allowances that a Grade B Officer will receive at NPST is given below.
Medical Expenses
Leave Fare Concession
Personal Accident Insurance
Education Allowance
Book Grant
House Cleaning Allowance
Staff Furnishing Scheme
Eye Refraction/Cost of Spectacles
Financial Dailies
Briefcase
Conveyance Expenses
Scheme for Purchasing Computers
NPS Trust Officer (Grade B) Probation Period
You will on a probation of 1 year from the date of joining. This probation period may be extended up to a period of one year at the discretion of the organization. You will be posted at Delhi but may be transferred to any location in India if the organization demands so. Also, you can be posted to any department in the organization, irrespective of your stream, as per the organization's need and requirements.
Recommended Courses for you
NPS Grade B Officer (Manager) Phase I - Previous Year Paper
150 Minutes
190 Questions
200 Marks