MONTH END DHAMAKA SALE IS Here
NPS Trust Officer Grade A (Assistant Manager) Salary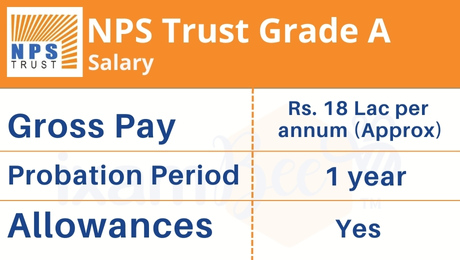 Getting aware of the salary details of the NPS Trust Grade A Officer is the prerequisite for all the aspirants applying for it. A peek into the detailed NPST Grade A salary will help you to gauge the benefits and perks that a government job provides to its employees. Go through the details given below to have detailed knowledge about the NPS Trust Assistant Manager salary structure 2022.
NPS Trust Officer Grade A (Assistant Manager) Salary Details
All the employees of the NPS Trust are paid a good salary. As an NPS Trust Grade A Officer, your starting pay will be Rs 44500. This will increase as one spends years of service with the organization. The maximum salary that you will receive excluding perks and allowances with the passage of year is Rs 89150. In short, the total CTC of NPST Officer Grade A at the beginning of service will be approx. Rs. 23 Lac per annum.
Post
Salary
NPS Trust Officer Grade A (Assistant Manager)

Pay Scale:

Rs. 44500 - 2500 (4) - 54500 - 2850 (7) -74450 -EB - 2850 (4) – 85850-3300(1)-89150 (17 years). Presently, the gross emolument includes NPS Trust's contribution towards National Pension System (NPS), Grade Allowance, Special Allowance, Dearness Allowance, Local Compensatory Allowance, Housing Allowance, Learning Allowance and Special Grade Allowance.

Benefits:

Other benefits include viz., Leave Fare Concession, Medical Expenses (Hospitalisation and Non-Hospitalisation), Personal Accident Insurance, Eye Refraction/ Cost of Spectacles, Education Allowance, Financial Dailies, Book Grant, Briefcase, Conveyance Expenses, House Cleaning Allowance, Staff Furnishing Scheme, Scheme for Purchasing Computers and all other benefits as are admissible to an Officer Grade A in NPS Trust.

CTC:

Total CTC consisting of Pay and Benefits for the post of Officer Grade A at the beginning of scale of pay would be approx. Rs. 23 Lakh Per annum.
Increment Table For NPS Trust Grade A Officer
After joining, you will draw the initial NPS Trust Grade A Officer salary of Rs 44500 / month. You will be given an increment of Rs 2500 for the first four years. After 4 years of your service, your increment will be raised to Rs 2850 and this will be applicable for the next 7 years. After this increment, your basic pay will be Rs 74450. Your last increment will be Rs 3300 and the maximum basic pay that you will receive is Rs 89150.
Check the table below for more detailed information on the increment of a NPS Trust Grade A Officer.
| Time Duration | Basic Salary | Increment Amount |
| --- | --- | --- |
| First 4 years | Rs 28150 | Rs 1550 |
| Next 7 years | Rs 34350 | Rs 1750 |
| Next 4 Years | Rs 46600 | Rs 1750 |
| Next 1 year | Rs 53600 | Rs 2000 |
Perks And Additional Benefits of NPS Trust Officer Grade A (Assistant Manager)
As an NPS Trust Grade A Officer, you will get various allowances as mentioned below besides salary.
Grade Allowance
Special Allowance
Dearness Allowance
Housing Allowance
Leave Fare Concession
Medical Expenses
Personal Accident Insurance
House Cleaning Allowance
These are some allowances. There are many for which you will be eligible.
NPS Trust Officer Grade A (Assistant Manager) Probation Period
If you get selected as an NPS Trust Grade A Officer, you will be on a probation period of 1 year which may be extended further in case of unsatisfactory performance. Your posting will be in Delhi but is liable to get transferred anywhere in India.
NPS Trust Grade A Career Growth
As you progress in your career as an NPS Trust Grade A Officer, you will undergo a career progression path. You will enter as an Assistant Manager in NPS Trust. As far as promotions are concerned, one gets promoted only after going through departmental exams and interviews, further promotions bring in considerable prestige and pay hikes. The NPS Trust Grade A promotion hierarchy from the post of Assistant Manager has been given below.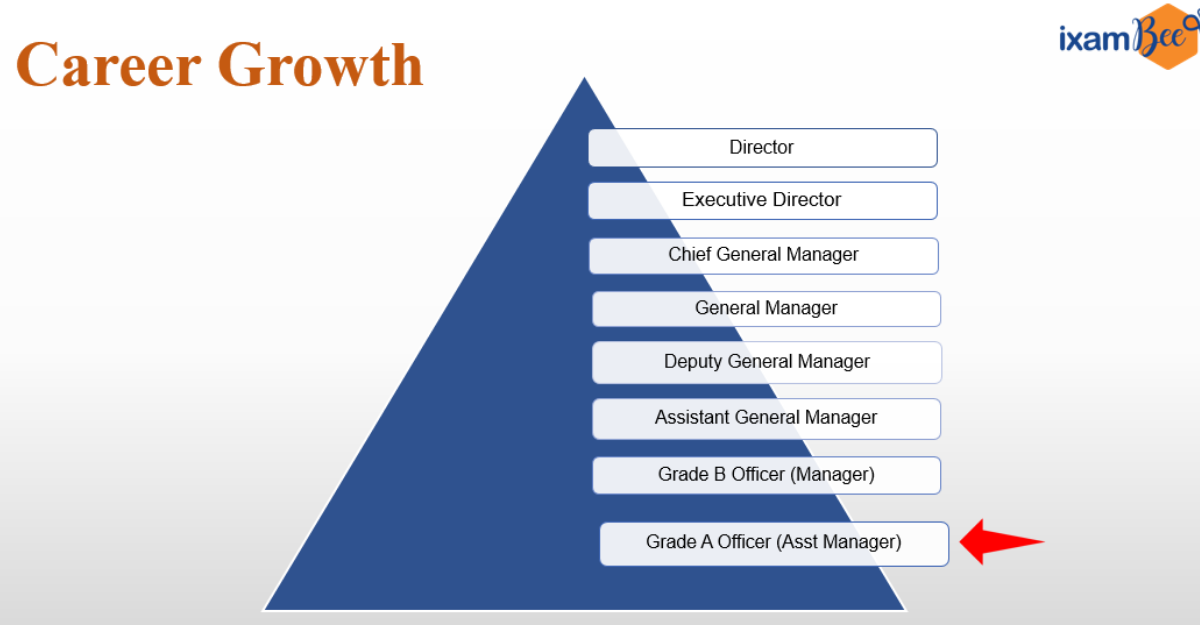 Recommended Courses for you
NPS Grade A Officer (Assistant Manager) Phase I - Previous Year Paper
150 Minutes
190 Questions
200 Marks