NABARD Development Assistant Syllabus 2022
The NABARD Development Assistant syllabus is the same as any other bank exams. It consists of English Language, Quantitative Aptitude, Reasoning Ability and General Awareness. Since there are two stages - Preliminary and Mains, so you should ensure that you are aware of the complete syllabus. The detailed information regarding the syllabus is mentioned below.
NABARD Development Assistant exam consists of two stages - Preliminary and Mains. Though the syllabus for both phases is more or less the same the difference lies in the difficulty level. The exam for both NABARD Development Assistant/Development Assistant (Hindi) is the same but instead of the Numerical Ability section, a test of Professional Knowledge (Hindi) is included in the Development Assistant (Hindi) exam. Details regarding the NABARD Development Assistant syllabus (Prelims + Mains) is given below.
| Section | Topics |
| --- | --- |
| Quantitative Aptitude | Ratio and Proportion, Average, Time and Work, Speed, Distance and Time, Mixture and Allegations, Stocks and Shares, Percentage, Permutation and Combination, Algebra, Trigonometry, Data Interpretation, Mensuration, Probability, Set Theory |
| Reasoning Ability | Inequality, Coding Decoding, Syllogism, Machine Input Output, Data Sufficiency, Circular Arrangement, Linear Arrangement, Floor Puzzle, Scheduling, Verbal Reasoning, Ordering and Ranking, Arrangement and Pattern, Blood Relations, Direction and Distance |
| General Awareness | Topics like Agriculture & Rural Development, Soil & Water Conversation, Water Resources, Farm and Agri-Engineering, Plantation & Horticulture, Animal Husbandry, Fisheries, Forestry, Agriculture Extensions, Ecology and Climate Change, Rural banking and financial institutions in India, Scenario of Indian Agriculture, Genetically Modified Crops, Indian Financial System, Indian Banking System, Static GK, National Institution, Banking Terms |
| English Language | Grammar, Vocabulary, Error Spotting, Comprehension, Passage Making, Jumble Words, Fill in the Blanks, Sentence Framing |
| Computer Knowledge | Languages, Basic Hardware and Software, History of Computers, Devices, Viruses and Hacking, MS Office, Networking, DBMS |
NABARD Development Assistant free mocks will not only help you in preparing smoothly for your exam but will also enhance your confidence and accuracy.
NABARD Development Assistant Exam Books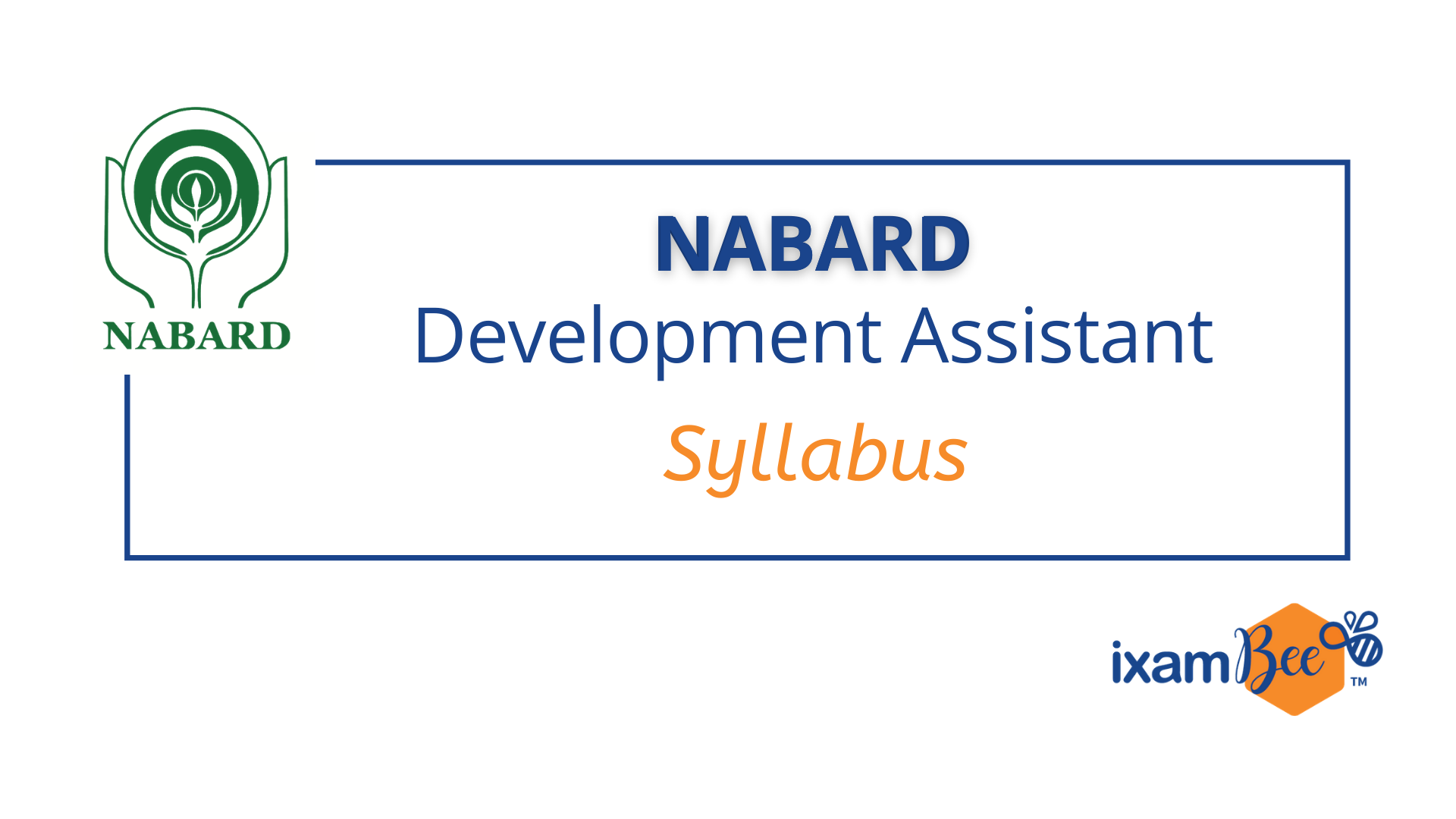 NABARD Development Assistant / Development Assistant (Hindi) is an important exam thus your preparation should be of a higher level so that you can beat your peers. One of the most important requirement for the NABARD Development / Development Assistant (Hindi) exam 2022 is good quality books. Books are the most important part of any exam process and its judicious selection will help you to nail the exam. Refer to the table below for some useful books for NABARD Development Assistant / Development Assistant (Hindi) exam 2022.
Paper
Book
Author/Publisher
Agriculture & Rural Development
Agriculture at a Glance
R K Sharma and S K Bhoi
Rural Development
GPH Panel of Experts
Quantitative Aptitude
Quicker Mathematics
BSC Publications
Quantitative Aptitude
RS Agarwal
Class Notes
SS Bharti
Reasoning Ability
A modern approach to verbal & Non-verbal reasoning
R.S. Agarwal
Verbal & Non-Verbal Reasoning
S.Chand
Verbal & Non-Verbal Reasoning
Arihant Publication
English Language
English Grammar
Wren & Martin
Made Easy for English
Norman Lewis
Descriptive General English
SP Bakshi
General Awareness
Lucent GK Knowledge
Lucent Publication
Computer Awareness
Objective Computer Awareness
Arihant
Recommended Courses for you