MONTH END DHAMAKA SALE IS Here
NABARD Development Assistant Salary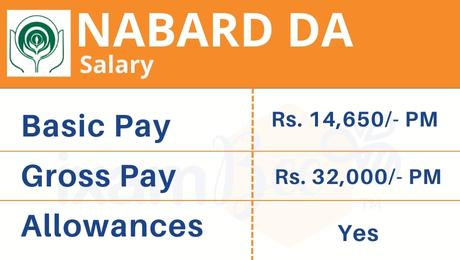 Salary is one of the most important factors that a candidate looks for while applying for any exam. NABARD offers a decent salary package besides offering various perks and allowances. A newly recruited NABARD Development Assistant/Development Assistant (Hindi) will get a basic pay of Rs 14,650 per month which can go higher as you go higher on the promotion ladder. Let's get more insight into the NABARD Office Assistant salary from the content below.
NABARD Development Assistant Salary Details
As mentioned above the NABARD Development Assistant pay scale ranges from Rs 13150 to 34990. The current overall CTC for NABARD Development Assistant is Rs 32,000 / month. It means that your starting salary will be Rs 13150 / month excluding other benefits and with the passage of years, you will have an increment of Rs 750, Rs 900, Rs 1200 and so on till you reach the maximum amount of Rs 34990. Here you will receive an increment of Rs 1750. This does not include any perks and additional benefits.
Post
Salary
Pay Scale
Gross Emoluments
NABARD Development Assistant
Rs. 13150-750(3) - 15400 900(4) - 19000 - 1200 (6) - 26200 - 1300 (2) - 28800 - 1480 (3) - 33240 - 1750 (1) - 34990 (20 Years)
Rs. 32,000/- per month (Approx.)
Development Assistant (Hindi)
Perks And Additional Benefits for NABARD Development Assistant
Appointed as a NABARD Development Assistant you will also be eligible for various perks and allowances. Some of the benefits that you will receive are as follows.
Residential accommodation (depending upon availability)
Newspaper allowance
Book Grant
Briefcase
Allowance for furnishing of residence
Medical reimbursement
Leave Travel Concession
Loans and Advances at concessional rates
Interest free Festival Advance
You will also be covered under New Pension Scheme (NPS), in addition to the benefit of Gratuity and an Optional Group Term Insurance Plan.
Recommended Courses for you