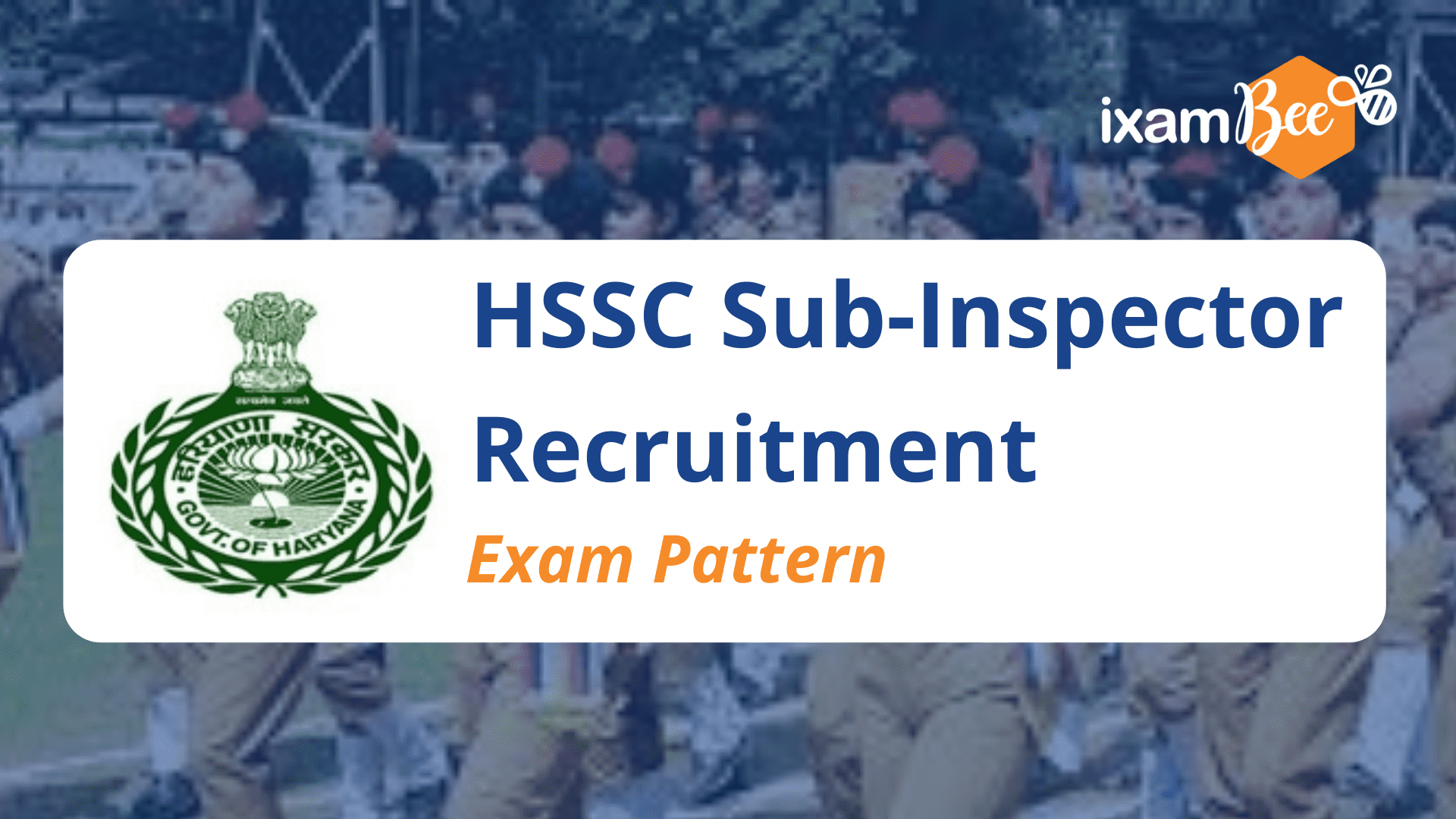 The HSSC Sub-Inspector recruitment was announced on June 15, 2021, and was expectedly awaited by many aspiring candidates. After you confirm your eligibility for the exam, you must ensure that you are well aware of each and every important information provided in the HSSC SI notification. As the examination date has already been announced, it will be intelligent enough to start with drafting a preparation plan. But, before you move ahead with the plan, you should be knowing the exam pattern completely.
The HSSC Sub Inspector exam will be conducted in three phases:
Knowledge Test
Physical Screening Test
Physical Measurement Test
Phase I: Knowledge Test
The 'Knowledge Test' will hold an 80% weightage in the selection process.
It will be carrying 80 marks which will assess candidates' knowledge on various subjects such as General Studies, General Science, Current affairs, General Reasoning, Mental Aptitude, Numerical Ability, Agriculture, Animal Husbandry, other relevant fields/trades, etc.
At least 10 questions from basic computer knowledge can be expected in the exam.
The test will be of objective type consisting of multiple-choice questions.
90 minutes will be allotted for the test.
Each question will hold 0.80 marks.
| Type of Question | Subjects | Number of Questions | Total Marks | Duration |
| --- | --- | --- | --- | --- |
| Objective Type, Multiple Choice Questions | General Studies, General Science, Current affairs, General Reasoning, Mental Aptitude, Numerical ability, Agriculture, Animal husbandry, other relevant fields/trades etc | 100 | 80 | 90 minutes |
Additional Qualification (10% Weightage):
There is an additional criteria for awarding marks in the HSSC Sub-Inspector recruitment notification based on the additional qualifications that any candidate possesses which is as follows:
There is a provision of providing 4 marks (maximum 7 marks) to those who possess a degree in higher education i.e. a Graduation degree in Law, Computer Engineering/Science, Forensic Medicine, Forensic Science, Police Science and Criminology (which-take 04 or more years after 10+2 to get a specialized degree) issued from a recognized university and additional three (03) marks for a Post Graduate degree in any of the aforementioned streams issued from a recognized university.
The candidates who possess a Post Graduate degree in any of the streams except the ones mentioned in the notification will not be considered eligible for any extra marks. But the candidates possessing a degree higher than their Post Graduation (M.Phil / Ph.D.) irrespective of the stream/s will be eligible for additional 3 marks.
Such candidates who possess an NCC Certificate will also be eligible for additional weightage, as follows.
'A' level certificate - 1 mark
'B' level certificate - 2 marks
'C' level certificate - 3 marks
Phase II: Physical Screening Test
After the candidates clear Phase I, they will be called for the next phase of the Physical Screening Test which will be qualifying in nature.
This test will determine the candidates' physical fitness and endurance.
The parameters of the test will be different for males, females, and ex-servicemen.
The candidates belonging to dependents of Ex-Servicemen and dependents of the Freedom Fighters category are also required to compete in the Physical Screening Test.
The candidates who fail to possess the required standards as mentioned in the notification will be disqualified from the further selection process.
| S.No | Candidates | Test distance | Qualifying Time |
| --- | --- | --- | --- |
| 1. | Male | 2.5 Kilometer | 12 minutes |
| 2. | Female | 1.0 Kilometer | 6 minutes |
| 3. | Ex.-serviceman | 1.0 Kilometer | 5 minutes |
Phase III - Physical Measurement Test
Those who qualify for the second phase of the screening test will further be called for the last phase of the Physical Measurement Test. If any of the candidates do not meet the eligibility criteria based on the physical standard as mentioned by the Haryana Staff Selection Commission, will stand disqualified from the further process.
All the interested candidates are advised to go through the complete notification and make sure that they do not miss any piece of important information.
Miscellaneous (10% Weightage):
5 marks have been reserved for such candidates who themselves or any person from among their father, mother, spouse, brother, and Son is, was or has been a regular employee in any Department/Board/Corporation/Company/StatutoryBody/Commission/Authority of Government of Haryana or any other State Government or Government of India.
5 marks will be awarded to a candidate if she/he is-
a widow; or
the first or the second child and his father had died before attaining the age of 42 years: or
the first or the second child and his father had died before the applicant had attained the age of 15 years.
5 marks are reserved for such candidates who belong to Vimukt Jatis and Tapriwas Jatis or Nomadic tribe of Haryana which is neither a Scheduled Caste nor a Backward Class.
8 marks (maximum) will be reserved for those possessing experience as an ad-hoc or a contract employee.
Exam Language
Phase I, i.e. the 'Knowledge Test' of the HSSC Sub-Inspector examination process will be 'bilingual' in nature. The candidates will have the choice to attempt the test either in English or Hindi medium.
FAQs
No. Only those candidates who possess a domicile of Haryana state will be eligible for a reservation in the HSSC SI recruitment.