Syllabus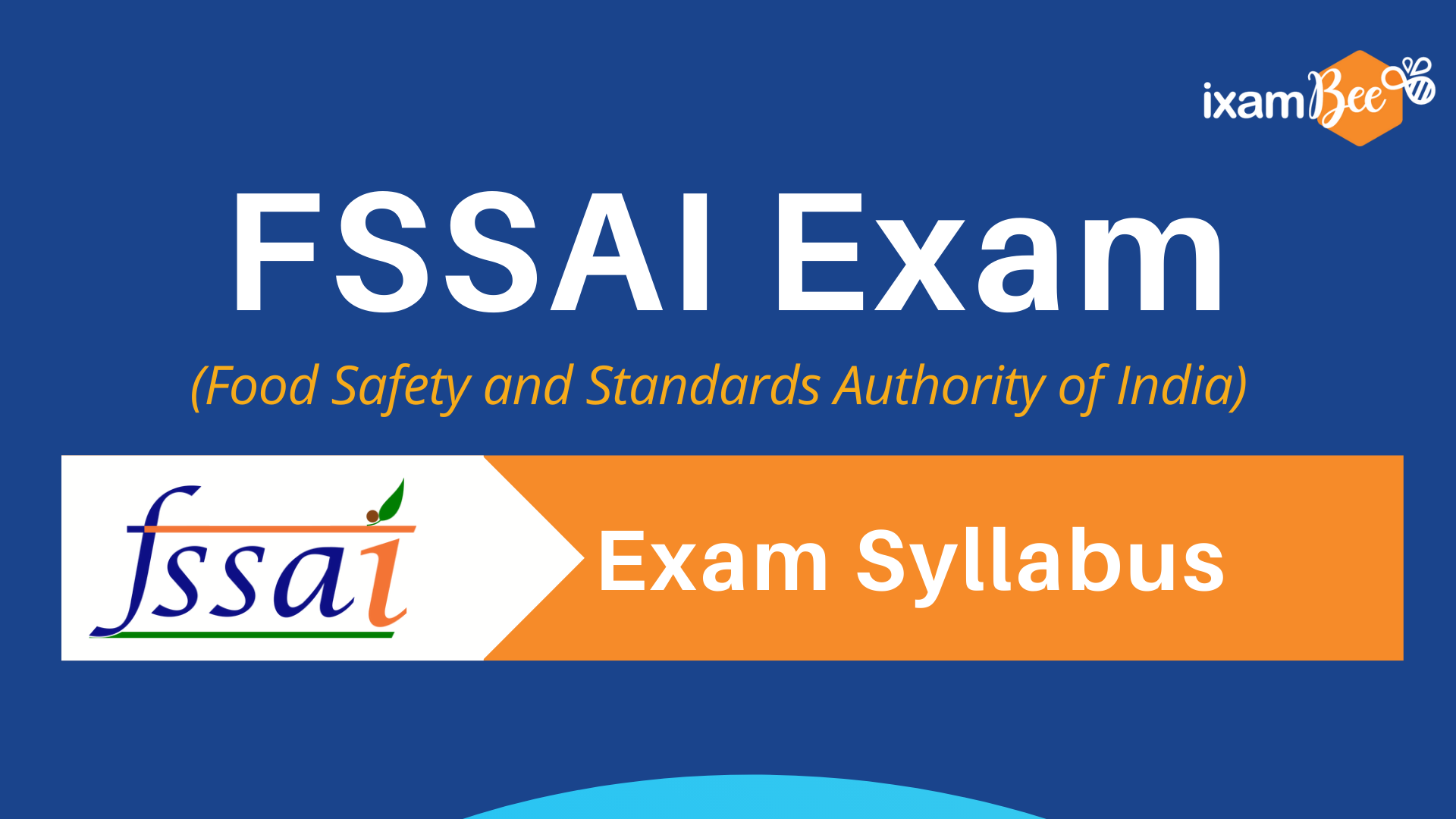 FSSAI has clearly mentioned the syllabus of CBT (Stage-1) for Technical Officer and Central Food Safety Officer (CFSO) in the separate notification. The detailed syllabus for FSSAI CBT (Stage-2) will be released after the commencement of CBT Stage-1 exam. Below, the syllabus of FSSAI exam has been provided in detail.
FSSAI Exam Syllabus (Stage 1)
In the FSSAI Stage 1 (Part A) exam, questions from General Intelligence, General Awareness, English language Comprehension and Computer Literacy will be asked. In Part B of Stage 1 exam, you will be evaluated on the basis of subjects such as Indian and International Food Laws (An Overview), (FSSAI-Role, Functions, Initiatives), Principles of Food Preservation, Processing and Packaging, Principles and Basics of Food Chemistry and their role in Human Nutrition, Food Microbiology & General principles of Food Hygiene and General concepts of Food Analysis and Testing. Detailed FSSAI Syllabus for CBT Stage 1 is provided below.
FSSAI Exam Syllabus Stage 1 (Part A)
| Section | Topics |
| --- | --- |
| General Intelligence | Analogies, Similarities And Differences, Space Visualization, Problem Solving, Analysis, Judgment, Decision Making, Visual Memory, Discriminating Observations, Relationship Concepts, Arithmetical Reasoning, Verbal And Figure Classification, Arithmetical Number Series, Non-verbal Series |
| General Awareness | India And Neighbouring Countries Specially Pertaining to History, Culture, Geography, Economic Scene, General Polity Including Indian Constitution, Sports and Scientific Research |
| English language Comprehension | Comprehension, One Word Substitution, Synonyms And Antonyms, Spelling Error, Spotting Errors in Sentences, Grammar – Noun, Pronoun, Adjectives, Verbs, Prepositions, Conjunctions, Use of 'a' 'an" and 'the', Idioms and Phrases, Parts of Speech |
| Computer Literacy | Knowledge of MS Office (Word, Excel, PowerPoint) Including Basic Commands, Google Doc, Emails, Commonly use Social Media Handles (Whattsapp, fb, Twitter) |
FSSAI Exam Syllabus Stage 1 (Part B)
Section
Topics
Indian and International Food Laws (An Overview)

Food Safety and Standards Act of India, 2006: Provision, definitions and different sections of the Act and implementation.
FSS Rules and Regulations
Overview of other relevant national bodies (e.g. APEDA, BIS EIC, MPEDA, Spice Board etc.)
International Food Control Systems/Laws, Regulations and Standards/Guidelines with regard to Food Safety – (i) Overview of CODEX Alimentarius Commission (History, Members, Standard setting and Advisory mechanisms: JECFA, JEMRA JMPR): WTO agreements (SPS/TBT)
Important national and international accreditation bodies

FSSAI-Role, Functions, Initiatives (A General Understanding)

Genesis and Evolution of FSSAI
Structure and Functions of Food Authority
Overview of systems and processes in Standards, Enforcement, Laboratory ecosystem, Imports, Third Party Audit etc.
Promoting safe and wholesome Food (Eat Right India, Food Fortification, snf, Clean Street Food Hub, RUCO and various other social and behavioural change initiatives)
Training and capacity building
Role of State Food Authorities

Principles of Food Preservation, Processing and Packaging

Food Processing Operations, Principles, Good Manufacturing Practices
Overview of food preservation methods and their under lying principles including novel and emerging methods/principles
Overview of food packaging methods and principles including novel packaging materials/techniques

Principles and Basics of Food Chemistry and their role in Human Nutrition

Structure and functions of macro-and micronutrients
Role of macro and micronutrients in human nutrition
Over view of food additives with respect to their technological functions
Over view of anti-nutritional factors and their removal from foods
Over view of enzymes as food processing aids
Over view of nutraceuticals and functions foods
Overview of food contaminants and adulterants and their effects on human health
Food allergens and allergen city
Importance of diet in alleviating health risks, especially noncommunicable diseases

Food Microbiology & General principles of Food Hygiene

General principles of food microbiology and over view of food borne pathogens
Over view of sources of microorganisms in food chain (raw materials, water, air, equipment etc.) and microbiological quality of foods
Microbial food spoilage and Food borne diseases General principles and techniques in microbiological examination of foods
Overview of beneficial microorganisms and their role in food processing and human nutrition
General principles of food safety management systems including traceability and recall – sanitation, HACCP, Good production and processing practices (GMP,GAP,GHP, GLP, BAP, etc)

General concepts of Food Analysis and Testing

Fundamentals of field level and laboratory sampling with reference to importance of statistical tools
Over view of basic/classical methods of food analysis
Over view of modern analytical techniques including mass spectrometry and molecular techniques
Principles of Quality assurance and Quality control with reference to food analysis and testing
Books
It is extremely important to choose or pick the best material for yourself as one of the most important parts of any exam preparation is the study material. You will need a useful set of books to kick-start your preparation. To save your time and make it easier for you, we have listed down some good books which will be helpful in your FSSAI exam preparation 2022.
Paper
Book
Author/Publisher

Subjective

Fruit and Vegetable Preservation Principles and Practices
R. P. Srivastava and Sanjeev Kumar
Food Microbiology
William C. Frazier and Dennis C. Westhoff adapted by N.M. Vanitha
Food Science
B Srilakshmi
Food Safety Officer Examination (A subjective approach)
Suresh Chandra and Durvesh Kumari

Objective

A competition Book for Food Safety Officer
Suresh Chandra, Durvesh Kumari and S. K. Goyal
Recommended Courses for you
FAQs
For FSSAI ,you can check the list of books mentioned in the books section above. The list has been prepared by our experts. It will help you to ace the exam with flying colours.