Syllabus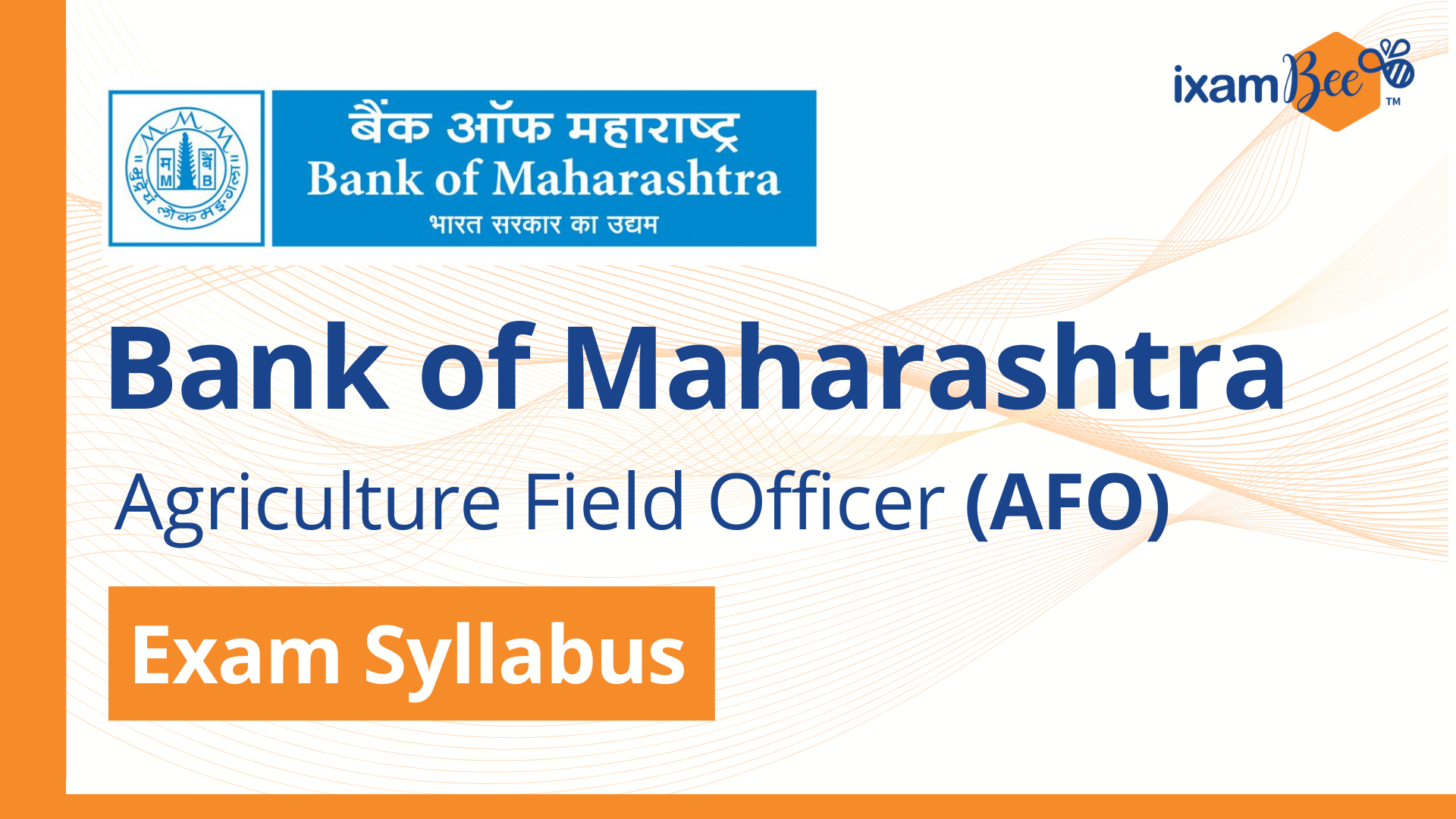 Bank of Maharashtra SO recruitment notification 2022 for the post of Specialist Officers Scale I has been released on Aug 30, 2021. The Bank of Maharashtra SO (AFO) selection process will be based on a single online exam followed by an interview. The online exam will have one test on 'Professional Knowledge'. Thus it is essential that all the candidates should be well versed with the Bank of Maharashtra SO exam syllabus of the Agriculture Field Officer stream. This should be your first step towards exam preparation. The detailed Bank of Maharashtra SO Scale 1 exam syllabus is given below:
| Section | Topics |
| --- | --- |
| Introduction to Agriculture | Seasonal Crops (Rabi and Kharif), Basic of Crop Production, Agricultural Practices |
| Agronomy | Concepts of Tillage, Cultivation Practices of Crops (Cereals, Pulses, Oil Seeds, Fiber Crops, Commercial Crops) , Cropping System, Irrigation, Weed Management, Sustainable Agriculture, Soil and Water Conservation, Organic Farming, Agrometeorology |
| Agro Forestry & Agro Ecology | Basics of Agro Forestry & Agro Ecology |
| Concepts of Soil | Types of Soils in India , Properties of Soils (Physical, Chemical, Biological), Soil Fertility and Productivity, Manures and Fertilizer, Plant Nutrients, Nutritional deficiency, Problematic Soils |
| Horticulture | Branches of Horticulture, Detailed Study of Horticulture Branches (Olericulture, Pomology, Floriculture) |
| Seed Science | Classification of Seeds, Seed Certification |
| Plant Physiology | Photosynthesis, Respiration, Transpiration, Growth and Development, Plant Growth Regulators, Photoperiodism and Vernalisation |
| Basics of Plant Breeding and Genetics | Introduction to Genetics, Plant Breeding, Methods of Pollination |
| Agriculture Entomology | Study of Insects, Insecticides, Plant Protection Equipments, Major Pest of Cereals, Pulses, Oil Seeds and Horticultural Crops |
| Plant Pathology | Introdution to Plant Pathology, Plant Disease Control, Major Disease of Cereals, Pulses, Oil seeds and Horticultural Crops and their Control Measures |
| Animal Husbandry | Major Breeds of Livestock (Cattle, Buffalo, Swine, Goat , Sheep and Poultry), Types of Housing, Breeding System of Livestock, Care and Management of Rearing Animals and Poultry Birds, Common Disases of Rearing Animals and Poultry Birds |
| Agriculture Engineering | Farm Power and Machinery, Tillage Implements, Agriculture Structure and Process Engineering, Dairy Engineering, Irrigaton and Soil-water Converation Engineering |
| Fishery Sciences | Introduction to Fishery, Major Carps in India, Fisheries Management (Pond Management, Nutrition, Reproduction), Major Diseases |
| Miscellaneous | Latest Developments & Schemes Related to Agriculture, Recent Discoveries, Latest Bt Crops and related Research |
Books
To prepare well for any examination, it is extremely important to catch up with the updated syllabus and then the study material. Books play the most important role in preparing for any exam. To begin your preparation in a planned manner, you should first refer to the list of Bank of Maharashtra SO exam books given below. Also to keep a keen eye on the current issues or news around the globe, you can refer BeePedia.
Paper
Book
Author/Publisher

Basic Agriculture

Fundamentals of Agriculture Vol. 1 & 2
Arun Katyayan
Agriculture at a Glance
R.K. Sharma

Objective Books

A Competitive Book of Agriculture
Nemraj Sunda
Objective Agriculture
S.R. Kantwa
Agri Wizard
Surahee Publication

IBPS (Specialist officer) Agricultural Field officer (Scale-I)

R. Gupta's
Online Course
The Bank of Maharashtra SO notification 2022 for the post of AFO is an excellent opportunity for all the job aspirants who wish to work in the banking sector. Those who belong to agriculture background should grab this opportunity with both hands. To accomplish this, you should have proper guidance and assistance. ixamBee is here to help with its Bank of Maharashtra SO (AFO) Online Course that has been prepared by all the subject experts. It is a comprehensive course that will cover all the important aspects related to AFO preparation. Therefore, you should not waste your time and get going with the exam preparation under the guidance of our experts who will pave the way for your success.
FAQs
There is going to be a single test on Professional Knowledge, therefore you need to study the related subjects/topics of the stream that you are applying for.
Yes. You can refer to the list of books available for the BoM AFO exam at ixamBee and start your preparation now.
You can practice free online mock tests for the BoM AFO exam available at ixamBee. This will not only help you in identifying your weaknesses but also enhance your strengths.