Course highlights
Detailed Feedback on the Performance
Tips & Suggestions for Preparing
Technical & Behavioral Skills
Technical & Behavioral Skills
SIDBI Grade A Interview Online Course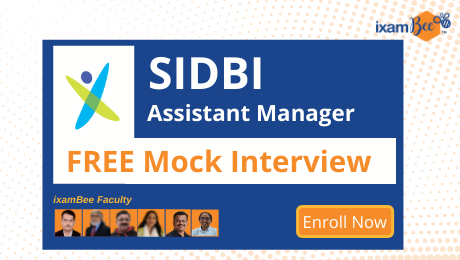 The Small Industries and Development Bank of India or as commonly called SIDBI releases vacancies for the post of Assistant Manager in Grade A. The selection process consists of two simple steps of Online examination & Interview.
Now that you have crossed the first important stage of SIDBI Assistant Manager Grade A recruitment, the final stage of personal interview remains. This will be the critical stage that will determine your final selection as an Assistant Manager (Grade A) in SIDBI. After being able to make it to the Interview stage of the SIDBI recruitment, you will not be willing to leave any stones unturned in order to grab the chance of becoming an Assistant Manager in SIDBI.
Working hard is always better than starting all over again!!
To ensure that you don't have to start all over again even after putting tireless effort, ixamBee is offering SIDBI Grade A Interview Online Course. Prepare for SIDBI Grade A Interview with our expert panel (ex-SIDBI, RBI, NABARD, SEBI) and be ready to get ahead of your competitors.
To confirm your place in the final list of SIDBI Grade A recruitment, it will be intelligent of you to get yourself in the game from this very moment and pick ixamBee's SIDBI Grade A Interview Online Course. Enroll yourself in the SIDBI Assistant Manager Interview Online Course and see yourself as a SIDBI Grade A Officer in the future.
This interview guidance will include:
1 Personalised mock interview: One on one mock interview with the experts
Detailed feedback on the performance in the mock interview
Tips & Suggestions for preparing for the real SIDBI Grade A interview
Query resolution: you can get your doubts clarified from the experts
How is the One on One Mock Interview conducted?
The One on One Mock Interviews are conducted in a formal setup (virtually)
A panel of experts takes the Mock Interview
Questions pertaining to both technical knowledge, behavior & personal aspects are asked in the interview
After the interview, detailed feedback with suggestions for improvement are provided in the same session
Please note that ixamBee will have the right to record the mock interview or part of it for promotional purposes.
Recommended Courses for you