Course highlights
Video Lessons
Study Notes
Practice Questions
Full Length Practice Tests
Descriptive Mock Tests
Daily Online Classes
SEBI IT Online Course
With the SEBI IT notification around the corner, ixamBee's SEBI Grade A Online Course for IT is the one-stop solution. SEBI IT study material consists of study, video lessons, practice tests and live classes for doubt clarification. The SEBI IT mock tests are prepared only after thorough research of the latest exam pattern and SEBI IT previous year question papers. The SEBI Grade A IT preparation will be incomplete without practicing Descriptive English questions. Hence, ixamBee also offers Descriptive English practice tests with free evaluation by our faculty within 24 hours.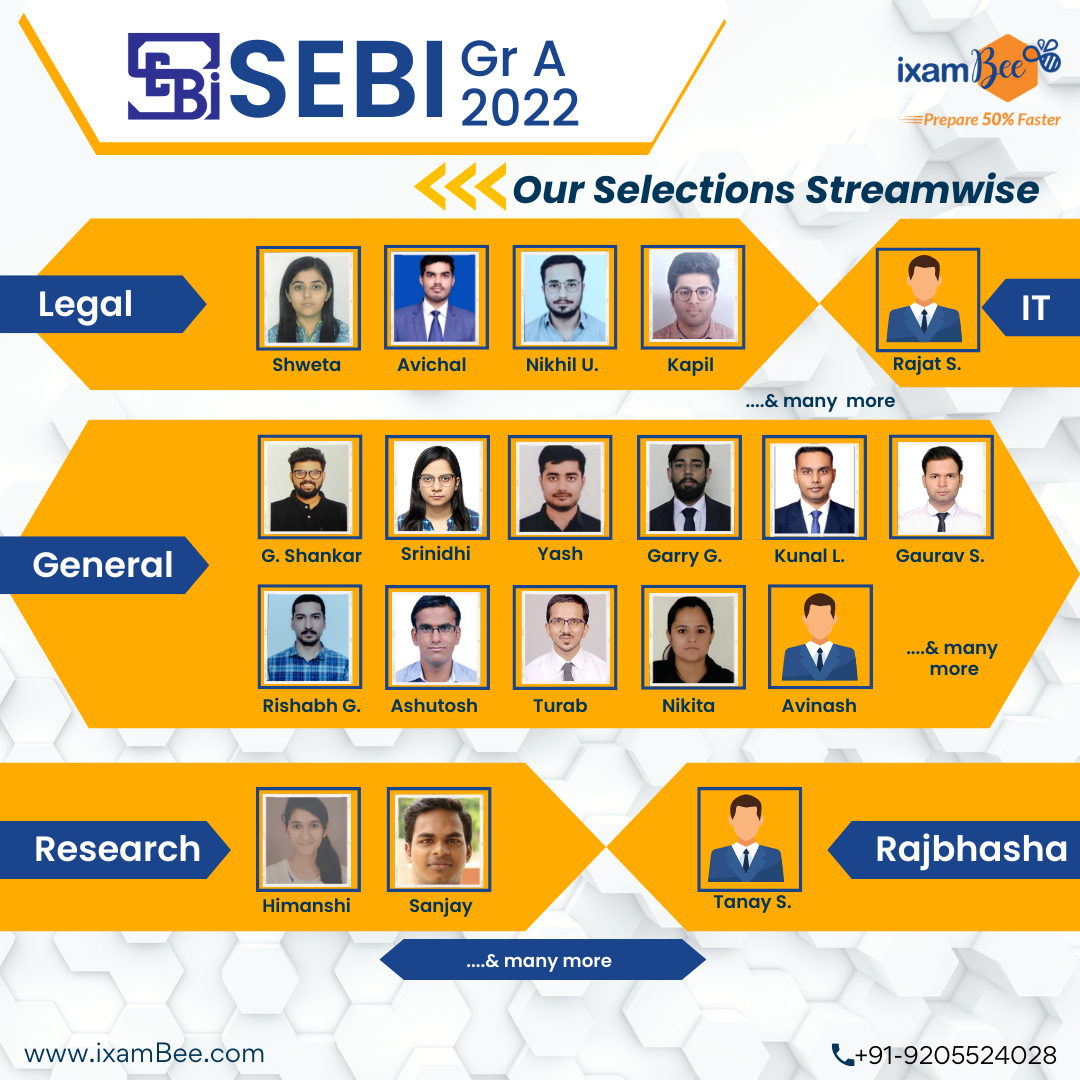 SEBI Grade A Online Course For IT Consists Of:
500 + Video Lessons

covering the entire syllabus of SEBI Grade A IT Exam.
125 videos out of 500 exclusively for Specialized Subject (IT) Information Technology.

100+ Study Notes

in PDF format for easy learning and quick revision.
Out of 100+ Study notes, 60 PDFs are exclusively for Specialized Subject (IT) Information Technology.

25 full-length Mock Tests for SEBI Grade A Phase I (15 for Paper 1 and 10 for Paper 2)

5 Descriptive English Mock Tests for Phase 2 - Paper 1, with personalized performance feedback.

5 Full-length practice tests

for SEBI Grade A Phase 2- Paper 2 (Specialized Subject -Information Technology)

7,500 + practice questions

with solutions and proper explanations in the form of Chapter tests, Section Tests, and Mock Tests

Live Online Classes

for doubt clarification with the subject experts.
The course includes

Guidance for Interview

Rounds as well.
SEBI Grade A Online Course Is One-Point Source For Preparation Of SEBI Grade A (IT) Exam
All the video lessons are

short and crisp

and cover the entire syllabus for both the Phases of SEBI Grade A (IT) exam.
The course covers in detail, the

syllabus of Phase 1, Paper 1

(General Awareness (including some questions related to the Financial Sector of easy to moderate difficulty level), English Language, Quantitative Aptitude and Test of Reasoning.)
The course Covers the prescribed

IT syllabus for Paper 2 of both Phase 1 and Phase 2

(Database Concepts ER model, SQL, Programming Concepts (Java /C/ C++ ), Data Analytics Languages (Python / R), Algorithms for problem-solving, Networking Concepts, Information Cyber Security Concepts, Data warehousing, Shell Programming)
The course provides guidance and practice on

Descriptive English (Paper 1-Phase 2).

The course consists of video lessons and study notes on writing skills, sample essays suggested topics and 5 Descriptive English Mock Tests with individual Performance Feedback from expert faculty

Practice Questions:

Practice Questions on all topics are provided to enhance learning at each stage of your exam preparation. SEBI Grade A IT course covers all the aspects of the exam thoroughly and makes you practice exhaustively thus making you confident for both speed and accuracy.

Concept Checking Questions:

To check your learning after studying each concept

Chapter Tests:

To check your understanding of a chapter

Sections Tests:

To check your level of preparedness for a subject

Full-Length Practice Tests:

For checking your exam preparedness and testing your strategy

Online Live Classes:

You can study at your own pace and time and get your doubts clarified by the experts through these live sessions
SEBI Grade A IT 2022 – Specialized 40 Days Study Plan [Download PDF]
Every year, thousands of candidates attempt the SEBI Grade A exam, but only a few successfully clear all the stages. In this article, we will share with you a detailed strategy and 60 days SEBI Grade A IT study plan that will help in your exam preparation. The SEBI Grade A study plan for the IT stream has been prepared keeping the SEBI IT Officer syllabus in mind. The syllabus is divided into several topics and if you rigorously follow it along with practicing mocks or test series you will definitely ace the SEBI Grade A IT exam with flying colours.
Quantitative
Reasoning
English
General Awareness
Descriptive English
IT (Phase 1)
Week 1
Shortcut Tricks
Blood relations statements
Articles
March BeePedia
Essay Writing
Program control (iteration, recursion, Functions), Scope of variables, Binding of variables & functions
Simplification
Blood relations coded
Newspaper editorial reading + vocabulary
March PIB
Parameter passing, Functional and Logic Programming, OOPS Concepts
Approximation
Inequality
parts of speech
March EBF Videos
Inheritance, Class and object, Constructors
Puzzles & Seating arrangement
Practice
Functions, Exception Handling
Week 2
Series
Tenses
March EBF & GA MCQs
Precis Writing
Regex, Slicing, Data reshaping, Dataframes, Dictionaries, and Sets, File Management
Quadratic Equation
Coded Inequality
Rules of grammar
April BeePedia
Classes, and Functions, Data Mining, Lists, Importing and exporting data, charts, and graphs
Percentage
Syllogism
Newspaper editorial reading + vocabulary
April PIB
Tree and graph traversals, Connected components, Spanning trees
Puzzles & Seating arrangement
Practice
April EBF Videos
Revision
Week 3
Profit & Loss
March & April BeePedia & PIB Revision
Reading Comprehension
Revision
Partnership
Reverse syllogism
Active Passive Voice
GA & EBF April MCQs
ER‐model, Relational model: relational algebra, tuple calculus
Ratio and Proportion
Coding decoding
Direct Indirect speech
May BeePedia
Integrity constraints, normal forms
Average
Coding decoding logical
Correct word usage
May PIB
File organization, indexing (e.g., B and B+ trees)
Age
Puzzles & Seating arrangement
Newspaper editorial reading + vocabulary
May EBF Videos
Transactions, and concurrency control
Practice
Select, view, truncate, delete, update, alter, Inner join
Faculty and Course Coordinator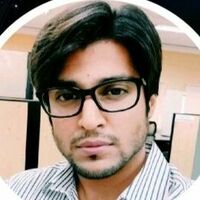 Mr. Chakshoo Mirakhur Ex-Manager, RBI
Master of Science (MS), Engineering Management from Northeastern University.
---

Tushar Saha Tushar is an ESI and a GA Expert at ixamBee
Tushar is an ESI and a GA Expert at ixamBee. He has over a decade of experience including corporate and teaching experience. He is an expert in Economics and Current Affairs for competitive exams. He holds a BBA with specialization in Finance. He has done a certificate course in NSE Certified Capital Market Professional from St.Xavier Kolkata.
---

Karan Sardana Quantitative Aptitude Expert
Mr.Karan is an expert for Quantitative Aptitude for Banking and SSC exams. He is a B.Tech. and has 13+ years experience in teaching advanced Quants. He has taught thousands of govt job exam aspirants and helped them with fundamentals, short cuts tricks, and time-saving techniques.
---
Dr. Sanjeev Sharma Ex CGM RBI, English Expert
Dr. Sanjeev Sharma Ex CGM RBI, ​​Ex Ex. Dir.NHB (on deputation from RBI), ​Ex Resident Director Kisetsu Saison. He holds a PhD in English from IIT Kanpur. He has obtained a Master's degree in English from Hindu College, D​U, and B.A. (Hons) English
---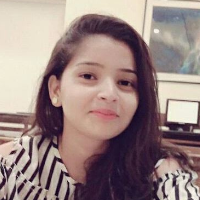 Jayanti Mishra Computers and IT Expert
Ms. Jayanthi is B.tech in Information Technology, Scholar & Topper of the field and a GATE Rank holder. She has work experience of more than 5 years in IT industry and teaching experience of more than 2 years. She has also cleared competitive exams like IBPS PO, ESIC PRE. She is an expert faculty for IT
---

Prachi Agarwal Finance & Management Coach
Ex-Manager Care Ratings, a management professional with over a decade of experience in risk analysis, credit management, investment banking, and equity research. She is an MBA (Finance) from BIMTECH, Noida, and B.Com (Hons) from Hansraj College, Delhi University.
---

Arunima Sinha Ex-Grade B SIDBI and Bank PO
Ms. Arunima is an Ex- Grade B SIDBI Officer and an Ex- Bank PO. Since 2010, she has been teaching for competitive exams and has successfully coached more than thousands of students. She is a Bachelor in Arts (Hons.)- English. She is an expert faculty for English Language, English Writing, Reasoning and also preparation guidance.
---

Amit Parhi General Awareness Expert
Mr. Amit has 4 year plus experience in Banking, Media, Content and Journalism. He has earlier worked with DKODING Media, HDFC Bank and VAP Group. He is expert faculty for General Awareness and ESI.
---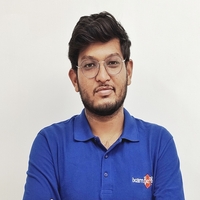 Yaman Kansal Reasoning coach
Yaman is a Reasoning coach who has cleared SBI PO/ Clerk, IBPS PO, IBPS RRB PO and LIC ADO exams to name a few. Yaman is an M.Sc. and B.Ed. by education.
---
The class was very helpful where I was lacking in solving the moderate level questions in probability. Thank you Karan sir.
Study Materials Information