JAIIB Paper 2 (Accounting) online course

40+
Video Lessons

40+
Study Notes

One-on-One
Meetings with Faculty

Preparation Strategy
from Subject Experts

Live
Doubt Classes

Study
At Ease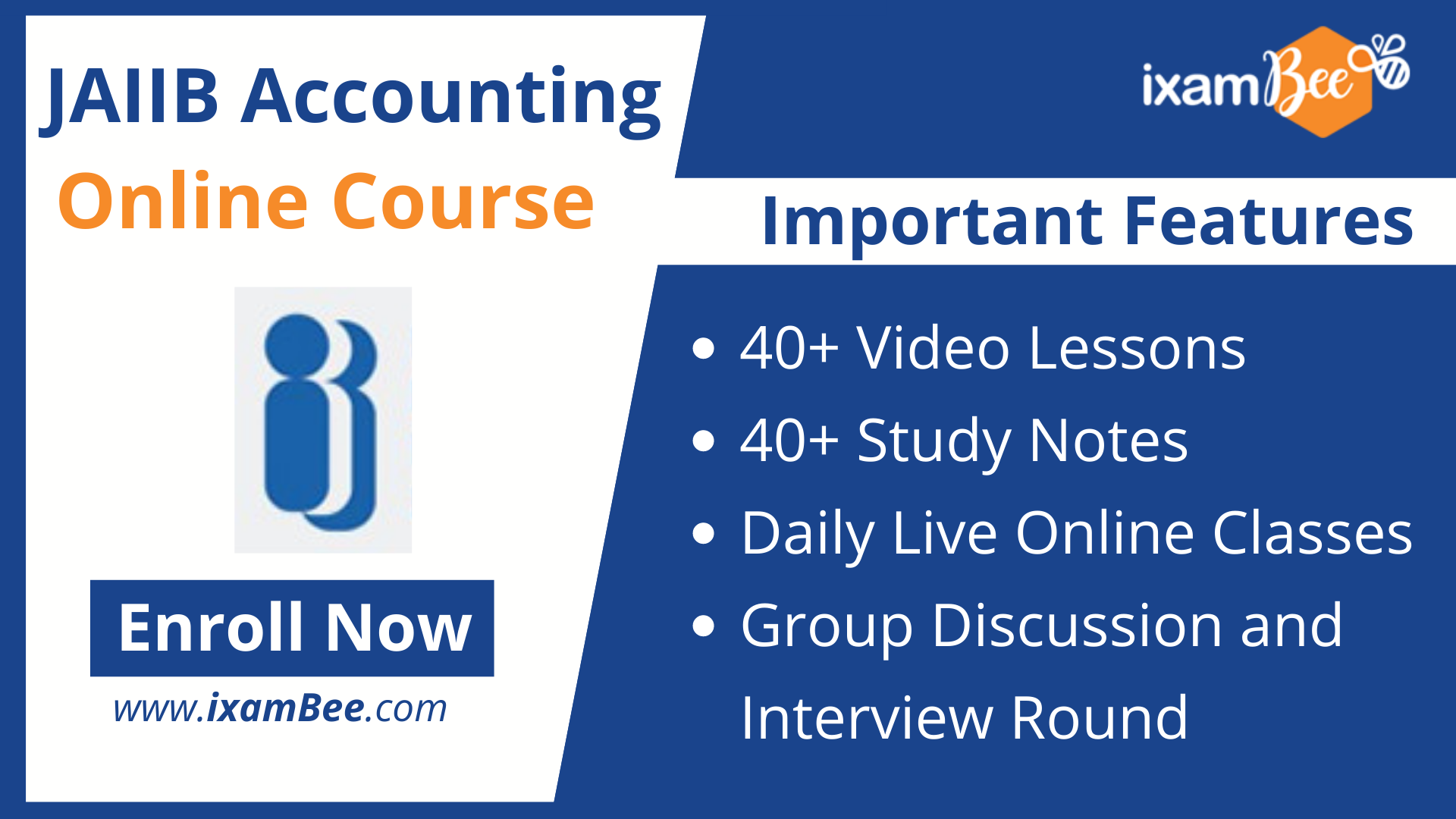 JAIIB Online Coaching Classes
JAIIB exam is a career progression exam and is applicable to those who are already working in the banking and finance industry.
We have launched JAIIB Paper 2 (Accounting) online course so as to enhance your preparation and make you crack the exam with ease.
The JAIIB exam is a multiple choice single exam consists of three papers/ subjects which are mentioned below-
Paper 1

- Principles & Practices of Banking

Paper 2

- Accounting & Finance for Bankers

Paper 3

- Legal & Regulatory Aspects of Banking
JAIIB PAPER 2 (ACCOUNTING) ONLINE COURSE CONSISTS OF:
40+ Video Lessons

for Paper 2.

40+ Study Notes

for Paper 2.

Live Classes

for doubt clarification with the subject experts.
Apart from the study content;

Guidance, Tips, and Preparation Strategy from Subject Experts

at each stage of preparation is also provided.
Frequently Asked Questions
Q 1:How to enroll for the JAIIB 2 (Accounting) Online Course Online course?
Click Here to subscribe to the Online Course. In case any more clarification/assistance is required, please call at 92055 24028 or send an email to hello@ixamBee.com.
Q 2:Are all JAIIB 2 (Accounting) Online Course Video Lessons accessible on enrolment?
Some Video Lessons will be available as soon as you enrol for the course. Further Video Lessons will be made available in a sequential manner to maintain a proper flow and help in the ease of understanding of concepts. New Video Lesson upload will be informed through email.
Q 3:What happens if someone misses any JAIIB 2 (Accounting) Online Course Online Live Class?
We encourage all participants to attend Live Online Classes. Even if they don't have any doubt themselves, the discussion that happens over doubts of others' is also very enriching and helpful in exam preparation. Sometimes very important points are discussed as part of these discussions. However, in case of genuine reasons for not being able to attend a class, we may decide to share the recording of the class, on case to case basis.
Q 4:Are all the JAIIB 2 (Accounting) Online Course video lessons available for viewing anytime/multiple times?
Yes, any Video Lesson uploaded once can be viewed anytime/ multiple times on ixamBee Website