About

Faculty

Syllabus

FAQs
Course highlights
600+ Video Lesson
300+ Study Notes
1000+ Practice Questions
Quick Resolution
Study Plan & Live Class
Interview Guidance by the Expert
IFSCA Assistant Manager Online Course
The Government of India created the International Financial Services Centres Authority (IFSCA) to promote and oversee international financial services centres in the nation. The IFSCA Recruitment 2023 is now out. So, if you are planning on partaking in this recruitment process, it is time for you to begin your preparation right away. Thankfully, ixamBee is here to save the day. Take a look at what ixamBee offers in its IFSCA Assistant Manager Online Course.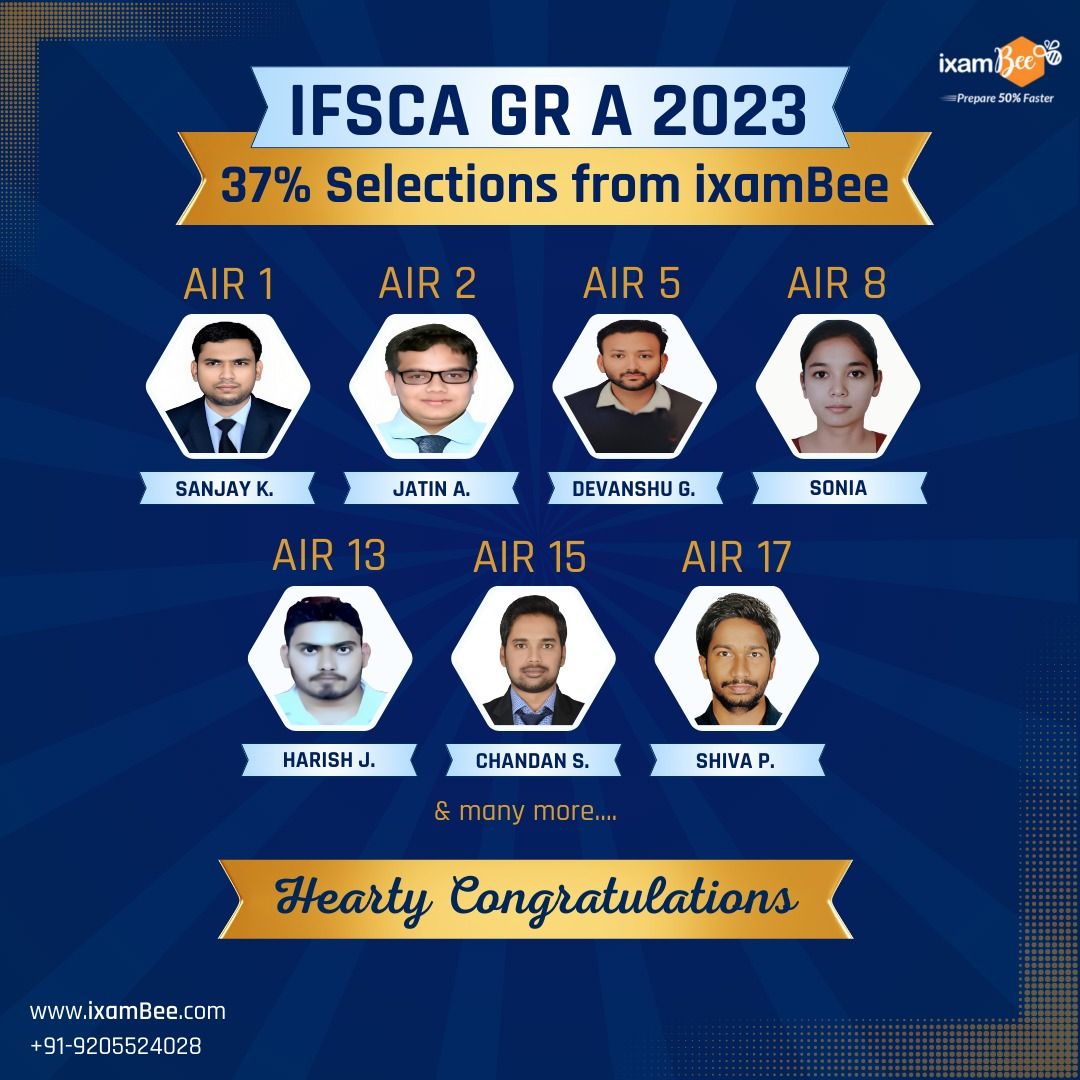 Important Features of IFSCA Assistant Manager Online Course
Study materials that are relevant and crisp
Expertly designed course with well-planned lessons
Mentorship that is dedicated to your success
A course taught by an expert in that field
For clarification of doubts, live classes are held
As part of the course, you will also prepare for interviews
IFSCA Assistant Manager Online Course is a One-Point Source for Coverage of
Phase I - 10 Full-Length Mock tests

for both paper I and II.

Phase II - 5 Descriptive English Mock Test

for Paper 1 and 10 Mock Tests for Paper 2.

600+ Video Lesson

Covering the entire syllabus of both phases.

300+ Study Notes

designed by expert faculty from the relevant fields.

1000+ Practice questions

from all parts of the syllabus for both phases.

Study Plan & Live Class

according to that.

Full Coverage of Central Government Scheme/Initiative in the Financial Sector for the past one year

.

Full Video Coverage, Summary Notes, and MCQ for Union Budget & Economic Survey.

Full Coverage of Financial News in Monthly Beepedia, Daily Videos, and Bi-Monthly EBF Videos

.

Conceptual videos for Quants, Reasoning, and English

along with Live classes.

Conceptual videos, Notes, and Chapter tests

for each topic given in the syllabus.

Interview Guidance by the expert

along with one free Mock Interview before the Interview date.

Quick resolution

of any kind of query related to the exam by a specialized Student Delight Team.
All Descriptive will be checked within 72 Hours from today and within 24 hours starting one week before the Phase 2 exam.
Why Choose IFSCA Assistant Manager Online Course from ixamBee?
The online IFSCA Grade A course from ixamBee is available at any time and from any place. You will also benefit from the course's organized schedule while you make your preparation.
You will acquire in-depth knowledge on the subject as well as practical experience from knowledgeable faculty members.
You will also be given complete study materials so you can continue your studies in a setting that is comfortable for you.
The portal is unique and user-friendly, and it has everything you need to earn your desired score.
Live workshops with the relevant faculty member to address all of your questions.
All Descriptive mock tests will be checked within 72 Hours from today and within 24 hours starting one week before the Phase 2 exam.
Benefits of taking IFSCA Grade A Coaching Online
Please take a look at the benefits of taking the IFSCA Assistant Manager online course with ixamBee.
You can take advantage of organized and methodological learning when you sign up for a quality IFSCA online coaching. You will have enough time to finish your entire IFSCA Grade A syllabus thanks to the classes, timetables, and separated coursework. You will also have time for review.
You can study with your friends by using IFSCA Grade A online coaching from ixamBee. Group study is usually preferable to solitary or independent study. When you study alongside your classmates, you can observe how they are preparing as well as get your questions answered in class and other places.
Our complete IFSCA Assistant Manager course module is available online, which offers all users a great deal of ease. If you are a working professional, the IFSCA online coaching classes will be extremely beneficial to you. You can study from the convenience of your home in either case. In addition to attending live sessions, you are free to view your course materials whenever you choose.
How to Enroll for IFSCA Grade A 2023 Online Classes on ixamBee?
IFSCA Grade A Online Course can be chosen from the drop-down menu under "Other Regulatory Bodies" in the "Online courses" tab by those who have registered on ixamBee
You can find all the information about the IFSCA Grade A Online Course on the far right side of the course website.
Click on the 'Buy Now' tab on the page to make a payment for the IFSCA Grade A Online Course. A free demo is also provided to you if required, or you can click on the 'Buy Now' tab directly to make the payment.
Request a callback or send an email to hello@ixamBee.com if you need any clarification or help.
Faculty and Course Coordinator
---
---
---
---
---
---
---
---
Study Materials Information
Commonsense Reasoning
Coding Decoding
Coded Inequalities
Syllogism
Seating Arrangement
Puzzles
Coded Blood Relationship
Input Output
Direction and Distance
Ranking
Analytical Reasoning
Section Test Reasoning
No. System
Percentage
Profit and loss
Ratio and proportion
Partnership
Average
Alligation
Simple and compound interest
Time and distance
Trains
Permutation and combination
Probability
Quadratic equation
Series
Mensuration
DI
Age
HCF and LCM
Simplification
Approximation
Time and work and Pipe and Cisterns
Short Cut Tricks
Section Test Quant
Caselet DI
Venn diagram
Tense
Parts of Speech
Direct Indirect Speech
Active passive voice
Articles and Determiners
Cloze Passage
Fillers
Reading Comprehension
Sentence Rearrangement / Parajumbles
Spotting Errors
Idioms and Phrases
Sentence Improvement
Coherent paragraph
Vocabulary
Section Test English Language
Sentence Connectors
Match the column
Subject Verb Agreement
Word Swapping / Replacement
Word Usage
Phrasal Verbs
The Hindu Editorial Discussions
Economy and Banking and Finance Static Concepts
Static GA
Budget and Economic Survey
Summary of Yojana Magazine and MCQ
Important Reports and Indices
Government Schemes
Monthly Quiz General Awareness
Beepedia
Economy and Banking and Finance Current Affairs
PIB Current Affairs
Growth and Sustainable development
Inclusion and Demographic
Financial Institutions
Basics of Derivatives
Financial Markets
Money Market
Capital Market
Financial Inclusion
Alternate Sources of Finance
Bonds and Bond Market
Mutual Funds
RBI and SEBI Circulars
Financial System
The Management Basics
Leadership Concept
Human Resource Development
Motivation
Communication
Section Test Management
Indian Economy
Global Economy
Precis Writing
Essay Writing
Descriptive English Mock Test
Reading Comprehension in English Writing
Financial Markets
Financial System
General Topics in Finance
Banking
Union Budget and Economic Survey
Insurance Awareness
Pension
Accounting Standards
Accounting for Share capital Transactions
Other financial concepts
Accounting as financial info system
Financial Statements, Cash flow, fund flow - preparation and analysis
Taxation Related
Section test Accounts
Methods of costing
Basics of Cost control and analysis
Lean systems
Overview of Costing
Section Test Costing
IFSCA GIFT City
IFSCA Act
IFSCA Circulars
Recommended Courses for you
FAQs
The finest website for IFSCA online coaching is ixamBee. Experts with years of experience built our online IFSCA Assistant Manager course. To stay current with the IFSCA Assistant Manager syllabus and exam format, our courses are frequently amended. Additionally, in order to provide candidates with the greatest online IFSCA Assistant Manager instruction, student feedback is also taken into account.
Yes, relevant faculty members will participate in the online IFSCA Assistant Manager Officer programs. To view the faculty members teaching this course, scroll up to the "Faculty" section.
You only need a computer/laptop and a good internet connection to participate in your classes.
Yes, of course! You can watch a free demo for the IFSCA Grade A Online Course before you actually go on to buy the course package.
When you buy the IFSCA online course, you will be able to pick the duration of the course depending upon the package that you go for.
Yes. If you enroll yourself in the IFSCA Grade A Online Course, you will receive 300+ study notes in PDF format for easy learning and quick revision along with other benefits.
Unfortunately, we do not offer online coaching for IFSCA Grade A in cash.
Yes, if you enroll in the IFSCA Grade A Online Course, you will have access to a number of mock tests. Additionally, you can access free IFSCA Grade A mock exams on our website.
The IFSCA Grade A Online Course will be taught in English, however, you are welcome to ask questions in any language you feel comfortable in during the online live classes.
Now is the ideal moment to start putting things together. You cannot afford to ignore any subject because the exam is so crucial. Although every candidate will have a distinct preparation plan. While some people like to work on their weak areas first and then strengthen their strong ones, others prefer the opposite. All of these aspirants' needs are met by ixamBee's IFSCA Grade A Online Course, where you may also acquire a tailored study schedule from knowledgeable experts.
You get 48 hours after activation to access the IFSCA Grade A Online Course demo. Before that, you should be able to determine if you want to continue with the online course or not.
Watch Demo
Need Any assistance?