UPSC EPFO APFC Free Mock Tests
UPSC EPFO APFC Free Mock Tests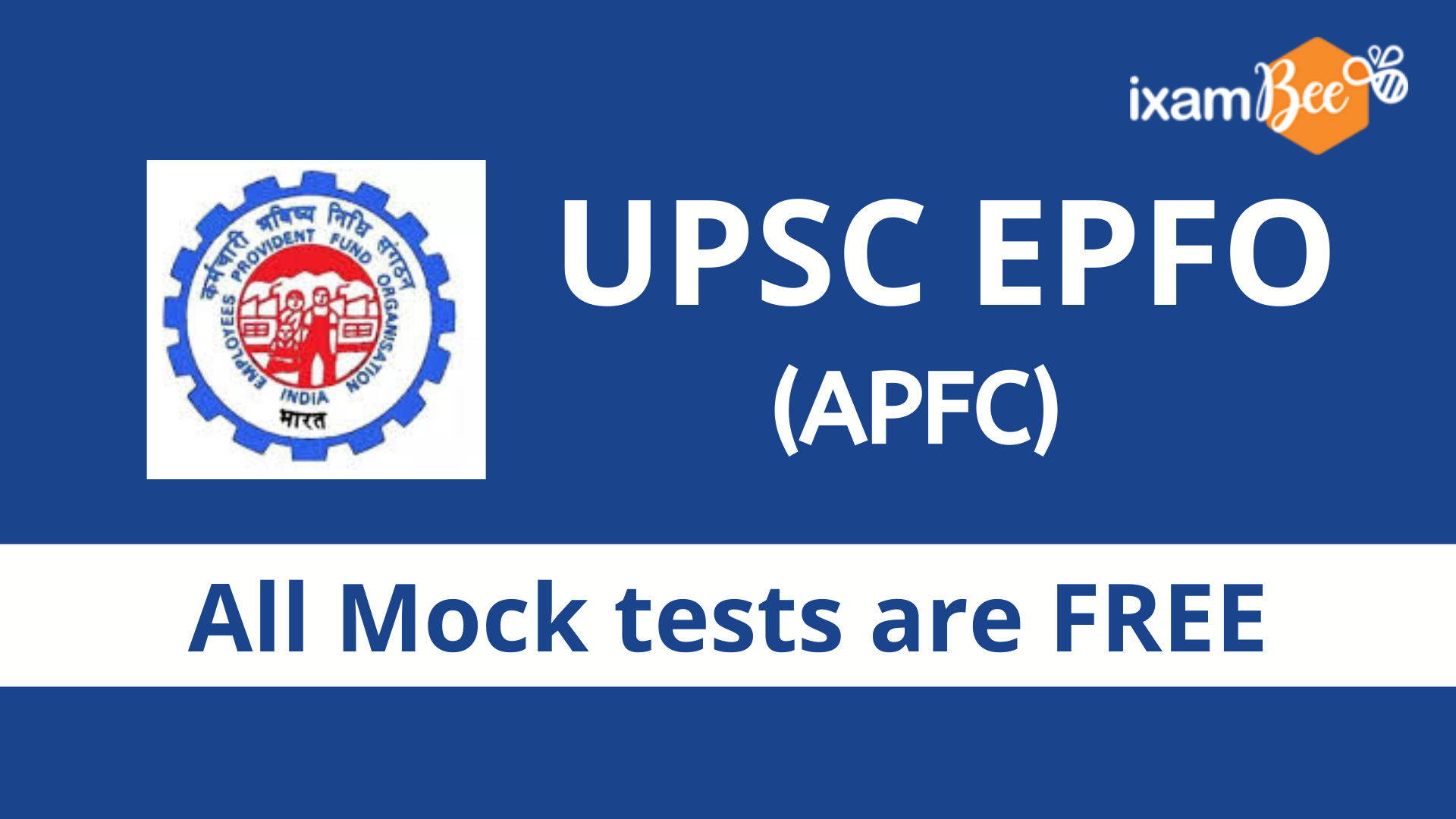 Free Mock Tests for UPSC APFC Exam 2021
The Union Public Service Commission (UPSC) will be conducting an online exam in the first phase of the Assistant Provident Fund Commissioner (APFC) recruitment process. To help you in achieving your dream job, ixamBee is offering UPSC APFC free mock tests. These online mock tests will assist you in analyzing your performance from time to time and will let you keep a check on your preparation. Some of the advantages or key features of attempting these online tests are given below:
You can receive a real exam experience by practicing the UPSC APFC mock tests.
You can analyze your performance time and again.
You may practice at your convenience.
You can also reattempt the tests and recheck your knowledge.
Your strengths & weaknesses can be identified by practicing the UPSC APFC online tests.
By practicing the online test series regularly, you can improve a lot on your speed and accuracy.
UPSC APFC Exam Online Test Series | Practice Tests
The UPSC APFC online test series has been designed by our subject experts who have in-depth knowledge in their respective fields. The free mock tests have been well-curated while keeping in mind the latest exam pattern. Practicing these online mock tests will not only prove beneficial in examining the levels of your preparation but also in giving you regular feedback on your performance. Practicing these mock tests regularly will develop your confidence and boost up your pace of attempting the questions while improving your accuracy in all the respective sections of the UPSC APFC exam.
UPSC APFC Exam Pattern
Exam Type
Sections
Subjects
Marks
Objective Type
Section A
General English
50 Marks
Section B
General Studies
50 Marks
UPSC APFC Exam Dates
UPSC EPFO APFC Exam Dates 2021
Events
Tentative Dates
On-line registration including Editing
/ Modification of Application by candidates
To be notified later
Payment of Application Fee
To be notified later

Online Examination

To be notified later
Result of Examination
To be notified later
Download of Call Letter for Interview
To be notified later
Declaration of Final Result
To be notified later
Frequently Asked Questions
Q 1:How can a beginner prepare for the UPSC APFC exam?
A:
First, be aware of your weaknesses and strengths. Start with topic wise chapter test. Once you have covered the complete syllabus, attempt UPSC APFC online mock tests.
Q 2:Is it necessary to attempt UPSC APFC previous year papers?
A:
UPSC APFC previous year's papers will help you to get aware of the changes that the UPSC exam has undergone in the past years along with helping you to track the time limit that you take to solve questions of various difficulty levels.
Q 3:How will UPSC APFC mock test series be beneficial in exam preparation?
A:
By practicing online free mocks of UPSC APFC you will be able to check your performance, analyse and recognize the areas that need to be worked on. It will help you to enhance your speed and accuracy.
Q 4:Is the UPSC APFC free mocks bilingual?
A:
Yes, you can attempt UPSC APFC online mocks either in Hindi or English as per your comfort level.
Q 5:If I had any issue regarding the question given in UPSC APFC mocks, how can I resolve that?
A:
While attempting UPSC APFC online mock test you will have the option of report an issue. Once you click on that and enter your issue, your query will get resolved in a timely manner.