State Bank of Sikkim Assistant Manager 2021 Free Mock Test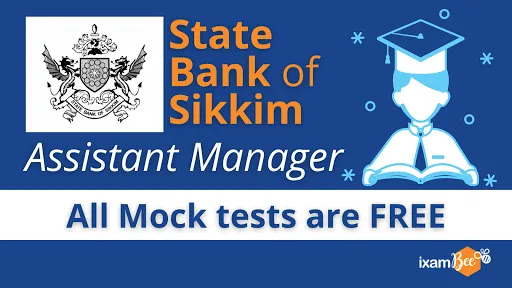 State Bank of Sikkim Assistant Manager 2021 Free Mock Test
The State Bank of Sikkim (SBS) had recently released a recruitment notification on 25th May 2021 to fill in the position of Assistant Manager. ixamBee is providing free online mock tests for SBS Assistant Manager which will be useful in your exam preparation. Following points will help you in gaining an idea about how the SBS Assistant Manager free online mock tests can be extremely helpful in your preparation:
These tests will help you in identifying your weak and strong areas
You can analyze your performance in a detailed manner while identifying the areas that have a scope of improvement
These tests have been prepared carefully covering all the significant topics from an exam point of view
You can also reattempt the tests which will enable you enough chances to improve and gauge your performance
You can also come to know where you stand among your peers as it also indicates your overall rank
Last but not the least, you can also share your doubts or issues, if any, by clicking on the 'issue report' tab provided right there with each question that you attempt
State Bank of Sikkim Assistant Manager Online Test Series | Practice Test
The SBS Assistant Manager recruitment is an excellent opportunity for those who originally hail from Sikkim. The recruitment process will consist of two stages:
To help you succeed in this journey of securing the post in State Bank of Sikkim, ixamBee is providing a free online test series. Candidates aspiring to grab this post should practice the SBS Assistant Manager 2021 free online mock tests to enhance their exam preparation. Attempting these online mock tests will ensure you achieve the desired rank in the exam. This not only will enable you to grasp the main pattern of the paper but will also assist you in understanding the level of the questions that are assessed. The online test series has been designed in such a manner that it will cater to all your requirements and ensure your success.
State Bank of Sikkim Assistant Manager Exam Pattern
Sl. No.
Test Name
No. of Questions
Maximum Marks
Duration

Phase-I: Written Examination

1.
English Language
25
25
Composite time of 3 hours
2.
Quantitative Aptitude
50
50
3.
Data Analysis & Interpretation
50
50
4.
General/Economy/Banking Awareness
50
50
5.
Reasoning & Computer Aptitude
25
25

Total

200

200

Phase – II: Interview

6.
Interview
25
State Bank of Sikkim Assistant Manager Exam Dates
SBS (Assistant Manager) Exam Dates 2021
Activity
Exam Dates
Online registration including Edit/Modification of Application
by candidates
June 01, 2021 to June 30, 2021
Payment of Application Fees/Charges
June 01, 2021 to June 30, 2021
SBS (Assistant Manager) Exam date
To be notified later
Frequently Asked Questions
Q 1:Has the online application window opened for SBS Assistant Manager 2021 exam?
The online application window for SBS Assistant Manager has already been opened from 1st June 2021 and will close on 30th June 2021.
Q 2:Has the State Bank of Sikkim announced the exam dates?
No. The exam dates for SBS Assistant Manager recruitment have not been announced yet due to the ongoing pandemic situation.
Q 3:Are all Indian nationals coming under the required age bracket eligible for applying to the SBS Assistant Manager recruitment?
No, not at all. Only those Indian candidates who have their origin in Sikkim and possess Sikkim Subject Certificate / Certificate of Identification can apply for this post.
Q 4:How many vacancies have been announced by the State Bank of Sikkim for the post of Assistant Manager?
There are 26 vacancies that have been announced for the post of Assistant Manager by State Bank of Sikkim for the year 2021.
Q 5:Will the selected candidates be posted only in/ around Sikkim?
No. The candidates who get selected in SBS Assistant Manager recruitment will be liable to be posted anywhere in India wherever the bank has its branches.
Q 6:Will there be a negative marking in the SBS Assistant Manager recruitment exam?
Yes. There will be a negative marking of 0.25 marks.
Q 7:Will there be an Interview after the written exam?
Yes. The candidates who pass the first stage of written exam will be called for Interview.