NIACL Administrative Officer (AO) Prelims
Prepare for NIACL AO exam under our experts guidance,
Enroll now and get Flat 40% off ; Use Code: NIACL40
NIACL Administrative Officer (AO) Prelims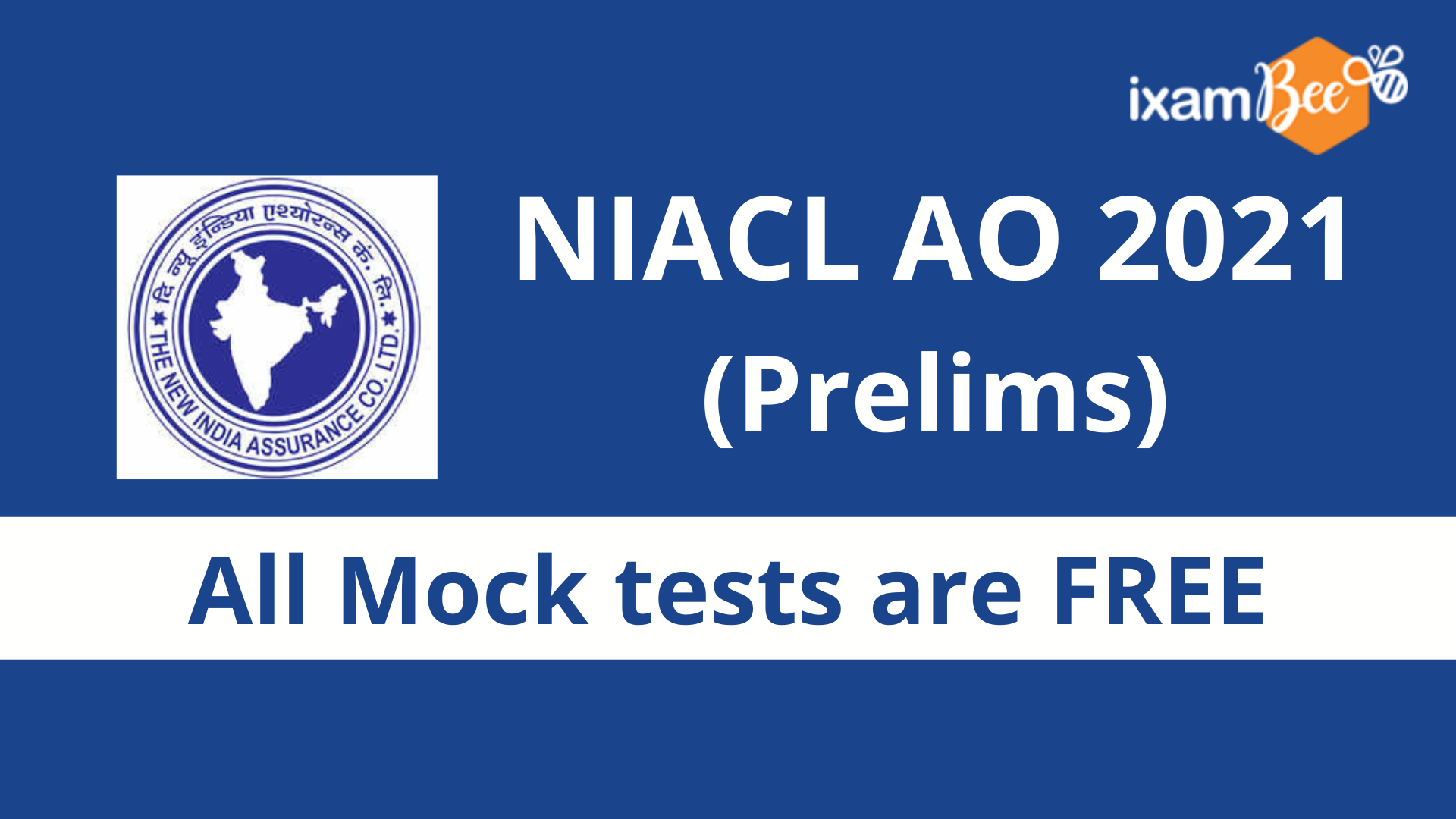 NIACL AO Prelims Mock Tests for Free
NIACL AO Prelims exam is not an easy nut to crack; To help you in the preparation, ixamBee has launched the NIACL AO Prelims free mock test series so as to ensure that you book your ticket to a golden career. NIACL AO Prelims mock tests are thorough and supremely comprehensive so much so that you can get a feel of the exam day right away. NIACL AO Prelims test series will test your preparation and identify your core areas where you are likely to score more. Apart from this, your weaker areas will also be identified and this analysis will help you to hone them so as to make a mark on D-Day. Some of the benefits of attempting online mock tests are listed below:
The free online practice papers have been prepared carefully covering all the significant topics from an exam point of view, thus making you aware of the latest syllabus and exam pattern.
Practicing online mock tests will help you in identifying your weak and strong areas.
You can also reattempt the tests which will give you enough chances to improve and analyze your performance.
You can analyze your performance in a detailed manner while identifying the areas that have a scope for improvement.
You can also come to know where you stand among your competitors as it also indicates your overall rank.
NIACL AO Prelims Online Test Series | Practice Test 2021
Your preparation for the NIACL AO Prelims exam should be stellar as lakhs of aspirants apply for the exam. Practice NIACL AO Prelims free practice tests and outperform the crowd on the day of the exam. An adequate number of candidates in each category as decided by the Company (approximately 15 times the numbers of vacancies subject to availability) will be shortlisted for the Mains exam. You should be well prepared by practicing NIACL AO Prelims online tests and book your seat for NIACL AO Mains.
If you like our coverage of the NIACL AO syllabus in the online practice tests, but need that little push to sail you through the exam, our NIACL AO online course is just what you need. The online course is curated with the help of experts only after a thorough analysis of the exam pattern. Our mentors will handhold you throughout the course while our faculties will be available to clear your doubts over live doubt clearing sessions.
NIACL AO Preliminary Examination
NIACL AO (Administrative Officers) Prelims Exam Pattern 2021
| Name of the Test (Objective Tests) | Number of Question | Max. Marks | Duration |
| --- | --- | --- | --- |
| English Language | 30 | 30 | 20 minutes |
| Reasoning Ability | 35 | 35 | 20 minutes |
| Quantitative Aptitude | 35 | 35 | 20 minutes |
| Total | 100 | 100 | 60 minutes |
NIACL AO Mains (Administrative Officers) Exam Pattern 2021
General Stream
| Name of the (Objective) | Number of Questions | Maximum Marks | Duration |
| --- | --- | --- | --- |
| Reasoning Ability | 50 | 50 | 40 minutes |
| English Language | 50 | 50 | 40 minutes |
| General Awareness | 50 | 50 | 30 minutes |
| Quantitative Aptitude | 50 | 50 | 40 minutes |
| Total | 200 | 200 | 150 minutes (2 hours 30 minutes) |
NIACL AO (Administrative Officers) Exam Dates 2021 (Tentative)
NIACL AO (Administrative officer) 2021 Exam Dates
Events
Dates
Online registration and payment of application fees
September 01, 2021, to September 21, 2021
(both dates inclusive)
NIACL AO Prelims Admit Card 2021
Click Here
Phase-I Online Examination (Objective)
October 16, 2021
Phase-II Online Examination (Objective + Descriptive)
November 2021 (tentative)
Result of Online exam – Preliminary
To be notified
Download of Call letter for Online exam – Main
To be notified
Declaration of Result of Online Main Examination
To be notified
Frequently Asked Questions
Q 1:How many phases are there in the selection process of NIACL AO?
A:
There are two main phases of online tests in the NIACL AO selection process: Prelims & Mains which will be followed by an Interview later.
Q 2:Are both the phases in online or offline mode?
A:
Both the phases of NIACL AO examination are in online mode.
Q 3:Does NIACL AO Prelims have a descriptive test?
A:
No. NIACL AO Prelims is completely objective in nature with MCQs. NIACL AO Mains requires the candidates to attempt a descriptive test.
Q 4:Is there any source where I can attempt mock tests for NIACL AO Prelims?
A:
Yes. You can attempt NIACL AO Prelims mock tests for 'free' at ixamBee.
Q 5:How many mock tests can I attempt for NIACL AO Prelims 2021?
A:
You can attempt 5 mock tests for now including a memory based paper which will be made live once the exam notification is released.
Q 6:I am completely clueless regarding the exam, how can I receive proper guidance on NIACL AO exam preparation?
A:
If you feel you require proper guidance and direction with respect to the exam preparation, you can enrol yourself in NIACL AO (Generalist) Online Course offered by ixamBee which covers everything that is required for a proper preparation and clear all your doubts and ensure your success.