Indian Coast Guard Recruitment Free Mock test
Indian Coast Guard Recruitment Free Mock test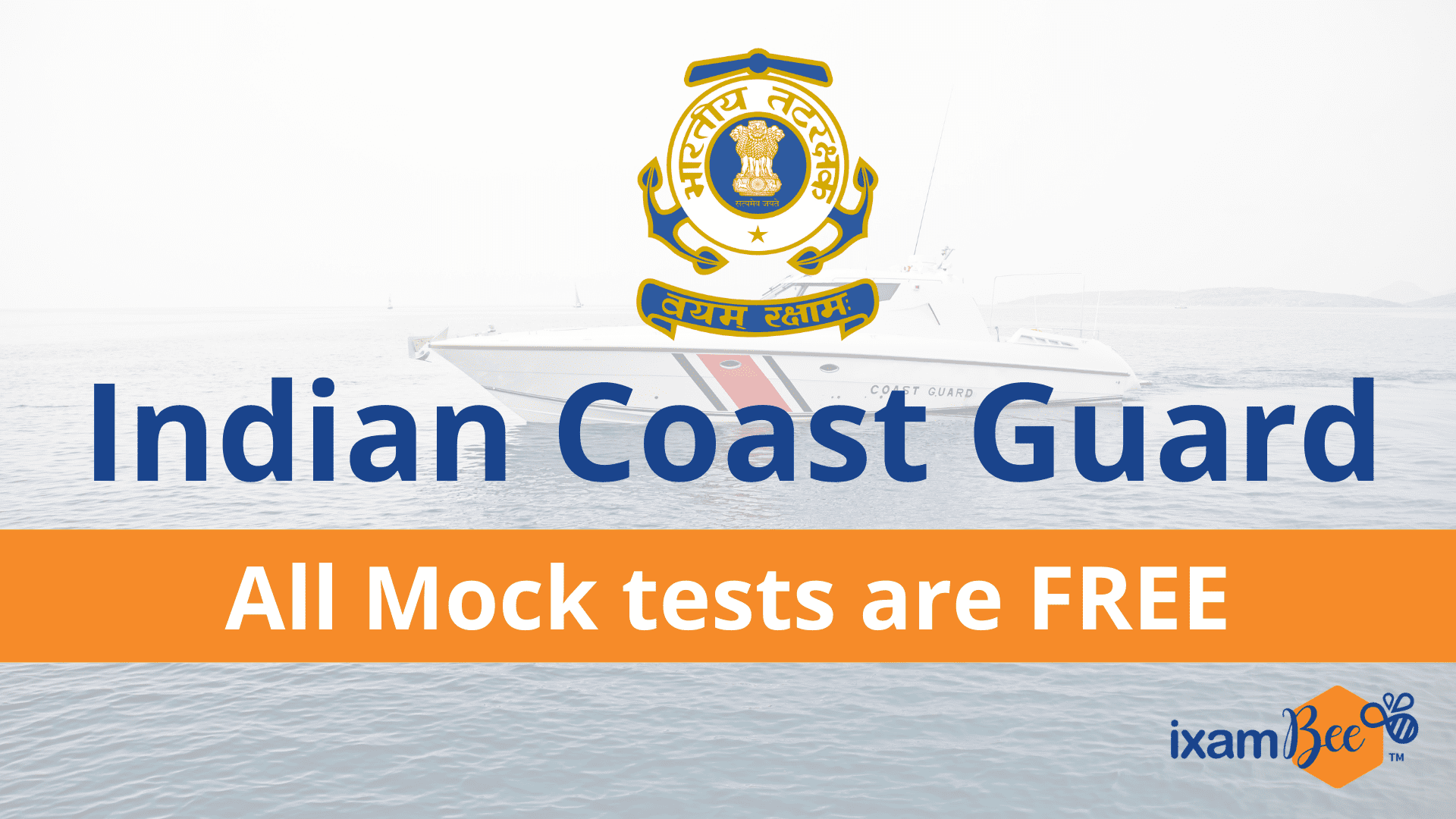 Indian Coast Guard Free Mock Test
Government jobs are the most sought after jobs among youth these days due to enormous job security, good remuneration and stable life. This makes the competition rise immensely. The only way to overcome this is to practice online mocks to get aware of the exam pattern and question level.
ixamBee is a one-stop solution to practice online mock tests for the Indian Coast Guard exam. This online test series for the Indian Coast Guard is a better way to get aware of the question level as the mock tests are prepared by the expert range of faculties holding a decade of experience in teaching. Practice the Indian Coast Guard practice test for your exam preparation. This online test series will help you to identify your strengths and weaknesses. Your exam preparation will be a notch higher if you practice these Indian Coast Guard free mock tests regularly.
Key Features of Indian Coast Guard Exam Free Mock Tests
ICG exam online test series covers all essential topics with proper explanations wherever required.
The online practice test series of the Indian Coast Guard contains the latest and updated pattern of questions.
You can practice free mock tests in Hindi as well as in the English language as per the nature of the ICG exam.
These online test series can be practised twice if you feel you need to attempt the same test to know how much you have improved.
Indian Coast Guard Exam Pattern
The Indian Coast Guard exam for Navik (General and Domestic Branch) and Yantrik consists of four stages: Stage 1, Stage 2, Stage 3 and Stage 4. Stage 1 is a computer-based test consisting of five sections while the rest stages pertain to medical, physical and document verification.
Indian Coast Guard Exam Dates
It's very important that you are aware of the exam calendar of the Indian Coast Guard exam. If you miss any details it may affect your exam preparation.
Frequently Asked Questions
Q 1:How can I buy the online test series of Indian Coast Guard provided by ixamBee?
You need not pay any money for attempting the mock test of ICG provided by ixamBee. But yes once you exhaust the free test series provided by us you have the option to buy more practice tests.
Q 2:Why should I choose ixamBee Indian Coast Guard online test series?
Free mock tests for Indian Coast Guard are designed by the experts after thorough research of previous year papers and the latest exam pattern. These tests are prepared with in-depth analysis of question level and syllabus which will help in improving your weak sections.
Q 3:Do Indian Coast Guard Free Mock Tests contain detailed solutions?
Yes, online mock tests of the ICG exam have answers and detailed solutions to the questions.
Q 4:Can I attempt Indian Coast Guard free online test series more than once?
Yes, you can attempt free online mocks of the ICG exam more than once.