ECGC PO Free Mock Test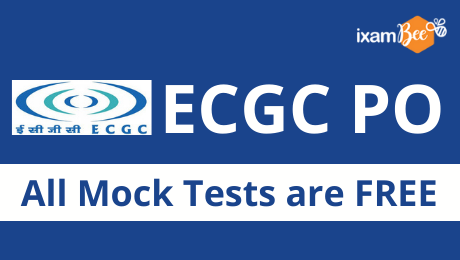 Good quality practice tests are the key to success in any examination. ECGC PO is a good opportunity that shold not be missed anyway. In the online era, you need to be well-prepared from all aspects including speed of attempting an online exam within the pre-defined time limits. To overcome all such obstacles, you need help of online mock test which will help you gain the required speed and knowledge as well with respect to the ECGC PO online exam 2022. Attempting ECGC PO free mock test available at ixamBee will help you to a large extent in analyzing yourself and making the required amends. Keep reading to know more about the ECGC PO free mock test series.
ECGC PO Online Test Series | Practice Test
ixamBee's ECGC PO online test series is the best way to examine your preparation level for ECGC PO 2022. ECGC PO online test series 2022 will help you to analyze the level of the exam as well as improves your time management skills. These online test series will also help you in building confidence and to face the ECGC PO exam with proper strategy. Make the most of this opportunity with the help of ixamBee's ECGC PO practice test 2022.
You can also enrol in ECGC PO 2022 online course in case you need any kind of assistance.
Key Features of ECGC PO Mock Test 2022
Take a look at the features of the ECGC PO practice tests below.
Mock tests are based on the latest and exact exam patterns. Therefore, if there are any changes introduced, the ECGC PO mock tests are a great way to get used to them.
Similarly, ECGC PO mock tests are prepared by keeping the latest exam syllabus in view. In this way, students can benefit from mock tests by using them to revise the syllabus all at once.
You must take mock tests from time to time in order to understand how far along you are in your preparation. Additionally, based on your performance, you must readily revise your preparation strategy as well to improve yourself.
No exam preparation can be complete without taking mock tests. Similarly, if you too want to ace the ECGC PO 2022 exam, it is mandatory that you take practice test series from time to time. Only then will you be able to to clear your exam successfully.
Benefits of attempting ECGC PO Mock Test Series
Please go through the following points carefully in order to understand how these mock tests can help you with your preparation.
There are several benefits to taking mock tests as we will discuss in this section. Above all else, the ECGC PO mock tests are the most important resource for you to practice what you have learnt. Therefore, it is most important that you take these mock tests seriously and religiously if you want to ace your exam.
By taking ECGC PO mock tests, you can familiarize yourself with the exam pattern, syllabus and the latest trend of questions being asked so that you can prepare accordingly.
You can prepare yourself through these ECGC PO practice tests in order to get a feel of the actual exam. This will help you to get rid of any anxiety you may have towards taking the exam. Once you have taken several mock tests, you will become quite comfortable with taking the exam.
You can get a variety of questions on all subjects in one place. This will help you revise the entire syllabus at once. You can also test yourself and work on your speed through these ECGC PO practice test series.
How to attempt ECGC PO mock test?
If you want to take an ECGC PO mock test at ixamBee, you simply have to:
Visit our website
Register yourself
Find the ECGC PO free mock test from the menu.
You can find the ECGC PO exam listed under the "Other Regulatory Bodies" section.
And voila! You are ready to begin
Why choose ixamBee for ECGC PO mock test series?
It is important for you to understand why and how ixamBee offers the best mock tests available for you online today. Read on to learn about the benefits of taking ECGC PO mock tests with ixamBee.
Mock test curated by experts
Our mock tests have been prepared by experts from various subjects. Further, our experts have taken several competitive exams and completed them successfully as well.
As soon as you complete your test, you will be given a virtual scorecard with your scores. There are no other hidden steps involved nor do you need to pay any fee to get your results. You will get your scores as soon as you finish your ECGC PO mock test.
While you take your ECGC PO mock test, if for any reason, you encounter any error or glitch, you can click on the 'Issue report' button provided at the bottom of your page. This way you can raise and issue a report which will be taken care of soon. Similarly, you can also provide your suggestions, if any.
Compare score with other test-takers
On completion of your test, you will be redirected to a page where you will be able to see how other test-takers have fared in this exam. This will help you understand the level of competition ahead of you and therefore to prepare accordingly.
Reattempt a mock test to improve your score
In case you are not happy with your performance and/or your score, you are welcome to take the test again.
Available completely for free
Yes, you read that right. At ixamBee, all mock tests are available completely for free.
ECGC PO Exam Dates
ECGC PO Online Exam 2022 is going to be held on May 29, 2022 and the Personal Interview is scheduled to be held in July/August 2022.
ECGC PO Exam Dates 2022
| Events | Tentative Dates |
| --- | --- |
| ECGC PO Online Registration Including Edit/Modification of Application by Candidates | March 21, 2022 to April 20, 2022 |
| ECGC PO Pre-Examination Training Call Letters Download | April 25, 2022 onwards |
| ECGC PO Pre- Examination Training for SC/ST | First and second week of May, 2022 |
| ECGC PO Download of Call letters for Online Written Examination | May 13, 2022 (Click Here) |
| ECGC PO Online Written Exam Dates | May 29, 2022 |
| ECGC PO Online Written Exam Result | June 24, 2022 (Click Here) |
| ECGC PO Interview Dates | July /August 2022 |
ECGC PO Exam Pattern
The ECGC PO recruitment 2022 is a two tier process - Online exam + Interview. The first stage is a Computer Based examination followed by a Descriptive paper. The detailed ECGC PO 2022 exam pattern is provided in the table below.
ECGC PO Online Exam Pattern
| Name of the Tests | No. of Questions | Maximum Marks | Duration |
| --- | --- | --- | --- |
| Reasoning Ability | 50 | 50 | 40 minutes |
| English Language | 40 | 40 | 30 minutes |
| Computer Knowledge | 20 | 20 | 10 minutes |
| General Awareness | 40 | 40 | 20 minutes |
| Quantitative Aptitude | 50 | 50 | 40 minutes |
| Total | 200 | 200 | 2 hours 20 minutes |
ECGC PO Descriptive Paper Exam Pattern
Name of the Tests
No. of Questions
Marks
Duration
Essay Writing
One out of two given options
20
40 minutes for both questions together
Precis Writing
20
reasoning and ga was tough
58 Cr+
Questions Attempted
56 Lac+
Mock Test Attempted