Salary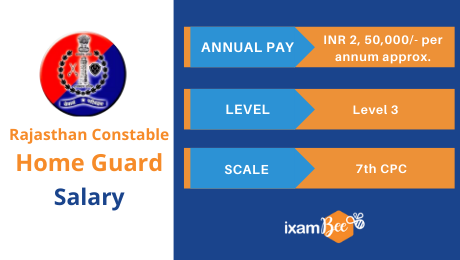 You will get a fixed Remuneration of Rupees 12,800 rupees for 2 years from the date of joining. After that, you will be paid a Level 3 pay scale as per the 7th pay commission. A Rajasthan Constable is expected to get around INR 2, 50,000/- per annum after the selection.
The Rajasthan Constable Salary Structure comprises some PayScale, In Hand Salary, Uniform Washing Allowance, Duty Allowance and Conveyance Charge. For complete detail on Rajasthan Home Guard Salary Structure, please refer to the table below. The Rajasthan Constable Salary In Hand is Rs 21,000 per month (approx).
| Post | Salary |
| --- | --- |
| Home Guard | Rs 12800 (Level 3) of 7th CPC |
Perks and Benefits
After your selection as a Rajasthan Constable 2022, you will receive various perks and additional benefits such as Medical facilities, Compensation for On-Duty Vehicle / Personal property damage, Gratuity, Mess Allowance, Hazard Allowance, Pension, Bonus, Maternity Leaves, Provident Fund, Conveyance Charges, Night Shift Allowance, Uniform Washing Allowance and Retirement Benefits.
Free Mock Test
Practising daily improves your speed and score in the exam. It also shoves out any kind of fear one can have of an online exam. To help you with this, ixamBee is providing Rajasthan Constable free mock tests You just need to register yourself on the ixamBee website and you can attempt an unlimited number of Rajasthan Constable exam mock tests for free.
Rajasthan Constable Home Guard - Free Mock Tests
120 Minutes
120 Questions
120 Marks
FAQs
The Rajasthan Constable In hand salary is 21,000 (approx). You can visit the Rajasthan Constable salary section for further details.
For 2 years from the date of joining you will be paid 12,800 rupees. However, no information regarding probation is provided.