Notification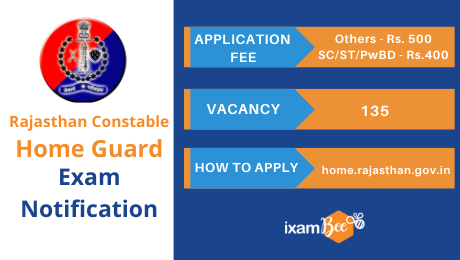 Rajasthan Constable notification has been released for filling up 135 vacancies for various posts. The application window for applying to the Rajasthan Constable 2022 notification is closed. The exam dates have not been announced yet. The posts covered under Rajasthan Constable notification 2022 are Home Guard Constable, Constable Bigular, Constable Driver, and Constable Drum man. Check out more details on the Rajasthan Homeguard Constable notification from below.
Vacancy
Rajasthan Constable notification 2022 was released a few months ago. There are a total 135 vacancies in the Rajasthan Constable notification. The vacancies are announced for both male and female candidates. Further the Rajasthan Constable 2022 vacancies are divided between reserved and unreserved candidates. Post wise and category wise details on the Rajasthan Constable vacancy 2022 are provided in the table below.
Department
Post name
Number of Vacancies
TSP Area
Constable
101
Constable (Bigular)
2
Constable (Drum man)
2
Constable (Driver)
18
Non-TSP Area
Constable
10
Constable (Driver)
2
Total
135
How To Apply Online
Rajasthan Constable exam 2022 application window is now over. Any misinformation in the application form can lead to disqualification of your candidature. The step by step procedure for the Rajasthan Constable notification 2022 application process is provided below.
Visit the official website https://www.police.rajasthan.gov.in/
Login by using your SSO ID and password. The SSO ID can be created by visiting sso.rajasthan.gov.in or free of cost through Jan Suvudha Kendra/ Kiosks
The list for Jan Suvudha Kendra/ Kiosks centre can be obtained by visiting the website www.emitra.rajasthan.gov.in
Fill in all the required details like name, DOB, email id, Mobile number and other details
Upload the following documents as mentioned below in the following format-
Colored digital or scanned photograph in JPEG/.JPG format in the range of 50 to 100 KB
Scanned signatures in JPEG/.JPG format with dimensions ranging from 20 to 50 KB
Preview the application form before final submit
Pay the application fee and take a print out of the application form along with fee receipt
After the application window is closed, you will be given 15 days to edit your application candidature. After the lapse of this period, no modification can be made in the application form.
Application Fee
The application for Rajasthan Constable recruitment 2022 is not complete unless you pay the application fee. The application fee for Rajasthan Constable 2022 notification varies for the general, reserved and outside candidates. The fee once paid for the Rajasthan Constable exam 2022 will not be refunded. If you belong to the reserved category but a non- Rajasthan resident, you need to pay the general category application fee. Relaxation in fee is only given to reserved category Rajasthan resident candidates. Further details of the Rajasthan Constable exam 2022 application fee is given in the table below.
| Category | Application Fee |
| --- | --- |
| General/ OBC | Rs 500 |
| SC/ST | Rs 400 |
Admit Card
Rajasthan Constable exam 2022 admit card will be available on the official website. No hard copy through the post will be sent to any individual. You will not be allowed to give the Rajasthan Constable exam if you fail to bring the admit card to the exam venue. You need to enter your SSO ID to log in to the official portal. Thereafter you can download your Rajasthan Constable 2022 admit card from the recruitment portal.
Rajasthan Constable Home Guard - Free Mock Tests
120 Minutes
120 Questions
120 Marks
FAQs
Yes, you need to log in only through SSO ID. This can be obtained through any Jan Suvidha Kendra or by visiting the official website of Rajasthan Police.
If you face any issue while filling Rajasthan Constable application form you can contact the helpline number 7340557555/9352323625 or mail them at recruitmenthelpdesk@rajasthan.gov.in.