Details

Popular Courses

Ask Us?
Salary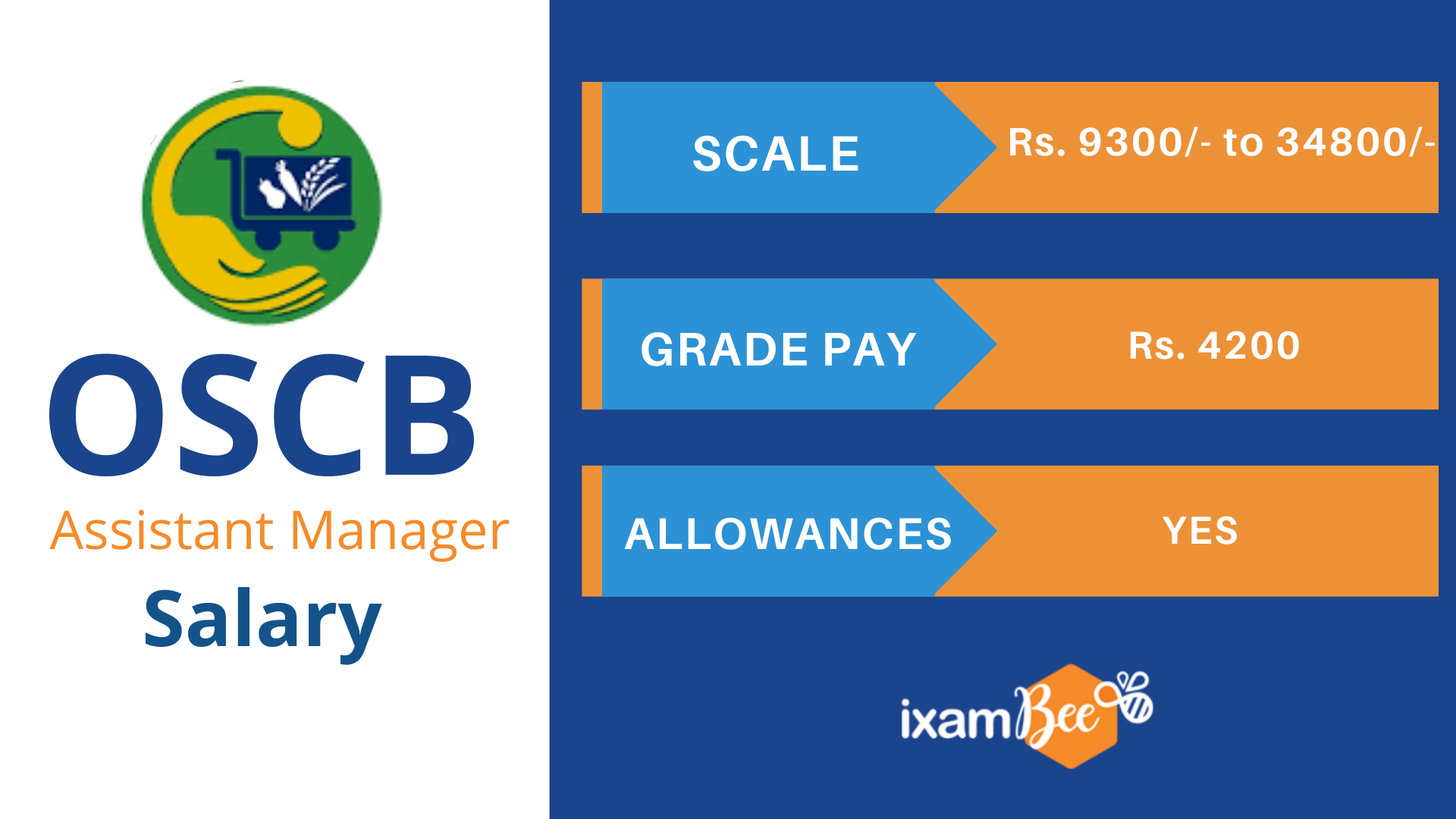 Salary in any job is one of the important prospects that any candidate is attracted to. As an Assistant Manager in the Odisha Co-operative Bank, you will not only receive a handsome salary but also certain useful allowances, benefits and perks that you receive have no match with other banking jobs.
A newly recruited OSCB Assistant Manager's pay scale is within Rs.9300 - 34,800 with the grade pay of Rs 42,00. You will also be eligible for Dearness Allowance & other allowances as will be admissible.
Post
Salary
Assistant Manager (Grade II)

Pay Scale

- Rs. 9300/- to 34800/-

Grade Pay

- Rs. 4200/ along with Dearness Allowance and other allowances as admissible. (Pre-revised)
Job Profile
Once you get designated as an OSCB Assistant Manager (AM) you will be treated under Grade - 2. You will be on probation for 24 months from the time of joining. After this period you will be confirmed as a permanent employee in service after also passing half-yearly tests conducted by OSCB. Those who are unable to pass will be given another 6 months to improve on their performance and give better results.
An Assistant Manager is a multitasking person who is responsible for a number of tasks. Some of the responsibilities and duties that you need to perform as an Odisha State Cooperative Bank's Assistant Manager are mentioned below-
Loan processing
Supervision of the clerical tasks
Maintaining business of the branch
Customer Interaction
Odisha State Cooperative Bank AM Prelims - Free Mock Tests
60 Minutes
100 Questions
100 Marks
FAQs
An Assistant Manager in OSCB will receive his/her salary based on the Grade pay of Rs 4,200/-.
Yes, you will have to serve a probation period of 24 months after you are appointed as Assistant Manager in Odisha DCCB.
Yes. In case of such candidates who are not able to pass the half-yearly tests conducted during the probation period, they will be given another 6 months to improve their performance and confirm their eligibility.
Yes, you will be eligible to receive many allowances including the Dearness Allowance as mentioned in the official notification of the OSCB.
Any candidate dismissed from service from any Cooperative Institutions, Public Sector Undertakings, Local Authority, State or Central Govt will not be appointed even though he/she qualified all the stages of OSCB bank exam.
Recommended Courses for you