Salary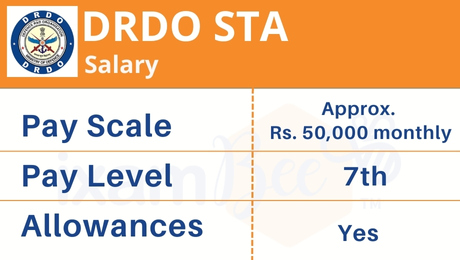 Competitive exams are popular among the youth of India for various reasons, one of them being the handsome salary they offer. Therefore, before you apply for the DRDO Senior Technical Assistant 2022 exam, you must have all the information regarding the salary and perks that are offered to the Senior Technical Assistant at DRDO. The salary details and the additional benefits are discussed in detail below.
DRDO Senior Technical Assistant Salary Details 2022
The candidates selected as Senior Technical Assistant at DRDO will be entitled to receive salary in accordance with the pay matrix Level-6 as per the 7th Pay Commission. Refer to the table below for more details-
| Post | Salary |
| --- | --- |
| DRDO Senior Technical Assistant-B/ Technician-A | Pay matrix Level-6 (₹ 35400-112400) as per 7th CPC Pay Matrix and other benefits/allowances as per extant Govt. of India rules |
Perks and Allowances
Apart from the basic salary, the DRDO (STA-B) are also eligible to receive certain perks and allowances. Give below are some of the additional benefits available to Senior Technical Assistants at DRDO-
Dearness Allowance
House Rent Allowance
Transport Allowance
Children Education Allowance
Leave Travel Concession
Medical Facilities
CSD Facility
The selected candidates will be covered under the National Pension Scheme (NPS)
Posting
While filling the DRDO (STA-B) application form, the candidates will be required to give their preferences for posting to various stations related to the post-code. The preference of posting to stations given by the candidate will be treated as final and irreversible, and any requests for change in preference will not be entertained under any circumstances. Therefore, candidates are advised to give their preference of posting stations in online application form very carefully. However, DRDO reserves its right to nominate the candidate anywhere in India depending upon Organisational requirement.