AAI Junior Executive Final Result 2022-2023 Out!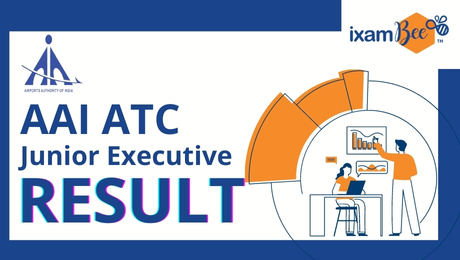 AAI JE ATC Result 2023 Out
The AAI JE ATC Result 2023 was made available on April 11, 2023. Candidates who took the AAI JE ATC Exam can get the results for the 364 Manager, Junior Executive (Air Traffic Control/Official Language), and Senior Assistant (Official Language) positions by clicking the website link provided above. The exam was held on February 21, 2022.
Team ixamBee sends out the heartiest congratulations to all successful candidates.
How to Check AAI Junior Executive Result 2022-2023?
Follow the instructions given below to check your AAI Junior Executive final result 2022.
Open the official website www.aai.aero.
You will land on the home page. Then search for AAI JE result 2022.
A new web page will open. Enter your required details to check the AAI JE 2022 result
Your AAI Junior Executive result 2022 will be available.
If AAI JE final result 2022 is in pdf format, then Use CTRL+F to search for your roll number.
Take a printout of your result for future reference.
AAI Junior Executive Final Result 2022
The final result of the AAI Junior Executive exam will be based on your online exam score followed by successful verification of your documents, Voice Test and Background Verification. You will also be tested for Psychoactive Substances before being finally appointed as Junior Executive in AAI. The date for the AAI Junior Executive final result has not been disclosed yet.
Check your AAI Junior Executive final result 2022.
AAI Junior Executive Online Result 2022
The AAI JE online exam for 400 vacancies will be held soon. The official date for the conduction of the AAI Junior Executive exam will be updated on the official website. The AAI JE online exam merit list will be different for different categories. If you clear the AAI Junior Executive merit list 2022 you will be called for document verification and other related verifications.
Download your AAI JE online exam result 2022
Have a success story? Share with us at hello@ixambee.com
(If we have contributed to your selection through our Mock Tests/ PYP/ Online Course or Youtube, you can share your success story with us. This will help aspirants prepare for AAI ATC JE 2022 and other upcoming banking exams.
What Next After AAI Junior Executive 2022-23 Final Results?
Congrats to all the selected candidates. A bright future awaits you. Now you will undergo training for a period of 3 years. In these 3 years, you will be trained to perform various tasks related to your job profile. You will learn a lot about the functioning of the aviation sector. Posting in different states of India will give you a chance to explore your job and personality in a more refined way. The roles and responsibilities that you need to perform can be obtained from the AAI JE Job profile section where we have discussed in detail all duties that you need to perform.
If you missed the selection this time
For those who missed the final merit list this time, you have two options in hand. Either sit and cry about it or contemplate where you went wrong. Go through the AAI Junior Executive final merit list and gauge what were the loopholes in your preparation. Also, check out the AAI JE exam cut-off to check which section requires more preparation and how you can achieve it. Practice AAI Junior Executive free mocks to enhance your accuracy and speed.