MONTH END DHAMAKA SALE IS Here
RBI Security Guard Exam Pattern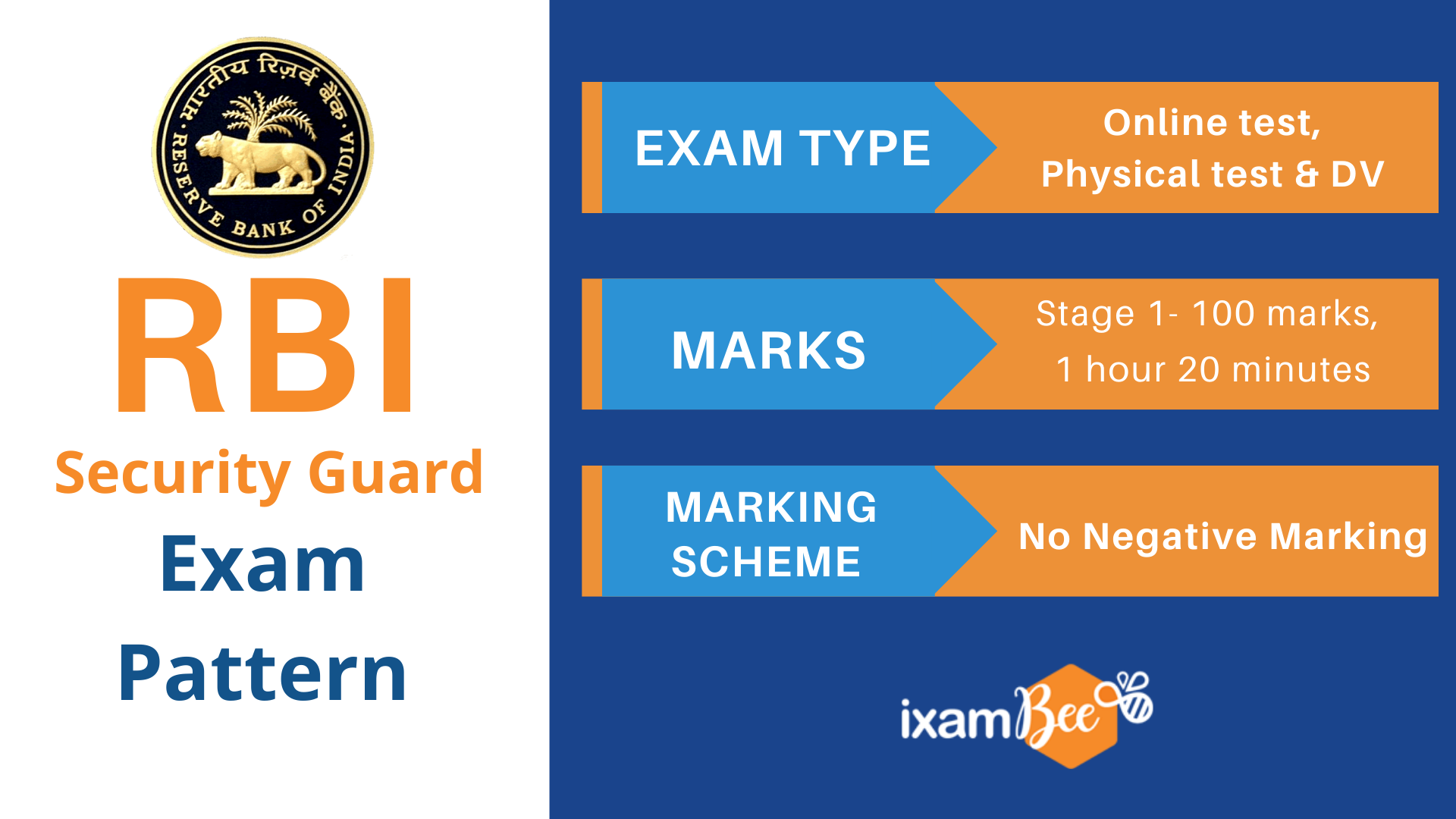 The RBI Security Guard Recruitment will be conducted through a nationwide competitive examination, in a three stage process i.e. Phase I (On-line screening examination for 100 marks), Phase II (Physical Test), and Phase III (Biometric Data-Capturing and Verification). Time duration for the RBI Security Guard exam is 80 minutes. Every section (except English Language) in the paper will be available in Hindi as well as in English. Candidates qualifying in the physical test will have to produce a medical certificate.
The RBI Security Guard Exam Pattern is as follows:-
Online Examination:-
An online screening examination will be of one hour and twenty minutes duration consisting of Multiple Choice questions for 100 marks. You will be shortlisted on the basis of marks in Online Test. The shortlisted candidates will have to appear for a Physical test which will be qualifying in nature. The exam will have the following sections.
Sr. No.
Name of the subject (objective)
No. of Questions
Maximum Marks
Duration
1
Test of Reasoning
40
40
1 hour 20 minutes
2
General English
30
30
3
Numerical Ability
30
30
Total
100
100
1 hour 20 minutes
Out of the above three papers, Test of Reasoning and Numerical Ability will be bilingual, i.e. English and Hindi.
There will be negative marking for wrong answer and no sectional cut-off in the Online Test.
You have to pass with minimum prescribed marks in each subject.
Other detailed information regarding the test will be given in an Information Handout, which can be downloaded by you from the Bank's website along with call letter.
Physical Test
Sr. No.
Event
Measurement as per age group
AGE 30-40
AGE 41-45
1
2.4 KM Run
10 Min 31 Sec to 11 Min 15 Sec
11 Min 31 Sec to 12 Min 15 Sec
11 Min 16 Sec to 12 Min
12 Min 16 Sec to 13 Min
12 Min to 15 Min
13 Min to 16 Min
Over 15 Min
Over 16 Min
2
5 Meter Shuttle in One Min
14 to 15
12 to 13
12 to 13
10 to 11
10 to 11
8 to 9
Below 10
Below 8
3
Push Ups
20
17
16 to 19
13 to 16
15
12
Below 15
Below 12
4
Sit Ups
30
25
28 to 29
23 to 24
26 to 27
21 to 22
24 to 25
19 to 20
22 to 23
17 to 18
20 to 21
15 to 16
Below 20
Below 15
Physical Test of the RBI Security Guard recruitment will be of qualifying nature.
Biometric Data- Capturing and Verification
Biometric data (thumb impression or otherwise) and photograph of the candidates will be captured during Online Test and verified/recaptured subsequently during and even after the Physical Test. The Bank reserves the right to capture/recapture/verify bio-metric data multiple times. Decision of the Biometric data verification authority (i.e. matching or not-matching) shall be final and binding upon the candidates. Candidates are advised to take note of the following points:
If fingers are coated (stamped ink/mehndi/coloured etc.), ensure to wash them thoroughly so that coating is completely removed before the exam.
If fingers are dirty or dusty, ensure to wash them and dry them before the finger print (biometric) is captured.
Ensure that fingers of both hands are dry. If fingers are moist, wipe each finger to dry them.
If the primary finger (left thumb) to be captured is injured/ damaged, immediately notify the concerned authority at the test centre. In such cases impression of other fingers etc. may be captured.